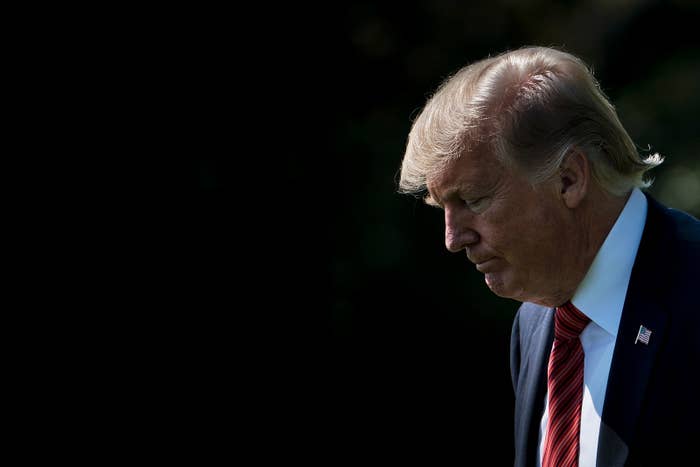 President Trump's frantic summer has clarified to allies and enemies the president's true priorities and agenda, uniting Democrats against him and pushing Republicans toward a binary choice.
In just the last few weeks, the president has made excuses for white supremacist violence that killed an American woman in Charlottesville, Virginia. He pardoned a supporter who was found in contempt for refusing to stop racist policies in his sheriff's office. And he capped those moves by leaning on the sanctity of the rule of law to explain why he had to rescind an Obama-era program for young immigrants, throwing nearly 800,000 people's lives into chaos.

This is who Trump is. He is hesitant to disavow the people who back him, even if their views are abhorrent. He plays almost exclusively to his base, which is largely white and subscribes to a nationalist view of politics, and he is hypocritical in his invocations of law and order. He's loathe to make hard or unpopular moves himself, pushing those decisions — and the inevitable blame — to others.
The churn of events since the protests in Charlottesville recall the refrain that came with increased frequency from Trump opponents, pundits, and political reporters as the 2016 campaign wore on: Trump is not going to pivot. This is it.

He showed many of those qualities Tuesday, when Attorney General Jeff Sessions was the one to emerge from a Trump-imposed dog house to end Deferred Action for Childhood Arrivals, rather than the president himself delivering a statement and taking questions on a momentous policy decision that impacts the lives of hundreds of thousands of Latinos and other immigrants. Trump preferred to tweet, and the White House, which said Trump didn't personally announce the decision due to the "legal process," sent out a written statement from the president later in the day.
The president wavered for months over how to handle DACA, and he appears to be continuing that indecision even after rescinding the program. Trump said as a candidate that DACA was an "illegal amnesty" he would get rid of on day one, before saying he would deal with the issue with "heart," before he said he loved the DREAMer kids, before he finally moved to have Sessions announce the end of the program, and kick it to Congress to deal with within six months. Press secretary Sarah Huckabee Sanders then signaled Tuesday a stand-alone DREAM Act wouldn't be signed on its own, setting up tough negotiations on border wall funding and proposals to curb legal immigration in exchange for DACA protections.
Then, either trying his hand at three-dimensional chess deal-making or vacillating on a policy he may not have truly understood, Trump said Congress has six months to "legalize DACA," and "if they can't, I will revisit this issue!" The White House did not immediately clarify what he meant by "revisit."
Trump's actions this summer have put Republicans on edge. Leaders and people up-and-down the party believe the president is running out of time to deliver on his stalled legislative agenda, with a series of crucial deadlines coming up this month, in addition to another impending hurricane and increasing threats from North Korea. Some in the party worry Trump only has until the calendar turns to 2018 to make something of his presidency, before lawmakers start facing tough questions from constituents wondering what happened to Making America Great Again.
"They've got a year's worth of work to do in four months at a time when Washington is more divided and more dysfunctional than I've ever seen it," said GOP strategist Mark Mackowiak.

Republicans frustrated with Trump's presidency are bracing for an unpredictable autumn and perilous rest of the year precisely because of the administration's penchant for unforced errors and elevating issues that shouldn't lead the news cycle, like Russia's 2016 election interference, the merits of people who march shoulder-to-shoulder with white supremacists, or the latest White House firing.
That's what Democratic Sen. Dick Durbin was referring to when he said Congress should take the DREAM Act up immediately before the next "topic du jour" jumps to the top of the agenda next month. And that's what conservative opponents think of two major Trump-fueled decisions: His bumbling response to the violence in Charlottesville, when he wouldn't immediately and forcefully condemn white supremacists, the Ku Klux Klan, and Nazis, and the pardon of former Maricopa County sheriff Joe Arpaio, which came via email from the White House communications office as Hurricane Harvey barreled into Houston on a Friday night.
"The administration decision to announce the Arpaio pardon came when there was really no timing reason or necessity for it," Mackowiak said, noting that there were still a number of legal steps to go in the process.
The 85-year-old Arpaio was voted out in November — not just because Latino and immigrant activists finally succeeded after years of opposing the hardline lawman, who was found in criminal contempt for refusing to stop racially profiling Hispanics, which included Latino U.S. citizens and permanent residents — but because rank-and-file Republican voters finally turned on him. Arpaio lost in Maricopa County the same night Trump won the plurality of its votes.
The pardon of Arpaio, who Republican Rep. Ileana Ros-Lehtinen said "specialized in tormenting immigrants," highlights another inconsistency from Trump, on fealty to the principles of law and order.
The conservative National Review, said that Trump was rewarding "law enforcement at its very worst" with his pardon.

"During his tenure as sheriff, at least 160 inmates died from brutality, neglect, suicide, disease, bad health, or old age in Arpaio's jails. In many cases we have no way of knowing the cause of death, because the sheriff's office never bothered to investigate," the libertarian Cato Institute's Michael Tanner wrote for the magazine. "Less publicized are tactics such as forcing women to give birth while chained to their cots. Lawsuits allege that the unsanitary conditions and brutality in Arpaio's jails resulted in dozens of miscarriages."
Even as he pardoned Arpaio's defiance of law-and-order, which the former sheriff has shown no remorse for, Trump this week used law-and-order as the guiding principle for why the executive action protecting DREAMers from deportation should be tossed away.
"The double standard is unbelievable," said GOP strategist and partner at Rokk Solutions Brian Walsh, whose tweet about the danger Republicans could find themselves in with Latino voters because of the back-to-back Arpaio pardon and DACA decision went viral.
Walsh said Trump's moves are detrimental to the Republican Party in the long-term. The party is getting an increasing share of a white voters, a declining sector of the electorate, while Democrats are poised to receive an increasing share of minority voters, an increasing sector of the electorate.
"As they look ahead to the 2018 election, Republican members of Congress need to wake up and realize this president is not concerned with the long-term viability of the Republican Party, but solely with his standing among his base," Walsh added.

But Trump has blown past traditional presidential standards before and emerged as a Teflon Don with his supporters, despite high-profile condemnation from members of his own party and fierce criticism from Democrats. He has also, at times, sounded notes of unity — like during an early speech to a joint session of Congress and after the shooting of Rep. Steve Scalise during a practice for the congressional baseball game. The president made an effort to appeal to Americans more broadly even this past weekend in Texas, as he handed out boxed Red Cross meals to Harvey survivors and posed for photos with them, buoying spirits.
Trump has had his moments. But they have typically just been appendages to the stream of conflict proffered by his White House.
Jittery Republicans note that Trump's shrinking timeline for first-year success is even shorter than it looks, due to both the House and the Senate being in session for only 12 days in September, along with time off for holidays like Thanksgiving and Christmas.
"The degree of difficulty for the rest of this year is off the charts," Mackowiak said. In his conversations with fellow Republicans, he said there is widespread regret that the party hasn't seized the opportunity to govern as a team, and that the president could make things worse.

Trump's presidency is coming to an important clarifying moment, Mackowiak said, before helpfully comparing the critical juncture the White House finds itself in as the climactic cliffhanger of a movie — or reality show.
"This thing is going to get a whole lot better or a whole lot worse."