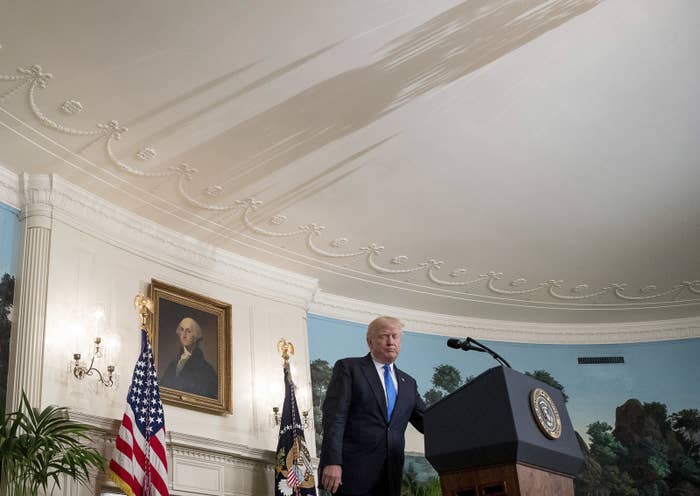 A somber President Trump Wednesday lauded his friend House Majority Whip Steve Scalise who was shot in the hip, along with other Republican congressmen who appeared to be targeted at a baseball field in Virginia.
Trump sounded a note of unity, reminding Americans that members of Congress and their staffers are patriotic.
"Everyone on that field is a public servant. Our courageous police, our congressional aides, who work so tirelessly behind the scenes with enormous devotion, and our dedicated members of Congress who represent our people," Trump said. "We may have our differences, but we do well in times like these to remember that everyone who serves in our nation's capital is here because, above all, they love our country."
But while the president and vice president canceled events and Ivanka Trump echoed her father's words, others in Trump's orbit were quicker to assign blame to Democrats, the media, and an anti-Trump environment they feel contributed to the shooting.
Trump's son Donald Jr. tweeted "this" along with a retweet of a media commentator's condemnation of recent controversies including Kathy Griffin posing with a fake decapitated head and a Julius Caesar play that has a Trump-like Caesar in the lead role.
Trump supporter Newt Gingrich, who has advised him in the past, described the shooting in starkly partisan terms as part of a pattern of "increasing intensity of hostility on the left."
"You've had a series of things which send signals that tell people that it's OK to hate Trump, it's OK to think of Trump in violent terms, it's OK to consider assassinating Trump," Gingrich said on Fox News. "And then suddenly we're supposed to rise above it until next time?"
"Lest anyone seek to blame the alt right I understand the shooter was a Sanders supporter," longtime Trump adviser Roger Stone Jr. told BuzzFeed News. "I believe the shooting is a sad manifestation of the climate of hate that has been whipped up by the mainstream media against the president and Republicans."
Stone was referring to alleged shooter, James T. Hodgkinson, who was a volunteer for Bernie Sanders campaign in Iowa. (The senator denounced the alleged shooter this morning.)

On WBEN radio in Buffalo, New York, Michael Caputo, who resigned from the Trump campaign last year, called the shooting "karma" for Democrats.
"A Democrat campaign volunteer who deeply believed the president and his advisors were traitors tried to murder Republican congressmen," he said. "For nine months, Democratic Party leaders have lied, regularly calling me and my friends traitors, so forgive me if I'm not more tender with their karma in Alexandria."

Both Democrats and Republicans on Capitol Hill and outside have largely emphasized unity and echoed the president's approach earlier on Wednesday. Members of both parties have also described threats made, as well, against them. A Republican congresswoman said Wednesday afternoon her office had received an email with the subject line, "One down, 216 to go." In a members meeting Wednesday, Democrats discussed increased death threats against them since the beginning of the year, and ways to improve their personal and home security in the wake of the shooting.
Former Trump campaign adviser Sam Nunberg, who remains close with members of the administration, said he hoped politics could become less combative.

"Obviously, this shooter was politically motivated and it's just a tragedy and thank god that the cops had to be there because Scalise was there," Nunberg said, adding that he hoped the left wouldn't say the right is politicizing the shooting and the right would refrain from being "quick to blame this on Bernie or something like that."
"This is just a sicko," he said.