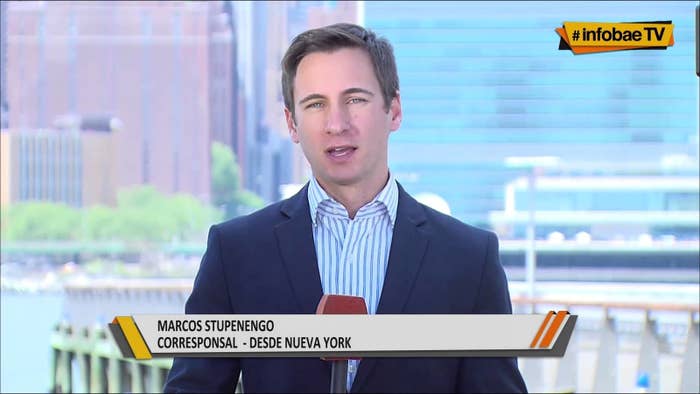 Marcos Stupenengo, a freelance correspondent working for TV Azteca, got an interview at Trump Tower — initially. He had no trouble when he asked to come to Trump Tower in New York on Monday for a story.

But as he waited to conduct the interview, Stupenengo received a call, and began speaking in Spanish. That's when the Trump campaign informed him they had no interest in taking part in an interview with him, according to a source with knowledge of the incident.
Reached for comment, Stupenengo forwarded the request to the network. "I can say that after 13 years of journalism worse things have happened to me," he wrote in an email, declining to comment further.
The Trump campaign disputed that Stupenengo ever had an interview scheduled.
Stupenengo, who is from Argentina, studied journalism there before going to school in New York. He has green eyes and would appear to many as a non-Hispanic white male.
Spanish-speaking security at the headquarters apologized to Stupenengo, saying he was sorry and he didn't know what was happening, the source with knowledge of the incident said.
Later, the reporter went to Clinton campaign headquarters to conduct an interview.
During his report, which was set to air Monday evening, Stupenengo was going to say he was kicked out of Trump headquarters because he was speaking Spanish. It is unclear if his segment ever aired.
The incident with the Mexican TV Azteca is just the latest between the Trump campaign and major Spanish-language networks. Last summer, Trump got into it with Univision's Jorge Ramos, who repeatedly tried to question him, before kicking Ramos out of a press conference. Trump also would not answer questions from Telemundo's Jose Diaz-Balart during an event in a Mexico–Texas border town last year.
Trump, who wrested the Republican nomination from 16 other contenders in part on the strength of his hardline immigration stance and controversial comments about Mexicans and immigrants, has seen his favorability with Latinos crater since then.
Two weeks ago, he flashed a broad smile in a tweet as he trumpeted a taco bowl made at one of his restaurants on Cinco de Mayo and again declared his love for Hispanics.
UPDATE:
Stupenengo, who was on a flight to Berlin when this story was published, tweeted that he did not have an interview cancelled.
His network, TV Azteca, said that Stupenengo was told verbally on the phone that he could come to Trump Tower for a story on Trump headquarters.
Everything was fine at the outset. Stupenengo was given a badge, but then was told his presence wasn't authorized and that it was a mistake — the Trump campaign was not allowing it. Security was unable to find the person who told him he could come and he was asked to leave.
But TV Azteca said that a Trump campaign official told Stupenengo "We're not interested in coverage from Spanish-language media."

Trump spokewoman Hope Hicks called that "absolutely false" in an email to Univision.