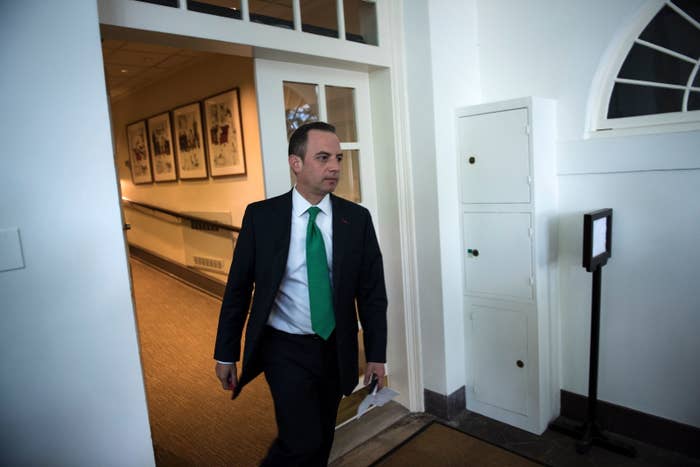 The White House used to sternly push back on reports that Chief of Staff Reince Priebus was losing the president's favor and would soon be fired.
When President Trump's staff began questioning Priebus's efficacy and job security in conversations with reporters in early March, the White House blasted on-record refutations, telling BuzzFeed News at the time that the chief of staff is "an incredible leader" who has played an "essential" role on the president's priorities, like health care.
Those days appear to be over.
Just in the last 24 hours, new White House Communications Director Anthony Scaramucci has all but accused Priebus of being the source of leaks that damage the administration and infuriate the president. White House press secretary Sarah Huckabee Sanders declined to publicly express confidence in the chief of staff during Thursday's press briefing. And instead of defending Priebus, senior White House officials now tell BuzzFeed News that his days appear to be numbered.
Privately, Kellyanne Conway, counselor to the president, has told people that Priebus is "gone" and that he is trying to figure out his next steps, a source with knowledge said. Her message is that White House staffers who came from the Republican National Committee, which Priebus ran before being named chief of staff, are out, and that the administration is "going back to Trump loyalists."
Conway did not respond to a request for comment.
A senior administration official, asked about that potential staffing shake-up, said, "It's not that simple."
But a White House official disputed that communications staffers with ties to the RNC would be necessarily swept up in a Priebus purge, noting that in a private communications meeting on Monday, Conway tried to rally the troops, telling them they may not be household names but they were talented and have worked their tails off at the White House for six months because they want to serve the country.
A separate senior White House official said it's seemed like Priebus's days have been numbered since the first day of the administration — based on nonstop news reports that the chief of staff has consistently survived — so the source has decided to stay out of the latest power battle and focus on the president's agenda.
But the latest turn, with public finger-pointing, seems different. On Twitter on Wednesday night, Scaramucci said his financial disclosure had been leaked — though such disclosures are made publicly available — and said he would contact the FBI and Justice Department to investigate, curiously tagging Priebus in the tweet and adding the hashtag "swamp."
Scaramucci then went on CNN's New Day on Thursday morning to talk about Priebus in an incredibly unusual segment in which he went into the ill will in their relationship.
"When I said we were brothers from the podium, that's because we're rough on each other. Some brothers are like Cain and Abel. Other brothers can fight with each other and get along," he said. In the Book of Genesis, Cain murders Abel following a perceived slight from God.
"I don't know if this is reparable or not, that will be up to the president," Scaramucci said.
The New Yorker published an interview with Scaramucci later Thursday in which — among many, many other things — Scaramucci called Priebus a "fucking paranoid schizophrenic" and said Priebus would "be asked to resign very shortly" if he leaked something.
Sanders would not say during Thursday's press briefing whether Trump has confidence in Priebus, a question White House spokespeople have answered affirmatively in the past.
"If the president doesn't, he'll make that decision," she said.
Matt Mackowiak, a GOP strategist and founder of Potomac Strategy Group, said the chatter in Republican circles about Priebus's future is that the former Republican Party chair is loath to become the shortest-tenured chief of staff in American history by being fired, eyeing September to clear that hurdle.
But with Scaramucci publicly prodding Priebus — and with no guarantee that the administration will succeed in its ongoing efforts to pass a health care overhaul — it may be difficult for Priebus to last longer in his role than a similarly beset chief of staff who was fired: Samuel Skinner, who served under George H.W. Bush.
Three chiefs of staff had shorter tenures than Skinner's 252 days, but one was James Baker, a well-regarded chief of staff to Ronald Reagan who came onboard to help Bush after Skinner's departure, and the other two were short-lived because their bosses' terms expired — Jack Watson under Jimmy Carter and Kenneth Duberstein under Ronald Reagan. To last longer than Skinner, Priebus would need to stay on until Sept. 30.
Priebus's legacy matters to him, an ally said, noting that he hoped to remain in the role for a year but is now trying to "notch as many wins as possible" before it's over.
"He wants this president to be a success, he knows that if the president has a good legacy, then Reince will," the source added.
Even though Priebus has often been left for dead only to carry on, his position now seems rockier, with Trump receiving conflicting advice from multiple senior staffers since bringing on Scaramucci.

"The originals are saying get rid of the RNC people, they're leaking; his allies are saying the agenda is stuck you need to shake things up; and his supporters and friends are saying you have to find a way to stop the Russia investigation, it's a mortal threat," Mackowiak said.

But after Scaramucci told CNN on Thursday that "establishment" forces exist "inside the administration that think it is their job to save America from this president," both those who think Priebus should stay and those who want him out said Scaramucci had gone too far.
A White House adviser said that Priebus was not particularly loyal during the campaign — "every time we ran into trouble, he was the first one to run" — but said Scaramucci is distracting from the administration's message.

"Why is Scaramucci calling into CNN for 30 minutes and talking about freaking White House intrigue?" the adviser said. "I'm sure there is some method to his madness, but it's hard to see it."
"The stuff Anthony is pulling is unreal," another source close to the administration said. "If I was Reince, I would be like, 'Fuck you guys, I'm out.'"
Priebus, hoping to hang on until September, might disagree.
Tarini Parti contributed reporting.
UPDATE
This story has been updated to reflect Scaramucci's new comments in an interview with The New Yorker