Omarosa Manigault, a senior aide to President Trump and one of the highest-ranking black officials now in the White House, was met with turned backs from activists and hecklers during a panel interview at the National Association of Black Journalists conference Friday.
"I came out to laughter as if this was a joke," Manigault said to the crowd, taking issue with a perceived lack of sympathy over her introduction that she lost her father and brother to violence in Ohio.
"Walking into a room where you get shut down does not open a line of communication so change can happen," Manigault later added.
Manigault, the director of communications for the Office of Public Liaison, is the only representative of the Trump administration to attend the conference. In doing so and taking on biting questions from reporters and activists, Manigault played a role that has been frequently embraced by a White House that has reveled in sparring with perceived political opponents.
Manigault acknowledged that she's often the only black person at the table in White House meetings, but told other panelists that she didn't "want to hear a lecture" on their anger at Donald Trump.
The panel she was on — titled Black and Blue: Raising Our Sons, Protecting Our Community — opened with Valerie Castile, the mother of Philando Castile, and Sandra Sterling, the aunt of Alton Sterling. Both men had been killed by police officers.
Asked specifically about Trump's recent comments suggesting police officers should be rougher with suspects and if she spoke to the president about what he said, Manigault said that she would not "disclose confidential conversations" with Trump, but that she has invited law enforcement to the White House to discuss the issue.
"I'm not going to stand here and defend everything about Donald Trump," she said.
As she fended off questions about Trump, Manigault at one point accused the moderator of being "aggressive," took the microphone, and decided to stand up and walk the stage.
Asked by a BuzzFeed News reporter on the panel about what influence she has in the administration on policing, she said that because she does not work at the Justice Department, "it's not even part of my portfolio."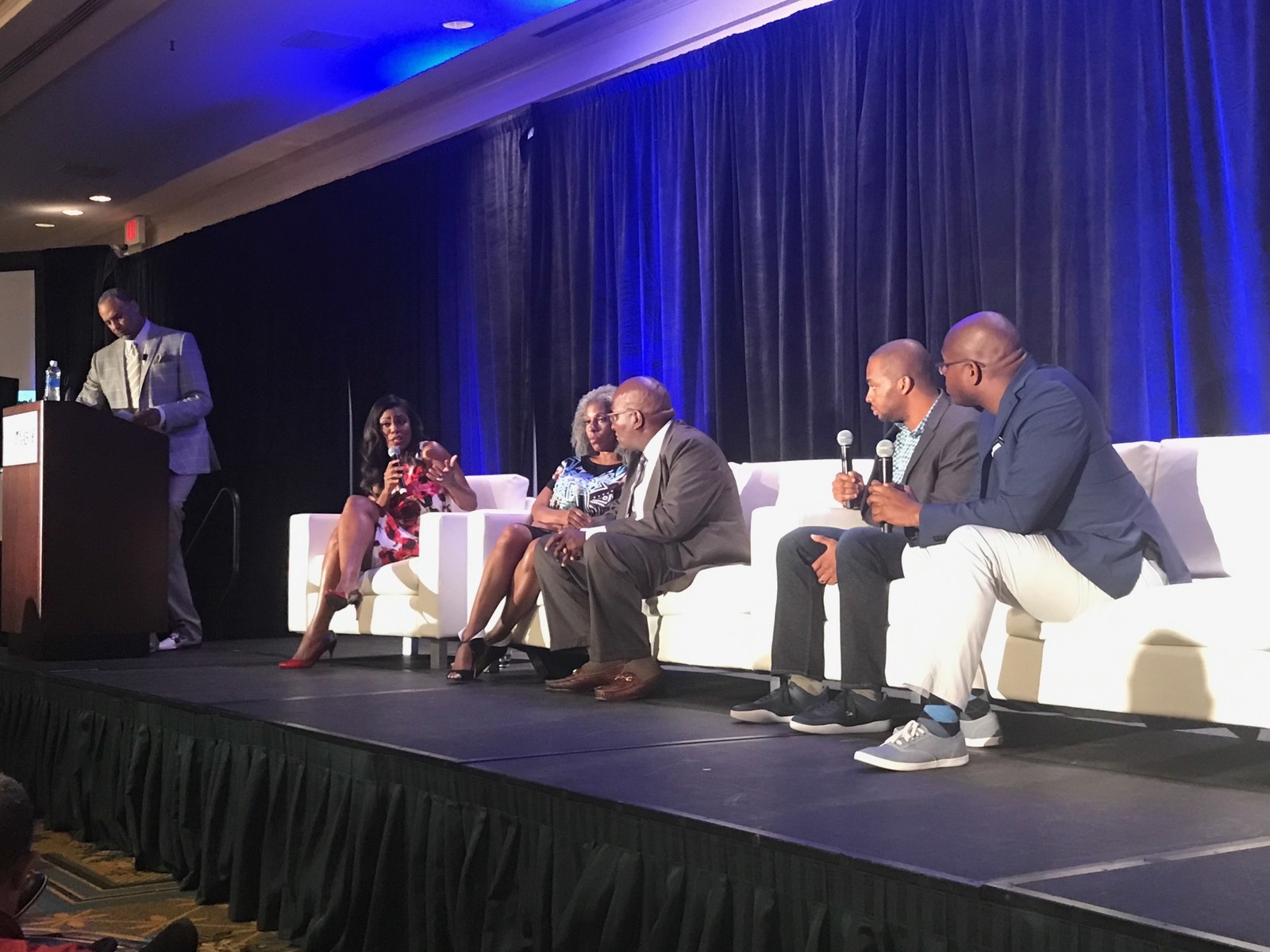 Brittany Packnett — a Ferguson protester who rose to prominence inside the Black Lives Matter movement as a part of the policy group Campaign Zero, and a well-respected activist on race, justice, and policing — was among the fewer than 10 protesters who stood with their backs to Manigault as she spoke.
"I deeply respect the NABJ as an important institution for black voices in mainstream media," Packnett said after the panel. "But I am not a journalist, I am an activist, and on my personal time. Thus far, the actions of this White House have been deeply detrimental to black people and reversed progress on ending police violence. Until that changes, I will stand with thousands everywhere to protest these actions, and build safe communities that allow us all to thrive."
Manigault, a breakout star in the first season of The Apprentice, has been the focus of swirling drama at the conference. Some of the planned participants and the original moderator for the panel pulled out after Manigault was added to the roster, Page Six reported.
Panelists had been told Manigault was going to appear onstage alone with moderator Ed Gordon. But only seconds before the panel started, those plans were changed and panelists were told that Manigault wanted to join them onstage.
All day Thursday, as word spread that Manigault would be on the panel, attendees expressed private dismay that she had been invited to participate with the relatives of Castile and Sterling, even after Trump's comments about police treatment of suspects. Sarah Glover, the president of NABJ, wrote an open letter personally inviting the president, but it's unclear if the White House had ever given an official response about the president's attendance.
April Ryan, a White House reporter who has at times been the target of attacks from Manigault and who has accused her of trying to ruin her career (the pair used to be friends), is being honored as the organization's journalist of the year. Ryan declined to comment when asked about Manigault's appearance at the conference.
Another prominent black journalist told a reporter that it was unclear why the organization had made the decision at the last minute to invite her. "It's kind of just, like, what's the point?"
The tension did not dissipate by the time Manigault walked off the stage before the panel was complete. Gordon expressed his frustration with NABJ leadership's decision to invite her to the conference.
"I'll see y'all at the White House Christmas party in December," Gordon said, raising his fist after Manigault walked out.