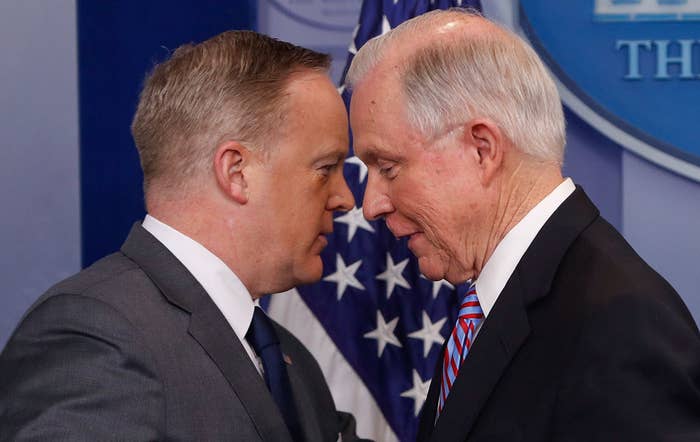 Call it the bully pulpit.

Donald Trump may not have a taste for firing people, but he does relish making the lives of those who have fallen out of favor a living hell.
Attorney General Jeff Sessions has had the pleasure of finding that out, waking up every day this week to tweets from his boss ridiculing his job performance.
"So why aren't the Committees and investigators, and of course our beleaguered A.G., looking into Crooked Hillarys crimes & Russia relations?" Trump tweeted on Monday just before 9 a.m.
"Attorney General Jeff Sessions has taken a VERY weak position on Hillary Clinton crimes (where are E-mails & DNC server) & Intel leakers!" he tweeted on Tuesday morning.
"Why didn't A.G. Sessions replace Acting FBI Director Andrew McCabe, a Comey friend who was in charge of Clinton investigation but got big dollars ($700,000 for his wife's political run from Hillary Clinton and her representatives. Drain the Swamp!" he said in a series of tweets on Wednesday.
Trump has it in his power to resolve his public irritations — he could use the line that made him truly famous on The Apprentice, the line he tried to trademark in 2004, and tell his attorney general that he's fired.
But so far at least, the president is following a familiar Trump playbook: holding back from terminating a supposedly intransigent employee, and instead publicly bullying him. If the jeremiads lead to Sessions deciding to quit on his own, all the better.
Katrina Campins, a former Apprentice contestant who has a career in real estate in Miami and who has worked with the Trump campaign and administration, said you can't compare Trump's old "you're fired" life with his new responsibilities.
"We were on a television show, it's quite different," she said.
The president's tactics with Sessions don't surprise people who've worked with him during his time in entertainment and in politics: Donald Trump doesn't actually enjoy firing people, they told BuzzFeed News, especially when he personally likes the person due to be fired.
"If he likes the person and they're not performing, he has a problem. He doesn't like firing them," said one operative whom Trump fired. "He'll get pissed. But does he personally like telling the person to their face they're fired? The answer is no."
Trump pretty clearly liked Sessions not too long ago. Sessions was the first sitting senator to back Trump's presidential campaign, and the candidate thanked him by saying he's been called "the Senate's indispensable man and the gold standard."
(Now Trump stunningly told the Wall Street Journal on Tuesday that Sessions endorsed him because he saw a crowd of 40,000 people in Alabama, "so it's not like a great, loyal thing about the endorsement.")
This pattern has also played out to completion with outgoing press secretary Sean Spicer, who Trump liked enough to make the public face of his White House at the start of his presidency.
Spicer was criticized by anonymous officials and advisers close to the president for months, who said that Trump was unhappy with his performance during press briefings. But even with occasional reports suggesting a press office shake-up was imminent, Spicer himself decided last week to leave the White House after Trump brought on swaggering New York businessman Anthony Scaramucci as communications director. Even then, Trump reportedly asked Spicer to stay in his job.
Trump, though, made Spicer's position in the administration untenable by asking him to report to Scaramucci. After all, with the embattled press secretary frequently ceding press briefings to his then-deputy Sarah Huckabee Sanders and Scaramucci ascending to a role where he reports directly to Trump, where exactly would Spicer have fit in?
Trump also has a history of firing people in times of duress only to later bring them back into the fold — or even to resist firing them altogether, even if they've committed transparently harmful offenses.
Trump earlier this year heavily deliberated over firing his then-national security adviser Michael Flynn, who was ultimately let go in February for lying to Vice President Mike Pence about his conversations with the Russian ambassador to the US.
Even with Flynn at the center of the investigation into Russia's attempts to influence last year's presidential election, the Daily Beast reported in May that White House lawyers had to repeatedly tell Trump not to reach out to him — Trump, a staffer told the Beast, feels bad about Flynn's exit.
And there's also the case of Meredith McIver, the in-house writer at the Trump Organization who took the blame for the awkward convention scandal that saw Melania Trump plagiarize lines from a Michelle Obama speech. Trump ally Jeffrey Lord, who knows McIver, said that when McIver tendered her resignation to Trump he rejected it.
"He said, 'The answer is no.' That is who he is, the rest is a television image," Lord said. "I know he does not like firing people."
Trump acknowledged as much in his 2004 book The Way To The Top.
"I don't like firing people. It's not a pleasant thing and it's sad," he wrote in the book, in which he collected advice from other executives and business leaders he respected. "In some cases, it's a terrible, terrible situation for the person who gets fired, how strongly they take it. So it's not something that any rational or sane person can love doing, but it also happens to be a fact of life in business."
Trump's queasiness with firing staff he likes ties into how much the president values personal loyalty. He does not like to be forced to fire employees who have been loyal to him, the operative he fired added — noting that, as a candidate, Trump was angry when his children forced him to fire his first campaign manager Corey Lewandowski.
And even though Trump fired Lewandowski, he hasn't let the former campaign hand drift outside his close circle. Lewandowski traveled with the president to Ohio on Tuesday aboard Air Force One.
Though Trump will do what he has to do as "a serious businessman, he's not malicious by any means," Campins said.
Whether he takes pleasure in it or not, Trump has still managed to fire several high-profile people since taking office — though aside from Flynn they have chiefly been people who have not shown the president the loyalty he often demands.
Trump fired FBI Director James Comey in May, initially citing his handling of the 2016 investigation into Hillary Clinton's email use, and later acknowledging he was "angry" with Comey over the bureau's Russia investigation. In sworn testimony, Comey himself alleged that Trump repeatedly demanded loyalty, asked him to drop an investigation into Flynn, and asked for a public statement that he was not personally under investigation.
Trump also fired US Attorney for the Southern District of New York Preet Bharara in March after he refused to resign. While past presidents have asked for the mass resignations of US attorneys, as Trump did with 46 Obama-era prosecutors in March, Bharara suggested that he was ultimately removed because he had jurisdiction over Trump Tower.
Sally Yates, the acting attorney general before Jeff Sessions was confirmed, was fired at the end of January after refusing to defend the president's travel ban for residents from seven Muslim-majority countries.
Trump's penchant for demanding loyalty has exasperated allies and chilled his political opponents. His handling of Spicer, his body blows to Sessions, and his empowering of Scaramucci — who says he himself can fire anyone — have put a spotlight on the way Trump bullies his employees and decides to let them twist in the wind before cutting them loose or forcing them to resign.
An isolated and frustrated Trump may still decide to cut Sessions loose, or fire the special counsel investigating potential campaign involvement with Russia — the latter of which lawmakers on both sides of the aisle have said could trigger a constitutional crisis.
And if he does, Trump may find salvation in the lessons of his book, The Way To The Top, in which Thomas S. Johnson, the chair and CEO of GreenPoint Bank, shared his father's advice on firing.
"You're not a man until you have had to fire someone and you're not a good man unless every time you do it you hate it," Johnson wrote.