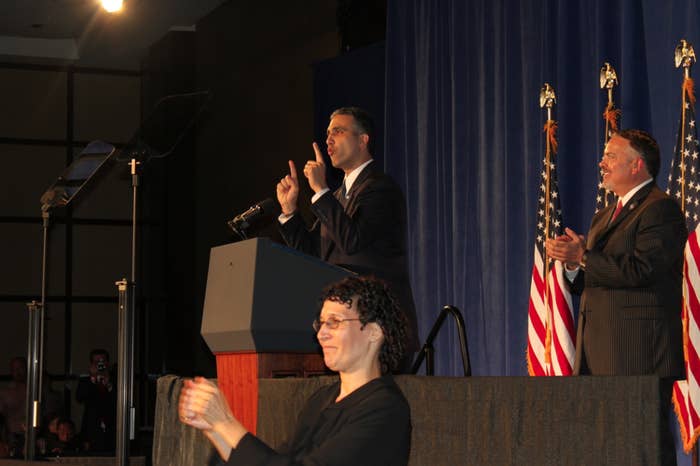 A network of top Latino Democratic donors is warning early that Hillary Clinton must correct one of the big mistakes Democrats made in 2014: taking Latino voter turnout for granted.
Unlike the highly competitive Republican landscape, Clinton is expected to be the Democratic nominee — the question for Democratic donors then is less whether they'll support her, and instead, with how much money and what their priorities are. And when it comes to the growing base of Latino donors looking to make their mark, the answer is incorporating Latinos into a campaign in a real way, from the vice presidential selection to the on-the-ground outreach to voters.
"Hillary just needs to look at Colorado and Florida," said Andrés W. López, a lawyer from Puerto Rico and national co-chair of the Futuro Fund, referencing the losses of Charlie Crist and former Sen. Mark Udall. "They're prime examples of how you don't succeed. It's essentially squandering opportunity and neglecting the Latino community, doing the same basic things you did before, which is an endless source of frustration for us."
The Futuro Fund was one of the major Democratic fundraising success stories of 2012; led prominently by Eva Longoria and Henry Muñoz, the group raised $32 million for Barack Obama's reelection effort. López, one of the first major Latino donors to join Obama in 2007, individually raised millions which was folded into the Futuro Fund. That effort then begat the Latino Victory Project, a fundraising effort to increase Latino candidates in politics. (The group says they are nonpartisan and are looking for Republicans, but have only supported Democrats.) Muñoz, meanwhile, became the DNC's finance chairman.
The mistakes of last year for Democrats are clear, the donors say, and there were plenty of missed opportunities.
Ralph Patino, a Latino Victory Project board member from Miami, met then-Senator Obama in 2007 at a Marriott in Orlando. Enthralled by Obama, he immediately cut a $35,000 check. He later found out that donation put him in the top 1% of Latino donors in the country. In 2012, he bundled $1 million at his home one night for Obama.
Having worked closely with the Crist campaign, Patino said its inadequate Hispanic voter operation is a reason they lost a race that was decided by a razor-thin 60,000 votes.
"Charlie is a good friend," Patino told BuzzFeed News. "I told them we need to concentrate on the I-4 corridor, from the east to the west, from Orlando all the way across to Tampa. Let's get Eva Longoria involved, let's have rallies. Let's connect to Latinos."
He says the mistake was a common one: having a Latino outreach "appendage" rather than making it a fundamental part of the campaign.
"The guy they put in as the Latino outreach director was very lightweight, extremely lightweight," he said. "You have to have, from the ground up, a Latino organization within your election committee."
Sources close to the Latino Victory Project said that as the organization lays out its plans looking ahead to 2016, one major priority has emerged: pushing for a Latino vice presidential nominee.
The president of the Latino Victory Project, Cristóbal Alex, declined to comment.
Julián Castro, the former San Antonio mayor who Obama picked as his current Housing and Urban Development Secretary, is the one most often mentioned as someone Clinton might look at for the position after his keynote speech at the 2012 Democratic National Convention. It was Muñoz who pushed for Castro — whom he called the "future of the Democratic Party, the future of this country" — to give the speech.
But top Latino donors say it's about more than pushing Clinton to choose a Latino running mate.
"You want to always keep your eye on what will essentially be the most high-profile position in the land," López said. "My concern is sometimes we lose sight of the larger issue. We should spend time building a robust pipeline of people for other positions."
He said many like former Treasury Secretary Tim Geithner, who have real power to effect change in the country, joined Obama's administration after spending time in Bill Clinton's administration.
Frank Sánchez, who served in the Clinton and Obama administrations, and bundled $10 million in 2008 but did not fundraise in 2012 because he was part of the administration, said a Latino running mate would be great but it's not something he's personally pushing for.
"My sense is that if your interest is in having someone win, you don't impose those kinds of demands," he said. "We should give her latitude to pick who makes the most sense for the country and the ticket. Latino candidates should be in the mix though, a few should be on any shortlist."
The donors BuzzFeed News spoke with all echoed López in insisting that Clinton needs to have Latinos on staff, in her inner circle — and were she to win — in appointments and cabinet positions.
"It can't be one of these situations we've seen time and time again where everything is a general market strategy until some genius inside the war room figures out they should reach out to Latino voters and everybody is scurrying to translate haphazardly," said media strategist Freddy Balsera, an early Obama supporter and 2012 bundler who raised $500,000. "It has to be part of the conversation from day one."
Balsera was named in a December New York Times report after the Obama administration overturned a ban on a politically-connected Ecuadorian national entering the country. Her family donated to Democratic campaigns and Balsera employed her and sponsored her visa. The ban was overturned by the State Department, which was under Clinton at the time.
Manuel Sanchez, a Chicago lawyer, who helped raise $8 million for Obama in 2008 and was part of the Futuro Fund in 2012, said he was at the National Council of La Raza event in Obama's first term when he promised to focus on "immigration reform in his first 100 days." Despite Obama's executive actions to protect millions from deportation, he said Clinton can't make the same mistake of not making an immigration overhaul a priority.
"People don't forget that," he said.
"She needs to continue to push for some action on immigration, to say that it's been a disappointment is a gross understatement," Frank Sánchez added.
Balsera said "for a lot of Hispanics the immigration debate is about how accepting you are of this new community."
The donors didn't stop there, imagining a suite of positions Clinton could take along with immigration, including support for Obama's move to normalize relations with Cuba and Puerto Rican statehood, an issue close to the heart of López, who is from the island and frames it as "equality" for Puerto Ricans, which to him, means citizenship.
"I don't want to live in a place where an American can raise millions of dollars and can't vote," he said, noting that the 2020 Census may surprise many who think they know Florida's demographics.
"People are going to be in shock in about four years when it turns out Puerto Ricans outnumber Cubans in Florida," he said.
Gone are the days of 2004, Frank Sánchez says, when John Kerry and George W. Bush combined to spend only around $7 million on outreach to Hispanic voters.
"In 2008, Obama spent $22 million by himself," he said.
And López pointed to the big Clinton-world news this week, when infighting between Priorities USA and other pro-Clinton groups broke out in the public eye.
"There are no top-level Latino names. That's what we notice, not what everyone else is noticing," he said. "For the newer folks among us, it's about how do you change this? It's about getting inside the room with them and saying, 'What are you doing to reach Latinos?' That's the adult conversation that needs to happen with Hillary's folks, and it can't just be all white guys."
Manuel Sanchez broke down the importance of real-live Latinos having Clinton's ear.
"At minimum they bring the issue to the fore," he said, "it doesn't mean its going to carry the day but if you don't have the person in the room with the decision makers, in a tight inner circle, then it's very likely the issue will be ignored."