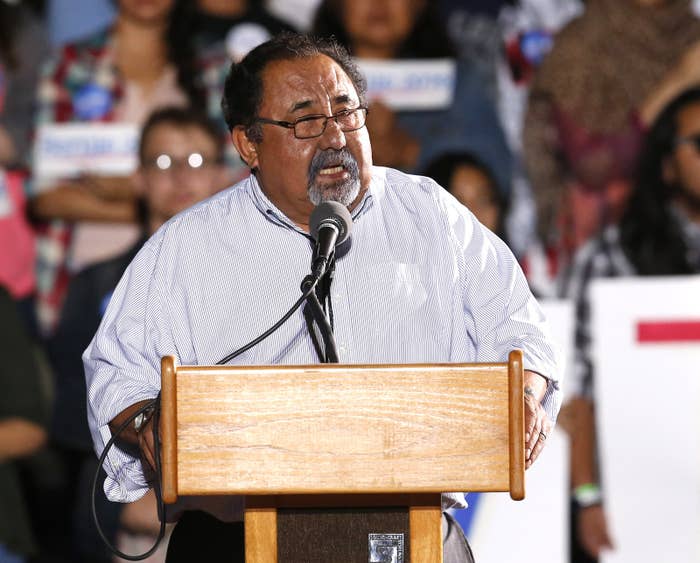 Rep. Raul Grijalva, one of Bernie Sanders' early elected backers, will hold his first events as a surrogate for Hillary Clinton in Nevada on Sunday with a message that only Democratic unity can defeat Donald Trump in November.
Grijalva will kick off a voter registration event where he will help register Latino voters in Las Vegas, visit a Hispanic church, and attend a unity BBQ hosted by Rep. Dina Titus, commissioner Chris Giunchigliani, and state senator Tick Segerblom, who was one of Sanders' lone elected supporters in Nevada.
He will also participate in a video teleconference with former Sanders supporters in Northern Nevada.

Grijalva, who released a long statement a month ago when he announced his support for Clinton after primary voting ended detailing the ways Sanders had changed the trajectory of the Democratic party, echoed those points in an interview with BuzzFeed News but said his message to Sanders supporters is that they must come together to defeat Trump because he is an affront to the progressive policies they have fought in the trenches for.
"I think people that are grieving the fact that Bernie is not our nominee should grieve," he told BuzzFeed News.
"We have to ensure that we defeat Donald Trump — implicit in that is that you have to support Hillary Clinton. I don't see supporting Hillary Clinton as taking a step back, or dropping issues we believe in. By supporting her we provide a margin that is going to be very necessary; progressive, young, voters of color, particularly Latino, are going to play a huge role in helping to beat the real, palpable threat of Donald Trump's twisted populism."
And Grijalva said his state of Arizona, the oft-mentioned Clinton dream state where a large Latino population has not been fully tapped electorally, could be unlocked if she is able to unite disparate generations of Latino voters. He argued that Democratic victory is possible in Arizona if younger Hispanics drawn to Sanders message vote in November because of the prospect of Trump.
"He's a pandemic threat to the Latino community," Grijalva said. "The verbiage, scapegoating, the blatant racism, that's a target," he added, saying that for young Latinos it would be a vote to defend their family in a place like Arizona where immigration concerns are real. "That's not just reverse fear-mongering, it's just the reality, man."

But while Grijalva argued supporting Clinton is a necessary next step, three high-profile Latino staffers who helped craft Sanders' immigration message during the primary all hesitated to endorse her candidacy.
Arturo Carmona, deputy political director for Sanders, said he was focused on stopping Trump, who he called "one of the most destructive and dangerous" threats to Latinos ever.
"I'm going to do everything I can to support in that effort, to continue to build the progressive movement, particularly from a Latino and multicultural lens," he said, but would not endorse Clinton at this time, saying he would revisit the issue after the convention.

Like Carmona, Cesar Vargas who worked in Latino outreach for Sanders, pointed to victories in the Democratic platform as a sign of the type of work that can be done besides endorsing Clinton.
Sanders Latino spokesperson Erika Andiola, who like Vargas and Carmona was a national immigration activist before joining the Sanders campaign, declined to discuss supporting Clinton in the wake of Sanders endorsement of her.
"I don't have any comments on that at this moment," she said.

But Vargas suggested endorsements are overrated. While Trump's rhetoric concerns him, a competitive election does not.
"Secretary Clinton became a way better candidate because of Senator Sanders and Senator Sanders became a better candidate on immigration because of Secretary Clinton and the great work her Latino staffers did," he said.