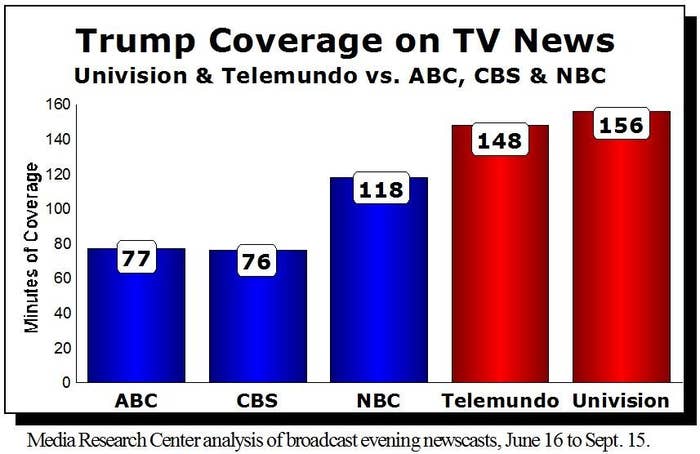 Spanish-language television giants Univision and Telemundo have given GOP presidential candidate Donald Trump more coverage than all of the other major broadcast networks combined, according to data put together by the Spanish-language conservative media watchdog MRC Latino.
"If Americans that don't watch news in Spanish think they're getting a lot of Trump, wait until you see Spanish-language news," MRC Latino director Ken Oliver-Mendez told BuzzFeed News.
MRC Latino researchers combed through nightly news coverage starting on June 16, the day Trump announced his candidacy to September 15, the day before the second GOP debate. They found that Trump received 304 minutes of coverage on Univision and Telemundo, compared to 271 minutes total on ABC, CBS and NBC.
Trump announced his candidacy for president with remarks disparaging Mexicans and immigrants, and he supports an immigration policy of deporting all undocumented immigrants and building a wall on the border.
While Trump shot up to first place in GOP primary polls on the back of such comments, Latinos' views of him have cratered. An August Gallup poll found his favorability with the group at -50. A September MSNBC/Telemundo poll found that 70% of Hispanics had a negative opinion of him.
Oliver-Mendez said the coverage hurts Republicans who are being painted with a broad brush as anti-immigrant and plays into a Democratic narrative being pushed by candidates like Hillary Clinton and Martin O'Malley.
"Trump is being consistently depicted as a racist and an existential threat to the people in this country who are seeking legalized status," Oliver-Mendez said. "The characterizations of Republicans as being anti-immigrant, that's something they're going to have to deal with and push back on."
He added that he's concerned when reporters and anchors weigh in with editorial judgments of Trump, which he saw in the coverage.
But it's also true that Trump didn't just stop with remarks perceived as derogatory. He also made it personal with the networks, taking on Telemundo anchor Jose Diaz-Balart at a press conference in Laredo, Texas, not allowing him to ask a question. He also kicked Univision anchor Jorge Ramos out of his press conference in a high-profile August incident. Trump's "Go back to Univision!" remark to Ramos was widely seen by Hispanics as similar to common "Go back to Mexico" comments made towards immigrants.
MRC Latino included instances like this, as well as coverage of when Trump criticized Jeb Bush for speaking Spanish on the trail, and when two Boston men allegedly used Trump's words as inspiration for the alleged beating of a Hispanic man, in their analysis.
Inclusion Matters, a progressive Media Matters project that also monitors Spanish-language media said the beating is an example of why the two networks are just doing their job when it comes to Latinos.
"This kind of hateful rhetoric carries dangers," said Kristian Ramos, Inclusion Matters director.
"Hispanics are the core audience for Univision and Telemundo; that's who these networks serve," he continued. "While coverage of policy issues should not suffer, their coverage of Trump's attacks and anti-immigrant venom is consistent with their commitment to the Hispanic community."