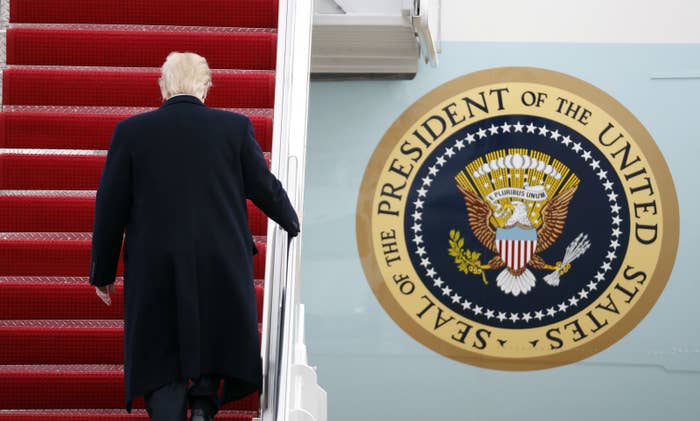 WASHINGTON — There's a way that a White House usually rolls out a big change: with the media.

"If you want the most people to see it, even in today's digital media environment, doing something with the Associated Press is the way to go," a former senior Obama administration official said. "If it's a complicated thing around a piece of very arcane inside-baseball operations over at the Department of Defense, you might want to go to the New York Times reporter who has covered defense for 25 years."
And sometimes, if it's a really big change, the change won't take effect for weeks.
That's not how the White House handled the executive order that shut down the global refugee program for months, and ended with protests, legal challenges, and confusion at America's international airports over just who could enter the country.
The president signed it; the White House later released the language; and, as departments sorted out details, administration officials ended up scrambling onto weekend talk shows and giving an unexpected briefing to reporters on Sunday night.
In the week since, the administration has apparently started retooling its strategy.
On Monday, two senior administration officials walked reporters through Trump's order to reduce regulations on businesses by eliminating two orders for every one new regulation.
On Tuesday, administration officials briefed reporters ahead of a cybersecurity order that was eventually scrapped.
On Thursday, ahead of two financial services executive actions, officials gave a briefing embargoed until 5:30 a.m. so that television networks would be able to share the information with viewers during the morning shows.
The change in strategy is a welcome one for Republicans who have privately grumbled that whether you support the content of the executive order on the travel ban, the communications strategy behind it was disappointing, leading to confusion over whether green card holders were subject to the new rules or not. (Key surrogates on the Hill were left flat-footed when the immigration order was announced, too.)
Julie Myers Wood, former assistant secretary of homeland security for Immigration and Customs Enforcement (ICE) during the George W. Bush administration, said enhanced communications during roll outs of sensitive policy would be helpful going forward.
"One of the reasons for some of the outcry on President Trump's executive order on the prohibition of travel from the seven countries was that there was not a lot of communication strategy," she said. "To an outsider it appeared rushed in some areas and could have been thought through more. It would always be concerning if you're putting a pause on the visa process but they exacerbated it."
The Trump administration waved away these concerns, noting that the briefings have come regularly this week and noted that because of the nature of the executive order on immigration restrictions they were limited in what could be announced ahead of time.
Another administration official blamed Democrats and critics who relish any opportunity to take shot at the Trump team, and took issue with media reports of the executive order as a "Muslim ban."
"The seven countries who qualify under the executive order are because their governments do not have the means to provide enough information about who is traveling in and out of their country," the official said
The official also noted that dozens of Muslim-majority countries are not subject to the travel ban, including the largest, which is Indonesia.
Officials in the Trump administration have made perfectly clear that they diverge from their predecessors both in terms of policy and how to treat the press. Chief White House strategist Steve Bannon told the New York Times last month that the press is "the opposition party" and that the media should "keep its mouth shut."
In practice, treating the press as the opposition during a campaign and carrying that over to actual governance — where an administration faces the complex task of hawking their new policies to the public — may prove challenging at times.
Before rolling out new executive orders, "You want to put a bunch of officials on with reporters on background," said Jon Favreau, former head speechwriter for President Obama. "To the extent that they are learning it now, great, but this is new levels of incompetence that we haven't seen in any Democratic or Republican administration."
The other former senior Obama administration official said that there was a learning curve and "adjustment period" for figuring out how best to brief the press before rolling out executive orders.
"Everything you do in government or in politics has a communications and press element, and your success or failure is directly tied to how that goes," the former official said. "This is a group of people that think they know best and are learning by touching the hot stove."
Administrations typically carefully consider how to announce new policy, with communications aides creating an hour-by-hour tick tock that seeks to control the message, former officials noted, including internal and external guidance meant to create smooth action.
Instead, the airwaves were filled with images of visa-holders and refugees who wanted to come to the United States — which even the Trump administration official acknowledged were potent.
"Some individual stories are powerful," the administration official said, but you "have to create policies for the greater good."