After the Republican National Committee Hispanic Media Director left Wednesday because of discomfort with working to elect Donald Trump, the RNC moved quickly to announce a replacement: commentator and journalist Helen Aguirre Ferré.
Before the announcement, Aguirre Ferré deleted tweets critical of Trump — both from when she worked for Jeb Bush's campaign and long after, when it was clear Trump would be the Republican nominee. She was also very critical of Trump in a multitude of Spanish-language interviews, from Al Punto — a Sunday political show in the mold of Meet The Press, with influential Univision anchor Jorge Ramos — to local stations in Florida.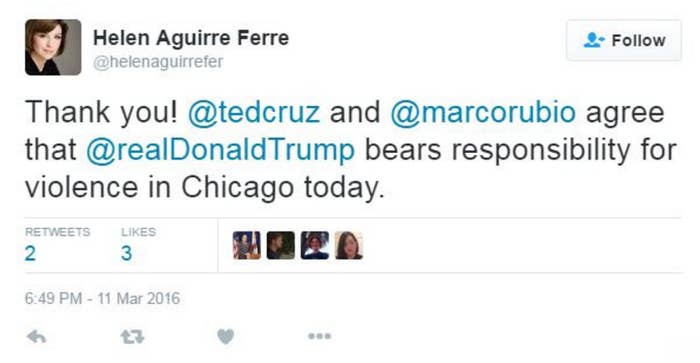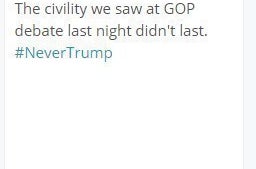 Aguirre Ferré has said she is #NeverTrump, often retweeting people who say they are Never Trump and called him "crazy" on Twitter.
She was also taken aback by the infamous Chicago rally that involved widespread protests and some violence between protesters, Trump fans, and police; and Trump's comments about protesters (that they should not be roughed up too much, but that he would pay for legal fees). In an English-language appearance on Newsmax TV the day after the incident and ahead of the Florida primary, she echoed her deleted tweet (above), calling Trump "one of the principle instigators of the violence that we're seeing."
"I think it's more than clear, Donald Trump has contributed to this and there is very clear evidence in his speeches and his rallies that he does instigate that violence, and then he will say I will pay for your attorney or don't rough them up too much," she said.

The "introduction of that from a political candidate is so dangerous and so divisive and even when he speaks in defense of this he's come back to illegal immigration and immigrants as if immigrants were a problem with the violence yesterday," she added, noting that he didn't denounce violence against journalists attributed "to people working for Donald Trump or part of the campaign."
In Spanish-language interviews, Aguirre Ferré did not hold back, making clear that she thought Trump was bad for the Republican Party.
In a Nuestra Tele Noticias appearance last summer she said Trump's was an "absurd," "anti-immigrant" plan and that he held many points of view at odds with Republican voters like that "he's in favor of abortion, he's against traditional marriage."
While Trump has lots of money, she said, he "values people for their bank account not their value as a human."
"Donald Trump is a recent Republican, you can't tell me he speaks for the party, I reject that," she continued.
And she made it clear that she never thought the day would come when she would work to help elect Trump as the party's standard bearer.
"He has never been that and he never will be," she said.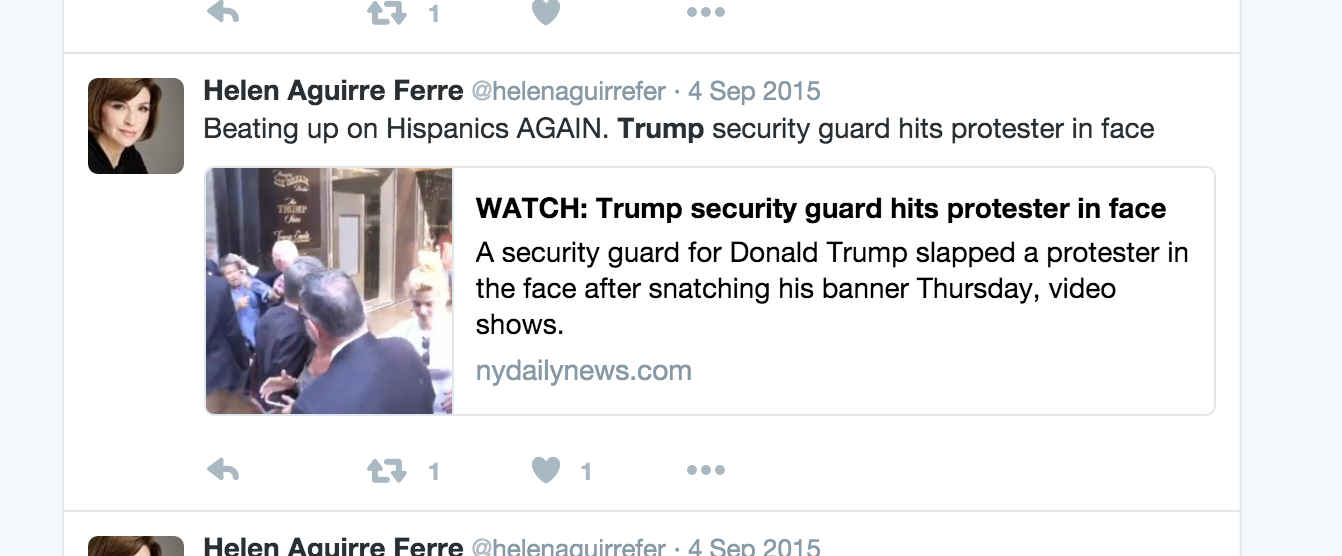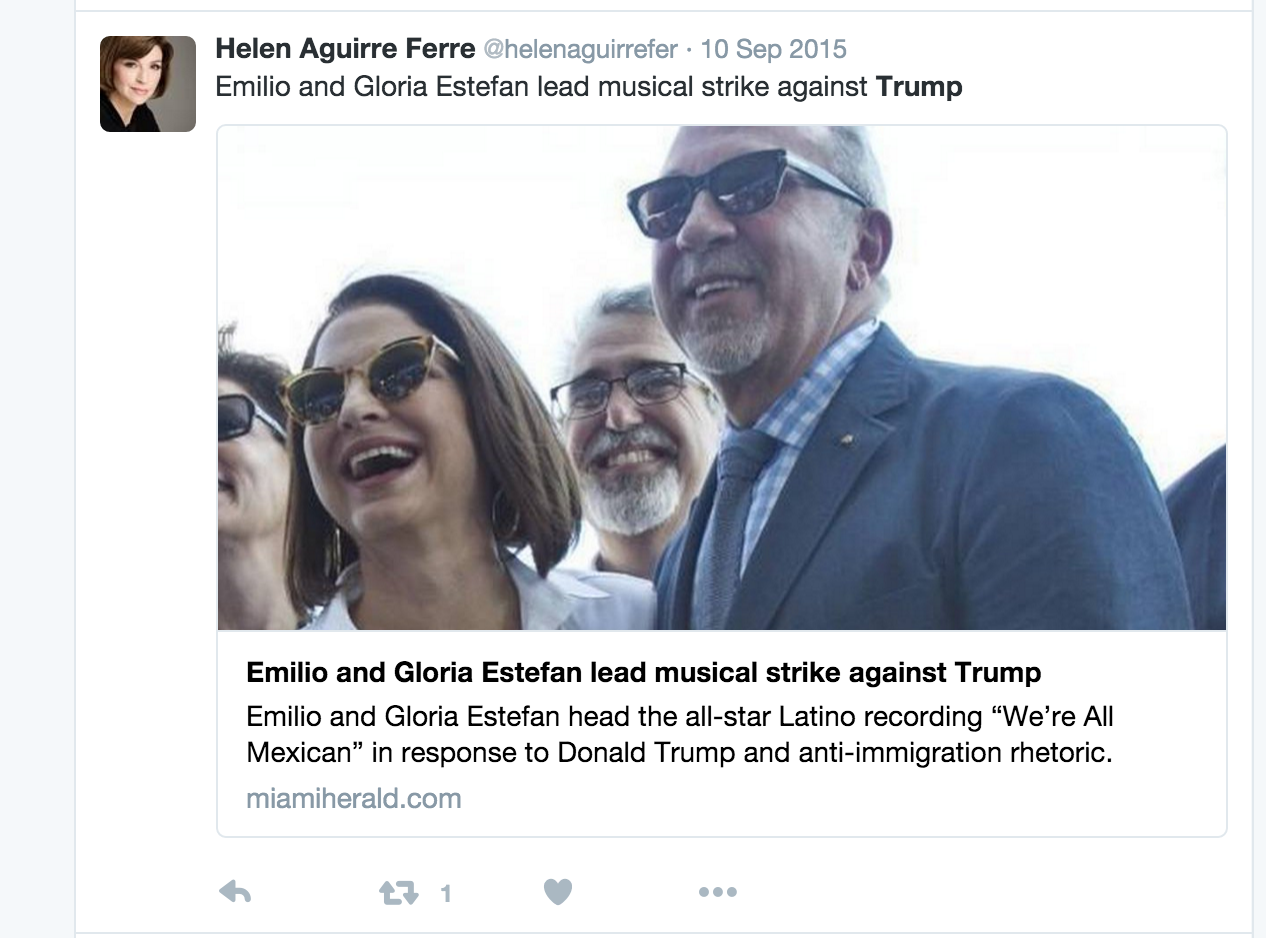 But it is Aguirre Ferré's stances on Trump's comments about Hispanics that speak to the difficulties the RNC now has. Simply put, Latino Republicans have long speculated that any serious, experienced operative would hold anti-Trump views, whether they are Spanish-language television surrogates or those looking to join the RNC.

Supporting a different candidate is one thing; operatives do that all the time as the primary turns to the general election. But Aguirre Ferré has been on Spanish-language television as an expert saying that Trump's policies and comments are anti-immigrant and anti-Latino. Now she will be making the argument that Trump should be elected and Hispanics should support him and not Hillary Clinton.
She has tweeted that those who associate with or support Trump have a history of violence against Hispanics. In a tweet that she didn't delete, she said it was "terrible" that two men who beat a homeless Hispanic man had this justification: "Trump is right."
She's said that other candidates were wrong in trying to adopt Trump's style. Latino voters, she said, would reject this strategy and punish the candidates. Those who are "treating Hispanics badly, they don't deserve to be the nominee," she told NTN.
Months later, once Bush was out, she took issue with Trump's comment that women who have abortion should be punished (which Trump later retracted). The comment, Aguirre Ferré said on Al Punto, would consolidate support against him from women.
"I'm not going to tell you he's a misogynist, but I do think there is something that makes him uncomfortable about strong, independent women," she said, referring to his criticism of women, including Megyn Kelly of Fox News.
"In the case of abortion, Donald Trump held every viewpoint possible including supporting partial-birth abortion, something even many who are pro-choice oppose," she concluded.

In May, she said many Republicans would not unify around Trump and pointed to Speaker of the House Paul Ryan as someone whose job it was to keep the majority.
"Anyone who knows Paul Ryan, knows that he doesn't have a lot in common with Donald Trump ideologically, or in his moral character either."
Aguirre Ferré did not answer requests for comment by time of publication but told the Washington Post, "Hillary Clinton offers a third term of the Obama administration and those policies have been a failure. We can't afford another Clinton/Obama presidency."

Yet, on A Fondo from Miami on May 3, when Ted Cruz had dropped out and it was clear Trump would be the presumptive Republican nominee, she said she still hadn't made up her mind.
"I think I'm going to be one of those people who isn't going to know until the last moment who I'm going to vote for," she said.