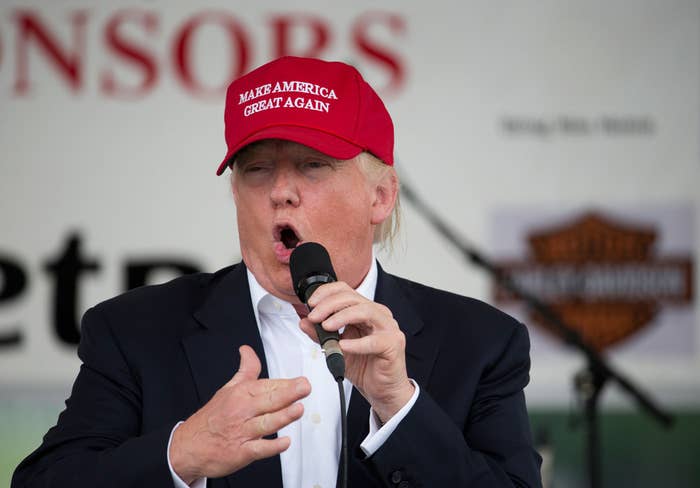 Last week, news about the Republican National Committee's struggles hit in quick succession.

First, the RNC's Hispanic media director left to work on down-ballot races because of discomfort with Donald Trump.
Then, the person filling the role, Helen Aguirre-Ferre — a seasoned journalist and commentator — had spent months slamming Trump for his comments about Latinos and immigrants, violence at his rallies, and past positions out of step with conservative values.
But Aguirre-Ferre wasn't the only person approached for that job, according to a source familiar with the proceedings. Mario Lopez, president of the Hispanic Leadership Fund, was spoken to regarding the role. He decided it wasn't a good fit, the source said.
The RNC denied this to BuzzFeed News. "The only person we considered and offered the position to was Helen Aguirre-Ferre," an RNC official said. "No one even came close to her experience and qualifications."
Lopez said he is in constant contact with the RNC and said different topics come up but declined to discuss his conversations with the RNC. But he criticized Trump's latest crusade against U.S. District Judge Gonzalo Curiel, a Mexican-American from Indiana, who is presiding over cases against Trump University. Trump has said the judge is biased against him because of his heritage and Trump's plan to build a wall along the border.
"It's clear what I think about Trump," Lopez said. "The latest thing on that judge is beyond the pale and very much calls into question any of his so-called attempts at trying to right the ship with Latino voters."
The RNC also reached out to a second operative — Joe Culotta — regarding Hispanic outreach in Florida, he said. Culotta said the party's message was that it is staffing up now that a nominee is in place.
"That means I have to go on the record to defend Trump. He's a ticking time bomb and you have to defend that," said Culotta, who is currently working freelance public relations for state Senate candidates in Florida.
Trump's attempts to reach Hispanic voters have yet to materialize in a meaningful way. On May 5, Cinco de Mayo, he tweeted a picture of himself grinning with a taco bowl from Trump Tower Grill, adding that he loves Hispanics. Since then he sent a low-production video message to the largest Hispanic evangelical group in the country, blasted New Mexico Gov. Susana Martinez as a bad governor, and attacked Curiel.
Trump has also not answered requests from national Latino organizations that have asked him to speak at their summer conventions and refused multiple interview requests from Spanish-language networks Univision and Telemundo, which reach most Hispanic homes.
The RNC has stood apart from Trump on engaging Latino voters, putting in place a program since 2013 to pour resources and staffers into key states with an eye towards 2016, but now is dealing with whether Trump has completely trampled on those efforts, turning back any progress that had been made.
Part of that challenge includes staffing experienced Hispanic operatives that don't abhor Trump and the direction he has taken the Republican Party.
Some Republicans say the behind-the-scenes intrigue doesn't matter because, in the end, Aguirre-Ferre is a 25-year communications veteran and particularly qualified to take the reins of the Hispanic media operation.
They cite her work as host of a national radio show on Univision America Radio, a local public affairs show in Florida, and her relationships at the networks, all while serving as a surrogate, spokesperson, and media trainer throughout her career.
Still, the headaches concerning Hispanic staffers don't seem to be over for the RNC yet. As BuzzFeed News previously reported, another party operative has plans to leave because of Trump.

"I've always supported conservative principles, but when I look at the things I align with, they do not align with Trump," the staffer said at the time.
And as Trump attacks figures like Martinez and Curiel, many Republicans have found that the decision to endorse him won't be temporary.
"With the internet these days, those quotes are going to be stuck on the internet forever," Culotta said. "I just didn't want my name attached to these quotes in the future."