The Push To Get Julian Castro On The Democratic Ticket Has Begun
The president of the U.S. Hispanic Chamber of Commerce, Javier Palomarez, will endorse Castro for vice president on the Democratic ticket at an event Saturday in San Antonio. More efforts are on the way.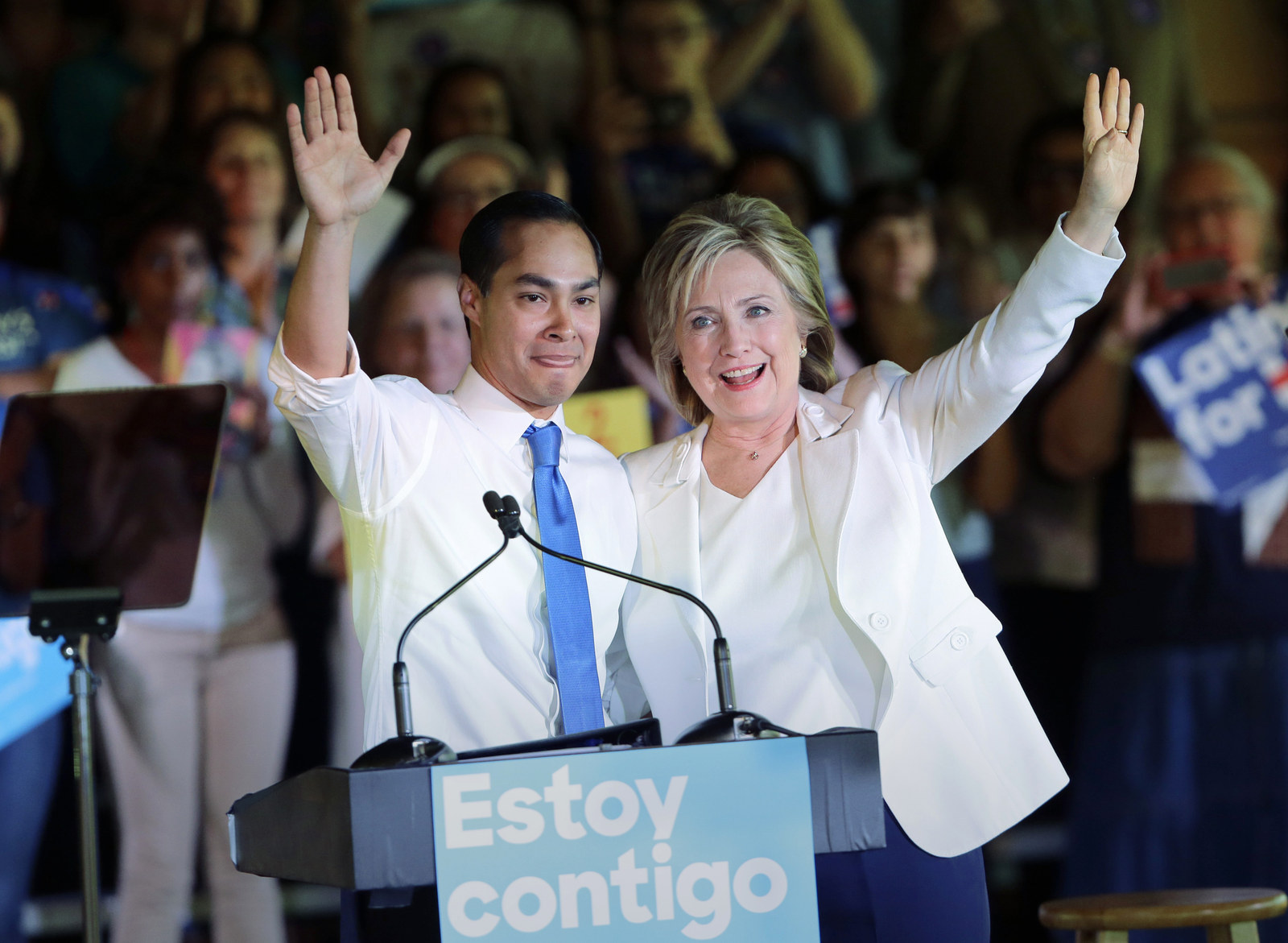 With a few words and an endorsement at the San Antonio Hispanic Chamber of Commerce gala on Saturday, the effort by Latino groups to get HUD Secretary Julian Castro on the Democratic ticket will begin.
U.S. Hispanic Chamber of Commerce president Javier Palomarez, who leads an organization that represents 4.1 million Latino small businesses, will say that Castro has the track record, temperament, and experience informed by his background to be named the vice presidential nominee.
"I'm a native Texan and he did an amazing job as mayor of San Antonio, he really put it on the map," Palomarez told BuzzFeed News, "while simultaneously working across the aisle and demonstrating finesse working with the public and private sector."

He added that Castro has been responsible for 1 million people living in "affordable, clean housing through his leadership at HUD."
Castro, who endorsed Hillary Clinton and made his debut as a top surrogate for her at a splashy Oct. 15 Latinos for Hillary event in San Antonio, declined to address the vice presidential talk.
"I'm happy with the progress we're making at HUD and concentrating on that," he told BuzzFeed News.

Palomarez said that while his organization is nonpartisan, it understands the intersection of business and politics, and he suggested Clinton is not the only Democratic candidate who would consider Castro.
"Privately, in conversations with other candidates, his name has come up," he said.

Detractors, and even other Democrats, believe Castro's experience — he was mayor of the country's seventh largest city for three terms, but did not hold higher office before joining Obama's cabinet — will be a factor in whether Clinton would name him vice president if she became the nominee, but she fanned the flames when asked directly about it in an interview with Palomarez the day of the San Antonio event in October.
"I think really highly of him and I'm happy to have his endorsement today," she said. "I will look at him for everything."

Castro's name has long been mentioned publicly for the role by his allies. In May, DNC Finance Chair Henry Muñoz told BuzzFeed News that Castro certainly "deserves to be on the short list for vice president of the United States." Henry Cisneros, who like Castro was HUD Secretary and San Antonio mayor, told Univision in June that people close to Clinton said he was first on their VP list.
But now with primary voting set to begin and the Democratic convention on the horizon this summer, Latino groups are also positioning themselves behind the scenes to aid the effort to get the nominee to commit to having prominent Hispanic officials join their cabinet as well as push Castro for vice presidential consideration.
Hector Sanchez, chair of the National Hispanic Leadership Agenda (NHLA), a coalition of 39 national Latino organizations, said it has pushed the three Democratic candidates to commit to having four Hispanics in their cabinet as part of its presidential appointments project.
For Sanchez, it's about fair representation of the Latino community.
"As we get closer to the next administration we're going to offer lists of highly qualified latinos and Secretary Castro is a certainly a strong candidate," he said.

The Latino Victory Fund, a group that has helped Democratic candidates get elected, and counts Castro's brother Rep. Joaquin Castro as a co-chair, suggested that it would put money and resources behind a push to get Castro named the vice presidential nominee, as the election progresses.
"I do think it's clearly early to be making public endorsements for a vice president at this early stage, but at the same time there is a growing sense of urgency in the community to see a Latino leader on the ticket," said the group's president, Cristobal Alex.

Castro cheerleaders are also aware that they have to be careful with how much they push, sensitive to not wanting to anger a campaign like Clinton's by boxing them in too much.
In addition to Castro, Alex said Labor Secretary Tom Perez and former Secretary of the Interior Ken Salazar should be considered, while "candidates on the right, not just Donald Trump, but Ted Cruz and Rubio, attack Latinos."

Alex held an event last month in Las Vegas where progressive activists tied Cruz and Rubio to Trump's harsh rhetoric and policies toward Mexicans and immigrants.
He pointed to the Latino Victory Fund's Firsts campaign, on Latino firsts like the first astronaut and the first person in the family to graduate from college. Vice president would be a big one along those lines.
"It would be a critical first for our community to have that," he said. "Julian is perfectly suited to do that and at the same time win the Latino vote."

Castro, who will be campaigning for Clinton in Iowa this weekend when Palomarez delivers his endorsement, was happier to discuss his work for her.
"I'm excited to get out to Iowa — it's a crucial state in the primary but also in the general election," he said, adding that the growing Hispanic electorate has a "tremendous amount at stake" when it comes to education, health care, and immigration, among other issues.
"I'm more than happy to do my part to motivate and encourage people to vote," he said. "As the recent Pew Report demonstrated, we have the numbers — we just need to get out and vote."