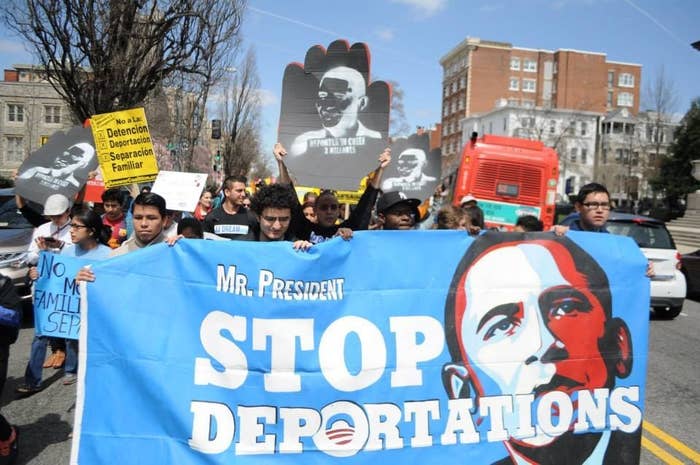 The activists who have relentlessly pressured the White House to curtail deportations say they will continue to pressure the administration in 2014 and into next year.
But as reports of proposed Department of Homeland Security (DHS) policy changes from an administration-wide review of deportations begin to trickle out, some activists are begrudgingly optimistic — a potentially sharp change from the heated attacks earlier this year.
The administration strategy said to be emerging would seek to pacify activists with immediate changes in enforcement practices, along with the very real possibility of larger administrative relief if Republicans don't begin to move a comprehensive legislative fix through the House by the summer.
In interviews with activists, many of whom have seen family members deported, they stressed that the president must go big in the DHS review, or risk his legacy including the damning "deporter-in-chief" label that makes him furious. They also, however, had praise for the rumored steps and the apparent two-party strategy the White House seems to be pursuing.
Marielena Hincapié, executive director of the National Immigration Law Center, said the president hinted a two-part strategy could be the case during a meeting with activists after pressure had gotten so strong that the Congressional Hispanic Caucus was considering issuing a memo demanding deportations be slowed.
Where she previously believed the administration would continue being hit on deportations indefinitely, she now thinks they could find some daylight with this approach to addressing deportations. But it won't be easy.
"The White House is in a catch-22, wanting to appease and satisfy demands from us, and on the other side make sure they don't piss off Republicans, and give them an excuse not to act," she said. "Broader relief and status to a larger sector of the community is unlikely to happen unless the White House thinks legislation is over."
A range of activists said the two-part strategy — with some changes soon, and then a possible second slate if Congress does not take legislative action this summer — is something they've repeatedly heard the administration is considering.
"It comes from the Hispanic caucus and their meetings with the president," Frank Sharry, executive director of America's Voice said. "That's where the confidence comes from. They're strongly of the opinion that there will be an initial review but that the process will be ongoing to determine if they can go bigger."
The changes said to be in the forthcoming memo are bond hearings so immigrants can fight their cases outside of detention, and redefining removal priorities, so someone who reentered the country but does not have a serious criminal record would not be targeted, the LA Times and Associated Press reported. The administration is also looking at shortening the time an immigrant is considered new, and therefore a removal priority. A recent immigrant would go from someone who entered in the last three years, to someone who entered in the last two weeks. Reuters reported the memo would also seek to protect immigrants serving in the U.S. military from deportation.
Whether or not Congress will take legislative action has been a point of contention in recent weeks. In comments that drew the rebuke of some Republicans, House Speaker John Boehner last week told a group of his constituents that some House GOP members don't want to deal with immigration reform because it's a tough issue for them politically.
Democratic Rep. Luis Gutierrez, a staunch supporter of deportation relief, has laid out a July 4 deadline for House Republicans to begin moving immigration reform legislation forward, which he brought up again on the House floor, Wednesday.
If that doesn't happen, many believe the president would be free to move on the second part of deportation relief. Something larger in the vein of the Deferred Action for Childhood Arrivals program (DACA), that gave legal status to DREAMers, undocumented youth brought to the country as children.
Prominent DREAMer and national immigration reform advocate Gaby Pacheco, said the White House should do as much as it can now administratively and then be more aggressive with initiatives like DACA if Congress doesn't act.
"It's not ideal because it's not a permanent solution, but it's often better than bad legislation," she said. "Plus DACA has shown that doing positive affirmative things, while they may not be approved by congressional members, is highly approved by voters."
Lorella Praeli, director of advocacy and policy at United We Dream, said her organization's core demand is an administrative relief program like DACA and the larger question will be what the possible second reforms look like. Still, she has said it will depend on the members of her organization and what the people consider a victory.
"All changes that would make a significant difference in the lives of people are welcome and we will continue to keep our eye on the prize," Praeli said.
Some, like Gutierrez and America's Voice, have continually brought up the issue of U.S. citizen children seeing their parents taken from their home by immigration agents and being deported. Gutierrez has also talked about relief for the families of undocumented soldiers in the U.S. military.
Advocates say they would continue to push for more from the president even after the DHS memo is released. They say that many of the possible reforms being reported are long overdo, but admit that they could have a real impact in the lives of thousands of undocumented immigrants.
Still, not all of them support a two-part process from the administration. Marisa Franco, who leads the #Not1More deportation campaign for the National Day Laborer Organizing Network (NDLON), says small changes in response to big grassroots pressure are a hallmark of the Obama administration.
"This isn't a new strategy from the administration on how it deals with pressure on its failed deportation policy," she said, pointing to the 2011 Morton memo, which called for increased use of prosecutorial discretion, which many advocates say is routinely ignored by agents in the field.
"Some groups called that a victory at the time. We're not going to fall for that again. The two-part process will dim chances for immigration reform and it won't stop the deportation crisis."
Still, Franco acknowledged that activists are on the cusp of finally getting reforms they've long asked for.
"The grassroots pressure has fundamentally driven the president to even consider acting," she said. "We will take that as a victory, but we still have to continue pushing."
After Gutierrez himself spoke with Johnson in April, the Illinois congressman laid out the landscape in front of Republicans.
"We are all applying pressure to get the Republicans to get over their fear and take action. But just the threat of presidential action is a powerful tool in this battle," he said.
"They know they are on the clock and that if they don't take action, Secretary Johnson and the president will have to."