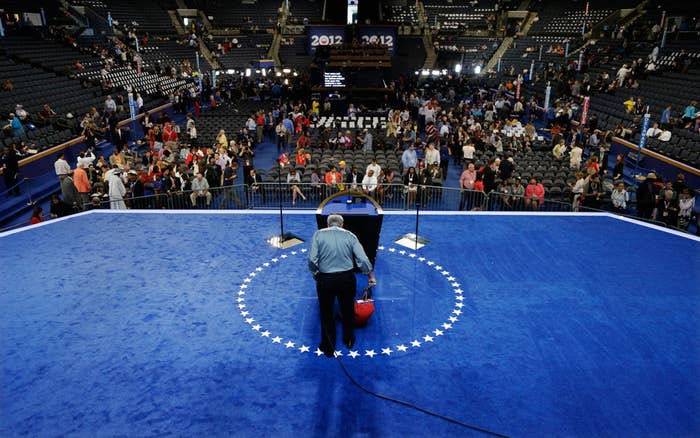 Democrats have begun hiring a host of Latino communications professionals to help target the Hispanic population during this summer's convention in Philadelphia, a growing contrast to their nominal efforts at Latino outreach in 2012.
Latino participation in the Democratic convention has seen significant increases over the last 16 years, with more than 700 Latinos attending the 2012 convention in Charlotte. With both Bernie Sanders and Hillary Clinton investing heavily in courting the community, organizers expect to surpass that number this year, making outreach and communication to Hispanics increasingly important.
(The DNCC is also working to spend 35% of its convention dollars on diverse contractors, an effort that is not without it's growing pains.)
Prospero Latino founder Jose Parra, who led Latino outreach at the 2012 convention, has been brought on board to head up Hispanic-focused communications, with a goal of being as aggressive in Latino-focused media outreach and communications as has traditionally been done for English-language communities.
Similarly, veteran Democratic operative Chuck Rocha's Solidarity Strategies, which has been working for the Bernie Sanders campaign, will head up Spanish-language translations. Rocha's team will also translate speeches into Spanish, as well as produce fact sheets in Spanish.
Sources also said Sen. Bob Menendez's deputy communications director Juan Pachon will take a leave of absence to work on both English and Spanish-language outreach to Latino news organizations during the convention. Pachon is joining former Media Matters staffer Jessica Torres, who is already working with the convention committee.
The effort to beef up on the Latino communications side represents a new front in the Democratic diversity effort, with a Hispanic media roundtable on Thursday with Rev. Leah D. Daughtry, CEO of the DNCC, being seen as an opportunity to be more inclusive and build relationships earlier in the process than ever before.
"The Latino vote is here to stay, and Democrats are reflecting that in their convention," Rocha said, whose experience dates back to the 1996 convention in Chicago, when at 25, he was the youngest elected delegate from Texas to attend.
"Twenty years later, I'm a vendor to the convention, it shows the party's growth," he said.
The efforts to build a robust Latino communications team are something new for Democrats, who haven't put a similar focus into past conventions.
"A decade ago, it's something people would have thought of a week out," Parra said.