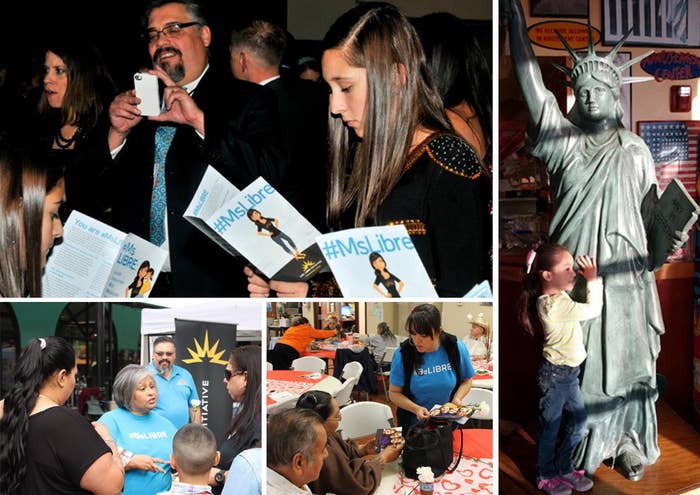 Last August, Pastor Marcus Burgos brought a group to his church, which is located in a rough part of San Antonio. Together, Burgos and a handful of people from the group, called the LIBRE Initiative, distributed boxes of food to parishioners in need, the majority of whom were Hispanic.
In Florida, the organization helps Latinos with tax-preparation services. In Nevada, the group is helping undocumented immigrants get their driver's authorization cards. The LIBRE Initiative, in short, is helping Latinos with the things regular people need help with.
And it's alarming Democrats.
LIBRE is a group backed by billionaires Charles and David Koch. They've been providing services and building meaningful relationships with Hispanics since 2011 in states like Nevada, Florida, Colorado, Texas, and Arizona — and they're doing this all while espousing conservative principles to a key demographic of voters in person, in print, and online.
Democrats from these key states are upset about it, too. They say LIBRE effectively misleads Hispanics on a whole host of issues. And they worry the national Democratic Party is asleep at the wheel, unaware that the group is winning a game most Democrats don't even know is being played.
"I brought the LIBRE Initiative up to party leaders and their response was 'What? Who?'" said one Democratic official who asked for anonymity to speak frankly. "At the national level they didn't know who they were."
Who the Libre Initiative really is depends on who you're talking to.
The group says its nonpartisan, but right-leaning in ideology.
Its executive director, Daniel Garza, is a former George W. Bush administration official, and the group employs other former Republican staffers and operatives. LIBRE has received $10 million since 2011 from Koch-affiliated entities (Freedom Partners and the TC4 Trust), according to public records. Garza told BuzzFeed News the funding is public information but the group doesn't talk about it — he prefers to focus on their principles and work.
That work spans seven states with 50 employees, primarily in the Southwest, with a major presence in Florida and plans to add 20 people and expand into North Carolina and Wisconsin next. Libre, which means 'free' in Spanish, guides the group's central focus on economic freedom.
Garza says community building makes up the majority of Libre's work now ahead of the 2016 election, and that each region gets different services depending on what the community is asking for. That means that in Texas there might be more of an education focus with back to school efforts as well as giving food and helping the children at the border; Florida involves the tax prep and school choice events; and in Nevada — where the group is helping undocumented immigrants get their driver's authorization cards — immigration issues are the priority.
"We don't look at whether someone is documented or not," Garza said. "That's why we're active in supporting immigration reform."
LIBRE's critics (and there are many, with the mere mention of the group leading to impassioned rants), say Nevada is the perfect case study, showcasing the gulf between their words and actions on immigration, in a state where those issues play a key role in the economy.
While LIBRE helps immigrants pass their driver's tests, which helps them get to work, Democrats and Latino advocates say the group is silent when it comes to Republican-led legislation in Nevada that would make it harder for immigrants to live in the state.
One such bill in the assembly, AB 133, introduced by state Assemblyman Ira Hansen, would make it more difficult for undocumented immigrants to work in construction by penalizing their employers. Critics say if LIBRE really has the best interest of Nevada immigrants at heart, they would fight legislation like this. Garza said the group has limited resources but doesn't rule out taking on Republicans. He noted they've already slammed Marco Rubio over sugar subsidies, for example.
LIBRE is also hammered for the way they explain their stance on Obama's immigration actions. Garza said the "train has left the station" on the president's 2012 Deferred Action for Childhood Arrivals (DACA) — the program has been implemented and young people are benefitting from it, he argued. But he feels differently about the recent executive actions that would shield 4 million undocumented immigrants from deportation.
"We're not against the intent of the executive actions but when there is executive overreach we support reigning it in," he said. "I can see why people are confused about our position, it has more to do with President Barack Obama than us and the ineptitude he has shown in getting permanent bipartisan immigration reform."
Garza said it might be tough for undocumented immigrants to accept that argument, but it's fundamental to America. "At the end of the day you came to America because America gives you stability, gives you rule of law, and it has that because it was founded on constitutional principles," he said. "When the president exceeds his authority, it's against the will of the people, Congress in this case. He should be called on it, I know that's tough for people to buy."
Democrats find it tough to buy. Lucy Flores, a Democrat who ran for lieutenant governor in Nevada in 2014, said the organization speaks out of both sides of their mouth.
"You can't talk about why executive action is bad and then turn back around and help them with the immigration process. You can't say you're helping Latinos and then be silent," she said.
Flores tangled recently with LIBRE, when the group was doing exactly the kind of thing that worries Democrats: LIBRE had planned to be a top sponsor of the Cesar Chavez Festival in Las Vegas later this month.
That decision sparked a protest from local activists and lawmakers. When the flier with the LIBRE Initiative logo came out, five groups and local councilman Isaac Barron reached out to event organizers. Barron said he either wanted his name off the flier or LIBRE's.
It got so serious that Alejandro Chavez — a grandson of Cesar Chavez's — got involved, telling organizers, "It would be a disrespect to the family because LIBRE Initiative do not represent what Cesar Chavez fought for, he was a union leader and they do anti-union and anti-collective bargaining messaging."
The festival dropped LIBRE from the event's sponsors.
Unsurprisingly, it's not just the executive actions or labor issues that Democrats take issue with. Democrats don't like the group's opposition to Obamacare or their willingness to advocate against Latino candidates with whom they disagree.
In 2014, LIBRE spent $1.4 million in two separate ad buys taking on Democratic candidates for their support of the Affordable Care Act. One ad buy targeted Pete Gallego in Texas and Joe Garcia in Florida, who both lost.
"It's unacceptable that an organization that claims to support the Latino community is attacking Latino candidates," said Labor Council For Latin American Advancement president Hector Sanchez, who works to increase Latino representation in government. "We are the most underrepresented group when it comes to public office, to have them going after Latino candidates is an attack on the Latino community."
In Garcia's race, LIBRE backed Carlos Curbelo, who is also Latino.
Garza said that all things being equal it would be great to have more Latino elected leaders — but maintained that ideological principles matter. "The problem is ideas have consequences, ideas matter. If it's a non-Latino who has better ideas we're going to support them. What we care about is principles, what is generating poverty and dependency, we want self-reliance," he said.
He said his group doesn't want to keep health care from Latinos, but wants to move away from a system where "government mandates the individual." He said support for Obamacare among Latinos has dropped in a major way.
It's true that in 2014, Pew reported Hispanic support had decreased from 61% to 47% in six months. Last month, though, Pew said that number was back up to 63%.
"You can call it freedom but it's really freedom to exploit," said Cristóbal Alex, the president of the Latino Victory Project, a fundraising effort that supports Democratic candidates. "Latinos benefit more than any demographic, they have the highest number of uninsured."
In 2014, uninsured Latinos dropped from 36% of the population to 23%, though Latino enrollment in the ACA is said to be lagging. Pew told BuzzFeed News updated numbers won't be available until this September.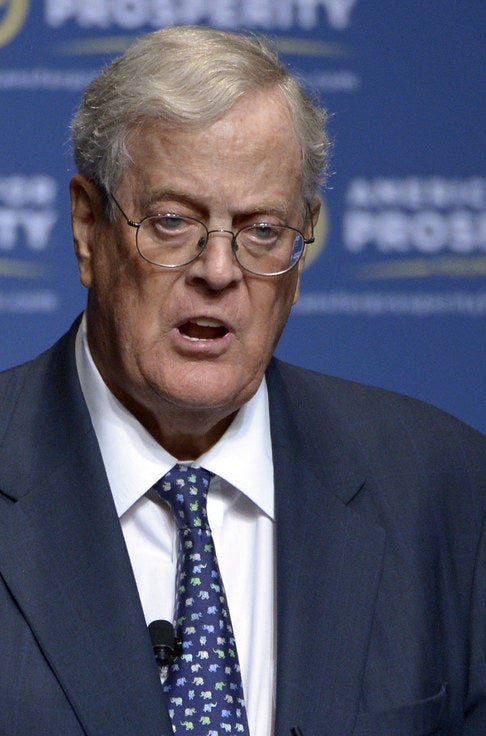 David Koch, left, and Charles Koch, right, fund the Libre Initiative, headed by Daniel Garza, center. A fact that Democrats say means the organization helps Latinos on one hand and advocates against their interests on the other.
Still, it's hard for people on the ground who benefit from LIBRE Initiative support to see them as political when the group is filling a crucial void in the community.
Burgos, the San Antonio pastor, has been at his church for 14 years, but retains the straight-shooting approach you might expect from a Bronx, New York, native.
"At first you raise your eyebrow and say what's their angle?" Burgos said. "But if you were to follow Garza, he didn't just show up last night, he's got some trajectory, he's got some time in the game."
Burgos said once he saw what the group was about he felt safe partnering with them.
"They are pro-Hispanic, pro-immigrant, pro-the pueblo," he said. "When you are pro the people, us as a Church, we should not and can not take a partisan approach. We want partners who can help us do what we want to do and as a nonprofit it's hard to raise the funds."
LIBRE has its biggest operation in Florida, with two full-time teams in Orlando and South Florida, made up of 12 staff members. The groups hold one or two events in Orlando and four a week in South Florida. The high volume of events allowing them to beat the drum on issues that matter to them in friendly confines. A recent panel conversation on school choice, for example, featured experts from around Florida — and all of them supported school choice.
In Florida, like Nevada, LIBRE flexes its media muscle, sponsoring radio shows on Caracol in Miami and on KRLV 1340 Hoy En Las Vegas, where disciplined staff members go on often to make the case for conservative viewpoints, bash the president, or both. The organization also has a close relationship with MundoFox in Las Vegas, sponsoring a Spanish-language course to pass the driver's test last year.
This, too, pisses off Democrats, who say LIBRE doesn't tell Latinos they're listening to Republican viewpoints.
"Very few people in the Latino community don't kowtow to a liberal screed, that's the resistance," Garza said. "Our use of media is critical in that and there's much more where that came from."
Annette Taddeo, the other Latina who ran for lieutenant governor in Florida in 2014, said she too is annoyed when she hears LIBRE say they are nonpartisan, but she thinks their local tactics are succeeding.
"They're also doing small business seminars. In South Florida, we're a small business community," she said. "It's like having a constant ground game with Hispanics, with that pretense that we're helping you, with small business and with your kid's school, then they give them conservative ideas."
Up next for the group is a GED initiative across the states they're active in, to pay for classes and the curriculum for thousands of Latinos, Garza said, adding that 40% of Hispanics don't have a high school diploma.
For a Republican Party in dire needs of rehabilitation with Latinos, LIBRE and their seemingly endless source of money, is filling a crucial void.
"If they continue to get Koch money they will be successful," said a GOP operative. "They're unstoppable at branding conservative policies without saying the word 'Republican.'"
And with the 2016 election barreling closer, a small set of Democrats are telling anyone who will listen that the national party needs to have the group on its radar. Two sources who spoke with the DNC told BuzzFeed News that in 2014, the committee didn't know about LIBRE.
In a statement to BuzzFeed News, the DNC said they've known for some time that "the Koch Brothers were using their secret dark money to fund this group" and said they take the financial issue seriously looking forward to 2016.
"We intend to fight aggressively for the Hispanic vote, but we also believe that Hispanic voters will see through these types of cynical efforts to deceive them, because on issue after issue Democrats are fighting for them and Republicans just aren't," they said.
Democratic strategist Jose Parra, who formerly worked for Harry Reid, said Democrats don't have a counter organization. "They're doing all of this constant messaging, we're not doing the constant messaging, we have a vacuum, and they fill it in the opposite way," he said.
"The biggest problem for the party is finding the LIBRE alternative — it doesn't exist, someone doing what they do," said a Democratic official. "I can't point to a progressive organization doing the same in our community. They have funding that allows them to raise unlimited amounts of money. There's no way a national committee can compete with them."
Andres Ramirez, a Democratic strategist whose office is three blocks away from LIBRE's in Las Vegas, said the Democratic Party in doing its recent assessment of what went wrong in 2014 already knows that a lot of Latinos stayed home.
"There isn't a lock on the Latino electorate," he said. "If you look at voter registration patterns, the greatest increase in registration among Hispanics is those identifying themselves as nonpartisan. So it's easier for groups like LIBRE to say Democrats and Republicans are the same fucking party — it's easier to discourage them and suppress their appetite for voting."
Some opposed to LIBRE have noticed. The DCCC is said to be watching the group closely and Latino Victory Project, which works with Latino donors, is putting together a private briefing in New York in April to look at the group.
Alex, the group's president, said that if demography is destiny, then the future of the country resides in the Latino vote.
"Groups that care about shaping the future of the country need to invest in recognizing the Latino community," he said. "Those on the right understand that and are making the right investments now."
What is certain is that the LIBRE Initiative will continue to grow, and there will be both successful and awkward moments in Latino outreach, sometimes at the same event.
Last March at the Ostrich Festival in Arizona — where Sheriff Joe Arpaio has for years angered Latinos after high-profile immigration raids — LIBRE called on children to write their American dreams on a large American flag.
"Get rid of Obama!" someone wrote in large letters.
"My dream is to stop Joe Arpaio," someone wrote right next to it.