The Koch-Backed LIBRE Initiative Seeks To Work With Liberal Groups On Immigration
NCLR and the Latino Victory Project have spoken with LIBRE about possibly working together but they have reservations. DREAMers, who have been a wild card in the past, aren't into it the idea at all.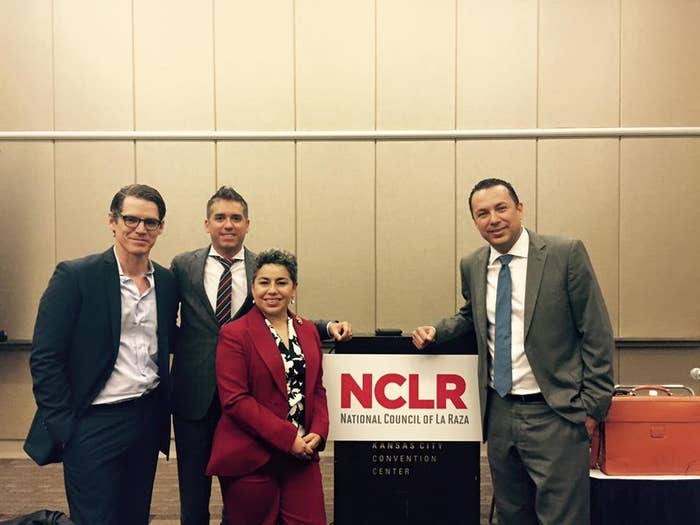 Last week, at the annual NCLR conference, a panel featured Latinos from both liberal and conservative groups talking about the growing influence of the Hispanic electorate ahead of the 2016 election.
Publicly, there was tense back and forth about the issues Hispanic Americans support among the panel, which included officials from a range of top groups doing work for and with Latinos, including NCLR, the LIBRE Initiative, and the Latino Victory Project, a Democratic-aligned fundraising project.
But privately, conversations have been ongoing, too. And the Koch-backed LIBRE Initiative is clear: They're willing to work with liberal groups when they agree on issues, specifically changing immigration policy in Washington.
Whether the liberal groups are ready to work with the conservatives is a little unclear, however.
NCLR president Janet Murguia told BuzzFeed News her organization is not opposed to working with groups who are engaging the community — she noted NCLR has worked with the Heritage Foundation before. But she said LIBRE, like any other group, will face scrutiny on the quality and substance of their ideas and policy stances.
LIBRE, Murguia said, has reached out, and is "trying to find a place in the debate on immigration," but she said the hang up is that while the group supports Obama's 2012 Deferred Action for Childhood Arrivals (DACA) program it is against the 2014 executive actions known as DAPA, that would shield millions of parents from deportation, a stance she called "inconsistent."
LIBRE's outreach may be surprising to some, but actually mirrors the work of its funders, Charles and David Koch, and more specifically Charles, who has worked to create a bipartisan coalition on criminal justice issues, which includes the liberal Center for American Progress. Those groups may not agree on much, but they agree on the need to revamp the criminal justice system.
Similarly, LIBRE's Daniel Garza said he supports a pathway to citizenship, and either a comprehensive legislative overhaul or a suite of bills that secure the border, keep undocumented immigrants in the country, and fix the visa system.
Over a lunch of burgers and ribs after their NCLR panel, Garza reiterated to the Latino Victory Project's Cristobal Alex his hope that LIBRE and LVP could work together on immigration, even as Alex is working to create a liberal coalition that would fight back against LIBRE's advances among Latinos.
Garza, a former George W. Bush administration official, believes Republicans would move immigration legislation before the election (certainly not a popular belief) and that a united Latino front from the left and the right on the issue would be hard to ignore.
"We're not looking at La Raza as Democrats," Garza said. "We see them as partners that can help us achieve desired policy outcomes."
And Alex isn't completely closed off to the idea.
"We agree on the ultimate need to pass comprehensive immigration reform that has a pathway to citizenship," Alex said. "I'm a little confused by his position on executive action, but we both agree that immigrants like our parents should be able to achieve the American dream and for that we need access to citizenship."
Not everyone is as open. Leading DREAMer activists, undocumented youth brought to the country as children weren't exactly jumping at the idea of working with LIBRE on immigration.
Those activists are something of a wild card in immigration advocacy: They played a major role in securing executive action from Obama after the 2014 midterm elections, and showed a willingness to engage Republicans and reject a simple "Democrats are with us, Republicans are against us," narrative favored by the administration.
Cristina Jimenez, co-founder of United We Dream, said she has fought with Garza on Twitter over his opposition to DAPA, the program that President Obama announced through executive action last year. She says that Garza's broader position on immigration policy and a path to citizenship aren't enough. Her parents would be included in the DAPA program.
"If someone is in support of deporting my parents I can not work with them," she said.
It would be about what LIBRE can offer the movement, said Erika Andiola of the Arizona Dream Act Coalition, a prominent activist. If they have access and influence with Republicans, she might listen, she said, but doesn't want to be used by Jeb Bush, Marco Rubio, or the Democrats as a pawn for the election to access Latino voters in states like Nevada and Colorado.
Last year, she argued, Republicans unveiled immigration "principles" and there was talk of secret legislation being crafted — but nothing came to fruition. "Until we see something close to reality we won't start believing it," she said.
Both DREAMers said they haven't been approached by LIBRE on working together.
Garza said it's not just immigration, though; he could see a group like NCLR working with LIBRE on school choice issues.
Murguia said that while there is some crossover on No Child Left Behind provisions, she doesn't think that will ultimately happen.
Liberal detractors of LIBRE say the problem is that the group is wrong on most issues Hispanics care about, listing opposition to Obamacare and raising the minimum wage, and their support of voter ID laws, as policies they believe Latinos just don't support.
Some of these fights over policy happen out in the open on social media and in Spanish-language media. When Garza wrote a July op-ed on Univision's website, on why raising the minimum wage would be bad for Hispanics, Alex countered two weeks later arguing for raising the minimum wage and against LIBRE stances on the issues above.
Still, Garza said the rub is that Latinos on the left need to become comfortable with the kind of immigration legislation that would eventually be offered up.
He argued a lot of the difference is based in electoral politics: that Democrats support a path to citizenship for political reasons — because they have received 70% support from Latino voters in recent elections — and Republicans support work visas, because they haven't gotten that support.
He said because of these realities, the imperative should be to put politics aside and find consensus.
"I would like to think if the Latino community, both on the conservative and liberal spectrum, came together and called for action on immigration reform, it would happen because we are a vital voting block in various states," he said. "Will we get action? I'd like to think so. But if we can spur action, that's the American system."
And if political pressures from both sides blows up any hope of a bipartisan coalition on immigration, the groups appear ready to take it in stride.
Asked what they had for lunch at NCLR, Garza texted that he had an "American burger" and Alex had a salad. "Actually, he had ribs. But salad is a better narrative," he joked.
At the same time, Alex answered.
"He had a burger. I had ribs. Made him pay the bill with his Koch brother pesos."