The Iconic World Cup Image By A Brazil Street Artist That FIFA Doesn't Want You To See
Powerful message as the World Cup nears.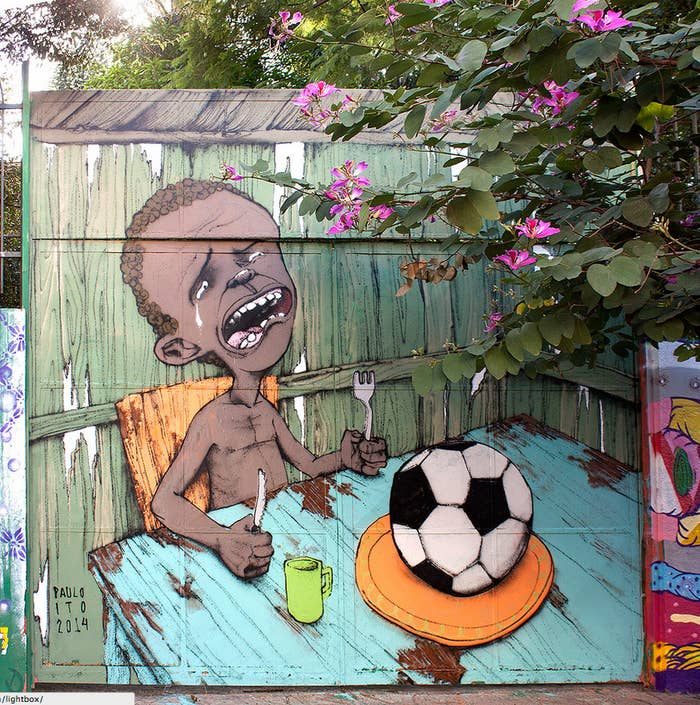 The World Cup begins in three weeks, but there is already a powerful image cutting through the excitement and coming pageantry.
Brazilian street artist Paulo Ito made the mural above at a school in Pompeia and shared the image on May 10 on Facebook. It has spread across the internet and social media like socially conscious wildfire.
While the original post was liked and shared a few hundred times, it gained even more attention when the Facebook page for YouTube channel TV Revolta, and actor and director Giovanni Vernia posted the image with the caption, "Graffiti In Sao Paulo, Brasil for the upcoming world cup. Perfect summary." Combined the two posts were shared more than 50,000 times.
Comments from Brazilians on the artwork were particularly stinging.
"My youngest son saw this and said: Look mom, the standard FIFA lunch," one woman wrote on Ito's original image.
Another said that it's not that Brazilians didn't want the World Cup to come to their country, but huge funds are being used to build stadiums that could instead be used to improve the health, safety and education of the nation's people. "Of course it will bring money. But where will the money go? Certainly not where it should," the comment read.
The World Cup is costing Brazil $11 billion.
"The truth is there is so much wrong in Brazil that it is difficult to know where to start," Ito told Slate. "I didn't mean [to say] nobody is doing anything against poverty. But we need to show the world or ourselves that the situation is still not good."
The passionate anger and disappointment in Brazil ahead of the World Cup is not new, but Ito believes the image was able to capture and condense the rampant feelings in the country.
Last summer, millions of protesters took on a controversial bus fare increase, as the last straw over existing anger about a broken health care system. Brazil's government quickly abandoned the fare increase, but images of protesters lighting garbage on fire in the middle of the street let the world know the people weren't happy.
Brazil's President Dilma Rousseff announced an increase in welfare payments on May 1, which will affect the country's poorest citizens.
She announced a higher minimum wage and a 10% hike in cash transfers to 36 million Brazilians who are unemployed or earning low wages, the Los Angeles Times reported.
The timing comes ahead of the World Cup and her reelection campaign in October.