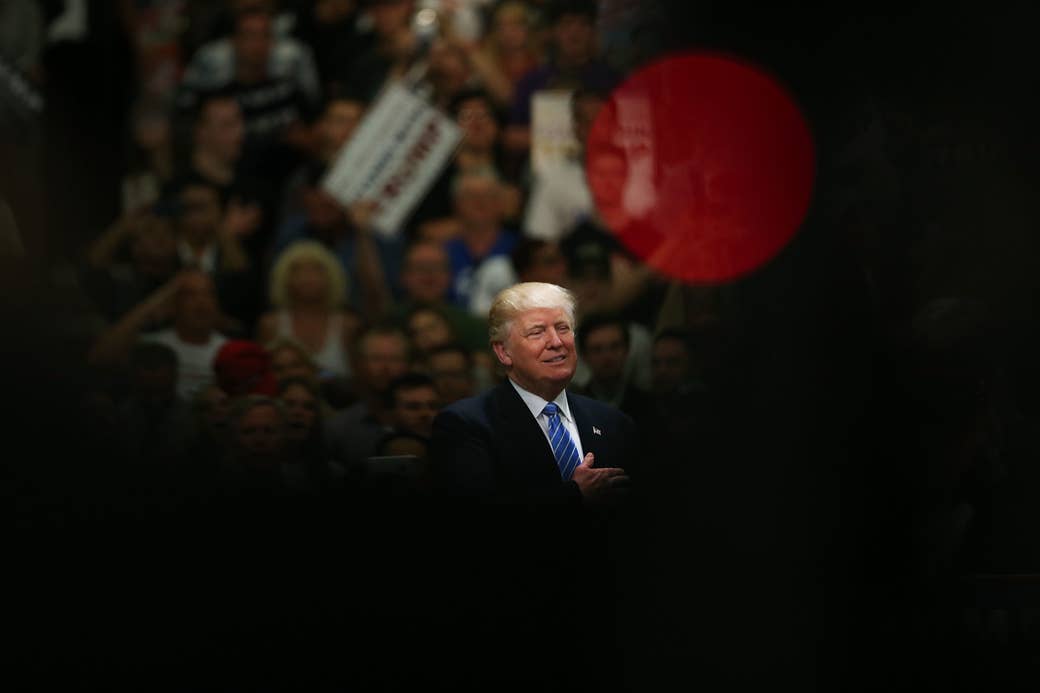 The Republican National Committee was flying high in early 2015.
Amid a Republican wave, two candidates had done something that operatives believed was critical for the future: Sen. Cory Gardner in Colorado and Gov. Rick Scott in Florida won significant victories in states with sizable Hispanic populations. It wasn't a general election year, but they'd put real effort into courting Latinos — Scott held regular breakfasts with Hispanic pastors, Gardner went to Fiestas Patrias, where 92,000 people descended to celebrate Mexican independence.
It was exactly the kind of voter-focused campaigning that Republicans hoped to continue in 2016. RNC operatives were busy putting together ambitious plans for staff, infrastructure, and data all with Latinos in mind. The RNC already had 40 staffers working on the project. Operatives said they would expand to 80 people in 10 key states. And they were already working on targeted data projects, like surveying Miami residents about Uber on iPads at a Hispanic business expo to get their contact information.
They trumpeted the midterm victories and a new, steady commitment to reaching Hispanics last spring. The RNC was building a true program for the next presidential candidate to appeal to Latinos.
"It's important that you have a candidate who's willing to make the Hispanic community a priority," Jennifer Sevilla Korn, the RNC's deputy political director, told BuzzFeed News in April 2015.
Two months later, Donald Trump announced he was running for president.
As Republicans get ready to hand over the keys to their Hispanic operation to Trump's campaign, many are wondering if the entire thing will be a waste, a project that died with the nominee.
The party faces a public challenge: how to draw attention to the infrastructure the party has built to appeal to minorities, while supporting a candidate who's done nearly everything possible to alienate them.
Korn now says Trump will fight for every vote and pointed to a low-production video he sent to a Hispanic evangelical group as evidence that he will seek to engage Latinos.
But real outreach requires real time, money, and people.
The RNC has not met its stated goal of doubling staffers for its strategic initiative, aimed at Hispanic, black and Asian voters, with the primary focus being Latinos. An official said the party will ramp up hiring to meet its staffing goals by the time of the Republican convention. The official also contended that as a result of hiring people a year out from the 2014 elections — a first for the RNC — and keeping them on through 2016, Hispanic staff that began as field organizers are now serving as deputy state directors.
One former RNC staffer said that if Trump is serious, he'll need his own Hispanic staffers who understand the differences in each state — it can't just be the committee. (Trump currently has 70 paid staff, compared to the more than 700 people employed by the Clinton campaign.)
Another Republican operative joked that Trump's life is not that different from a telenovela on Telemundo. ("The ladies are scantily clad, the guy is old and has a lot of hair.") But said more worrying for Republicans is not his aversion to Univision, but his aversion to data.
Targeting Hispanic voters is hard, the operative said, recalling a time a campaign's Hispanic voter file in Virginia held the phone numbers not of Latino voters, but of Filipinos. In Colorado, the former RNC staffer said, there has to be an understanding that the first name is a bigger indicator than the last name of the profile of the Latino voter being called. "Ryan Hernandez" would more likely be a second or third generation Hispanic, but "Luz Hernandez" would be more likely to be an immigrant and speak Spanish. These are the kinds of things real operatives know about outreach.
And Trump will likely struggle to hire those staffers, too. Three Republicans with ties to the RNC said they have heard from operatives who are looking to leave the RNC to work on key congressional races. People who are described as "committed to the Republican Party, just not committed to Trump." Other conservatives say most party operatives will fulfill their commitment and that it's not odd that some to want to leave because they might be layered by the Trump campaign or asked to do a job they're not passionate about.
One party operative, a lifelong Republican, told BuzzFeed News they plan to leave to go work on down-ballot races. "I've always supported conservative principles, but when I look at the things I align with, they do not align with Trump."
"We put a lot of time and hard work when it comes to this business," the operative said. "Early mornings, late nights, tough deadlines, stress, we sacrifice a lot — to do this for a person, for a cause I don't believe in, I can't do it."
But if Trump really plans to do this, Latino evangelicals and their aversion to some Democratic stances on social issues would be a good place to start.
Even here their support is anything but assured. In 2012, Hispanic evangelicals made up 16% of all Latino registered voters; Pew found they supported Obama 50% to Romney's 39% weeks before the election, compared to the 71% of Hispanics overall that voted for Obama. And, while self-identified evangelicals have supported Trump this year, regular church attendance was one of the leading factors in polls where Trump's support was softest.
To that end, Trump in May met with Pastor Bramnick, a leading Cuban-American evangelical leader with the National Hispanic Christian Leadership Conference (NHCLC). While Hispanic faith leaders oppose the kinds of immigration policies that Trump espouses, Bramnick left convinced that Trump could be trusted on immigration, telling TIME that the bombastic billionaire possessed "tremendous understanding and concern for the undocumented immigrants."
A source who spoke with Bramnick told BuzzFeed News that confidence is because Trump conveyed that he knows there is more to immigration than just building a wall. While the pastor wasn't told Trump would be offering new policies, the source said, this was enough to make him believe that further conversations could yield softer edges from the candidate on immigration as the general election barrels closer.
Trump's tone on immigration is crucial. NHCLC founder Rev. Samuel Rodriguez said that even if the presumptive Republican nominee says "wonderful" things about entrepreneurship, religious liberty, ending Christian persecution, and helping educate Latinos, he needs to rein himself in on immigration.
"To step into that promised land, he has to cross the Jordan," Rodriguez said. "If he continues to say I'm going to deport 11 million people, they're going to shut him out. He needs to say, I misspoke. I can't make America great again without God-fearing, hard-working, family-loving Latino-Americans."
For Trump to change that broadly, he needs to not just pivot and soften his stances in private meetings or with English-language media, but he has to complement that with actually going on Spanish-language networks Univision and Telemundo. MRC Latino executive director, Ken Oliver-Mendez, who monitors those networks, said they have subtly begun including the viewpoints of Hispanic Trump supporters, but the major shift would come with the candidate doing a high-profile interview.
"This is the one segment of the national media where he's not calling, where he's not doing the interviews," Oliver-Mendez said.
Many Latino conservatives meanwhile say they won't serve as surrogates on Spanish-language networks, crucial validators who could tell Hispanic viewers that the Trump they've been told is a villain for the last year is actually misunderstood.
"The problem here is the RNC is like a distribution company," said Alfonso Aguilar, a former Bush administration official and one of those Spanish-language surrogates who would support the nominee in any other year. "You have a great distribution deal, but if the product is bad, the people are not going to like it."
It's not, he said, the fault of Reince Priebus, the RNC's Hispanic media director, or Korn. "The problem is Trump. Unless a miracle happens and he says 'I didn't mean to say the majority of Mexicans are rapists or criminals,' he goes to the community, stops insulting Univision, and becomes consistent, then perhaps he's sellable. But at this point I haven't seen any effort."
(There may be some consolidation without any effort, however. In Nevada, support is already shifting toward Trump, said Jesus Marquez, a radio host and Republican operative. Marquez, who supported Jeb Bush and then Marco Rubio is waiting to see if Trump moves more to the center. "Three to four months ago, most of the callers were against Trump," Marquez continued. "But now if I get 25 to 30 calls, half of those calls are in support.")

For its part the RNC says it has people willing to speak for Trump nationally and locally on Spanish-language networks. "Everyone has to make their own decisions on who they can support and can't support but our surrogate list is strong," Korn said.
And meanwhile, the committee has begun to focus on down-ballot races, telling BuzzFeed News it is set to pump $4 million into 15-second and 30-second cross-platform video ad buys on Univision, targeting Republicans and independents at the state level.
Besides having Spanish-language pro-Trump surrogates, the bread and butter of the RNC message appears to be an anti-Hillary Clinton one. Officials pointed to a May surrogate call where Republicans asked for talking points, wanting to know "every single thing about Hillary Clinton, her immigration stance, and all her flip flops."

Democratic pollster Fernand Amandi called comparing the favorability of Trump and Clinton among Latinos, a "false equivalency."

"The Hispanic community has long had an appreciation for the Clintons," he said, noting that she did well with Latinos both in 2008 and again this cycle. "But there is no more unpopular figure in the United States today with the Hispanic electorate than Donald Trump."
The likelihood that Trump will do badly, and perhaps historically so, with Latinos, means conservatives are coming up with creative suggestions for Hispanic voters. Aguilar says they should leave the presidential ballot empty and instead take care of those further down the ballot.
Rene Plasencia is one of those down ballot Republicans. A feather in the cap of the RNC, the Orlando native won his race to become a Florida state representative in 2014, but now must contend with being on the ballot along with Trump. He personally thinks he will do fine because he is from the community and because he's Hispanic (Cuban and Puerto Rican, in heavily Puerto Rican Orlando). But in his community, he knows many have strong feelings about Trump.
"Walking among Hispanic homes, Trump is not very popular," he said. It's "the culture around him. It seems like it's a non-inclusive, divisive culture. People here are trying to build communities, have strong schools, and safe streets. He doesn't seem helpful to that."
Most frustratingly for many Latino Republicans is that this is not a new development. The 2013 Growth and Opportunity Project stated that "If Hispanic Americans perceive that a GOP nominee or candidate does not want them in the United States (i.e. self-deportation), they will not pay attention to our next sentence."
It is these concerns that lead to fears of a down ballot blowout, among some GOP Latinos.
"If Cory Gardner was running on the ballot now," Aguilar said of the lauded Colorado senator, "he would fair the same."