The Devil Will Be In The Details Say Advocates After House GOP Immigration Principles Unveiled
Immigration activists believe "vague" House Republican principles on prospective reform don't go far enough, while DREAMers and others suggest a wait-and-see approach.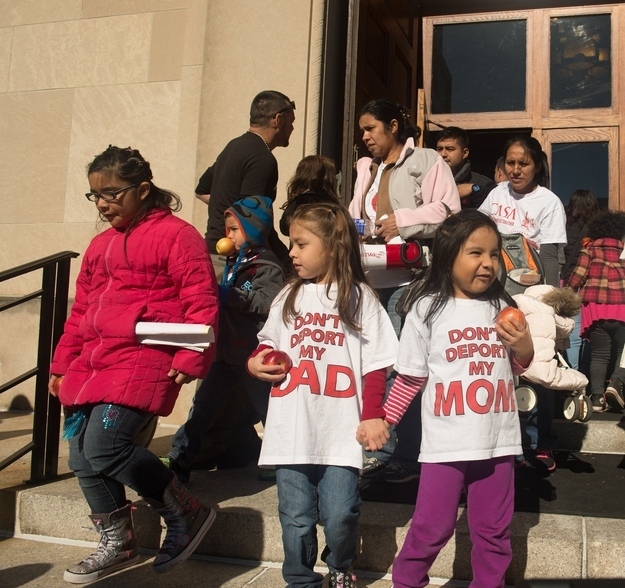 Immigration activists and organizations acknowledged Thursday the importance of the long-awaited House Republican "principles" on immigration policy, but warned that the document contains vague language and the potential for what they say would be the creation of second-class citizens.
The "principles," released Thursday afternoon, outline a loose framework of positions on key immigration issues like the question of citizenship for undocumented immigrants living in the United States. Although the principles support a pathway for undocumented immigrants brought to the country as children, the principles rule out a "special path to citizenship" for others.
Many advocates for an overhaul of current immigration laws called the language vague and saw warning signs about the kind of legislation the principles could produce.
"The Latino community and more broadly, voters across the political spectrum, agree that a fair path to citizenship is the right solution," Ben Monterroso, the executive director of Mi Familia Vota, a national non-profit civic organization said. "The debate should not be about legalization or citizenship, but legalization as a step on the path to citizenship."
According to the principles, DREAMers would be eligible for a pathway to citizenship, though the question of if it would be a "special" or accelerated path is ignored. Other undocumented immigrants could receive legalization if certain conditions are met, but "there will be no special path to citizenship for individuals who broke our nation's immigration laws."
Further, "these persons could live legally and without fear in the U.S., but only if they were willing to admit their culpability, pass rigorous background checks, pay significant fines and back taxes, develop proficiency in English and American civics, and be able to support themselves and their families (without access to public benefits)."
Frank Sharry, a longtime advocate for America's Voice and veteran of the immigration battles in recent years, told BuzzFeed the principles are a good start, but the vague language is a concern.
"It's encouraging that the principles add up to a comprehensive solution even as they promise to proceed in a piecemeal fashion," Sharry said. "It's encouraging that it addresses DREAMers and the rest of the 11 million. But what do they mean by no special path? That could include a de facto restriction on citizenship for many millions."
Still Sharry and other advocates note that the key in the language of the principles may be that there is no "special" path to citizenship. "Perhaps that's what they want Republicans to hear — that no special path, means no path at all." He said widening existing citizenship channels so that they are accessible to undocumented immigrants on the same basis as others, could ultimately lead to citizenship for half of the 11 million.
He said one example of what could be done is getting rid of the "three and 10-year bars" instituted in the 1990s as punishment for people who overstayed their visas. He gave the hypothetical example of a mixed-status family from El Salvador where the father is a citizen but previously overstayed his visa, an undocumented mother, a noncitizen child, and two U.S. citizen children. Under current law, the father would have to leave the country for ten years before being able to return. "So what I'm saying is there may not be a special path to citizenship but there shouldn't be a special disadvantage to being undocumented," he said.
But Cesar Vargas, co-director of the DREAM Action Coalition and National Activists for the DREAM Act, called the pushback from longtime advocates premature.
"From our perspective, they're already trying to criticize a ghost," he said, of the principles that don't represent existing legislation yet. Vargas, who went to law school and wants to become a lawyer, said the principles leave room for a glimmer of hope. "The reality is until we have legislation we won't know how people would go through citizenship channels. If Republicans get it right on the legalization component and clear existing channels, many could become citizens in six to nine years."
For some DREAMers like Reyna Montoya, 23, of Arizona, who saw her father detained for nine months, the principles were not a surprise. She noted that the principles do not say there won't be citizenship ever, but she echoed activists who say what they need now is "relief from deportations."
Others were more hopeful. Eliseo Medina, a high-profile activist for nearly half a century, called the principles "vague" but saw positives. "The key point that I read is Republicans have begun to accept the principle of legalization. It's not where we think it needs to be to fix the problem, but I'm looking forward to the conversation. The best way to fix something is to face the issue instead of denying the problem even exists," he said.
David Leopold, former president of the American Immigration Lawyer's Association, questioned whether "we really want a permanent subclass of people in the US who cannot swear allegiance to our nation" but saw it a positive step as well.
"I am however very encouraged that the GOP is finally recognizing that the nation needs immigration reform, that we cannot continue to tear apart American families because of a broken immigration system," he said.
Still, frustration with the Republican principles document went beyond traditional advocacy organizations. The PICO national network, a faith-based organization, said it was "expressing the deep disappointment of thousands of faith leaders" who met with their members of congress 450 times in 2013 on immigration.
"This is not how Republicans establish trust with Latino voters," said PICO director Eddie Carmona. "Today the House Republicans showed that they aren't listening to their constituents who are saying loud and clear that undocumented immigrants who are their family members, neighbors and fellow parishioners need both immediate relief from deportation and a permanent solution to their unresolved status."
"As people of faith, we are standing firmly behind a pathway to citizenship because no one deserves second-class status," he continued. "Our faith teaches us that every person has unique dignity and worth. Citizenship is the only solution that is consistent with the values of our faith and our country."
Voto Latino, which mobilizes Latino voters, cited a recent Fox News poll that shows 68 percent of Americans support a pathway to citizenship for the undocumented. "What we will never support is the creation of a permanent second class of Americans who don't have a voice in shaping their country's future — Americans without the right to vote or the means to petition their government," their statement read.
Vargas didn't want to join the rush to criticize basic principles that even House Speaker John Boehner privately said were a preliminary draft, but he did find two things concerning.
The principles state: "We must enact reform that ensures that a president cannot unilaterally stop immigration enforcement." Vargas said Republicans have told him they don't trust Obama or future Republican presidents to enforce immigration law but worries about what the language means because "prosecutorial discretion has been key" for activists. He also said while the principles outline citizenship for DREAMers, he hopes any potential legislation hews closely to bipartisan Senate legislation that had no capped age for who is and is not a DREAMer that was brought to the country as a child.
Sharry maintained that there are "not big differences in our movement, there is remarkable unity. Instead, he said Republicans must decide how seriously they will advance on new laws after unveiling their guiding principles.
"The question is do Republicans want to go forward and make history or move backward and become history?"