The Clinton Campaign Will Try To Turn Donald Trump Into Latino Votes
During Hispanic Heritage Month, the campaign will begin rolling out increased efforts to win Latino voters: hit Trump, linking the rest of the Republican Party to him, and tell a positive story of Clinton's long-term relationship with Latinos.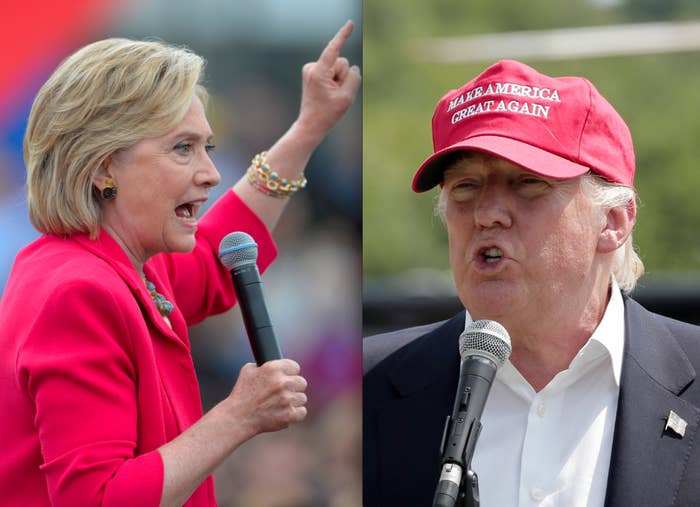 The Clinton campaign is looking to capitalize on Donald Trump: specifically his deep, deep unpopularity with the Latino voters many view as critical voters in 2016.
The campaign will soon launch an initiative called "Latinos con Hillary" during the first week of October (timed to coincide with Hispanic Heritage Month), according to sources familiar with the plans. Campaign officials tasked with Latino media and outreach have already increased their work, taking on new meetings, and mapping out the regional media strategy.
Campaign officials also plan to use their bilingual digital presence over the next month to highlight the contributions of Latinos, and hope to contrast her record on issues that matter to Hispanics with Republican candidates. Latino fundraisers are on tap too.
The opportunity that the campaign sees: Trump's cratering popularity with Latinos. Wall-to-wall coverage of Trump's disparaging remarks about Mexicans and undocumented immigrants in both English and Spanish-language media have led to a -51 favorability with Latinos, according to a recent Gallup poll. The same poll saw Clinton leading all presidential contenders at +40.
"Never before in an election at this stage in the presidential primary race have the Spanish-language networks been paying this much attention," said Ken Oliver-Mendez, the director of the conservative watchdog MRC Latino. "Trump, like he is in English, has become practically a daily staple."
Which is exactly what the campaign wants to see.
The candidate has appeared to delighted to speak about Trump in recent weeks, a bright spot as polling has flagged nationally and in Iowa and New Hampshire, as stories about Clinton's email continue to dominate headlines. In Spanish-language news, the email issue has been dwarfed by Trump, but has risen some in recent weeks, Oliver-Mendez said.
It doesn't appear to be influencing her support from Hispanics, however.
The +40 favorability in the Gallup poll is similar to the +43 she had in a Gallup poll during the 2008 cycle. Despite losing to Obama, she actually beat him 2-to-1 among Hispanics, and they were credited with helping her extend the race, as they made up 33% of voters in the Texas primary, which she won handily.
This time around, Clinton has already done organizing events in states with large Latino populations like Colorado. Campaign officials said Latino outreach director Lorella Praeli, who has met with community leaders while on trips with Clinton, will start going off on her own more often during Hispanic Heritage Month — she spoke to the Democratic Hispanic Caucus on Saturday — and will be meeting elected officials and local advocates in different cities, in an effort to familiarize the campaign with their concerns.
Jorge Silva, the new Hispanic media director, is ramping up the Latino regional media strategy in key states over the next month, as he did with Sen. Harry Reid in local newspapers and radio stations.
There are also plans to launch a Latino leaders summit series. The first stop, possibly in Colorado in November, would have community leaders speak on topics like the economy, health care, and education, and then bring their investment in Clinton back to their communities, according to a source familiar with the plan.
Hispanic Heritage Month will also see a focus on Latinas, which has also been baked into the just launched Women for Hillary initiative. On issues like equal pay and health care, the campaign says, the reality is even starker for many women of color.
The focus makes sense: Women in every ethnic subgroup vote at higher rates than their male counterparts, including Latinas, according to a paper written by Maya Harris last year, who later joined the Clinton camp as a senior advisor.
The next few months are not just the lead up to the caucuses and primaries but will also see the beginning of fundraisers for specific coalitions. As BuzzFeed News reported, a major Latino fundraiser is in the works for Los Angeles in October, but may now happen in November.
At the time sources familiar with the campaign meeting said a spirited discussion took place over accepting lower dollar donations, framed as a way of making more people feel invested in the success of the campaign. Since then the campaign has held fundraisers where they accepted $500 and $1,000 donations.
And now, Jose Villarreal, the campaign treasurer who is serving as the informal lead on Hispanic fundraising, is looking to do a Latino fundraiser in New York City for November that would feature community leaders, celebrities, and artists, and accept lower-dollar donations, a source said. The campaign did not confirm either fundraiser.
(For his part, Trump has also mobilized Latino celebrities but in a markedly different way: Bachata star Romeo Santos yelled "Fuck Trump!" at a Barclays Center concert in New York in front of close to 20,000 people. Santos told the crowd that the developer wants to kick out Mexicans but they help build his towers. Mexican rock band Maná compared Trump to Hitler and spoke out against him in six states in front of 150,000 mostly Hispanic fans.)
Latino Democrats and advocates believe not enough has been said by Hispanic leaders and presidential candidates to pushback on Trump as vigorously as they feel he is attacking Mexicans and immigrants. They said Clinton can emerge as that champion for the community, pointing to previous instances where it happened.
"It does become a rallying point because the community feels threatened right now," said Jose Parra, a former senior advisor to Reid in Nevada, pointing to the beating of a homeless Hispanic U.S. citizen who was beat up by two men allegedly inspired by Trump. "Words do matter."
Parra said Reid was able to defeat Sharron Angle in 2010 fueled by Latino voters who saw her comments on immigration as offensive and because Reid leaned into the issue.
He pointed to work done by polling firm Latino Decisions, whose founders have since joined the Clinton campaign, showing that instances like in Nevada and Mitt Romney calling on undocumented immigrants to self-deport can possibly be a campaign's most effective mobilizing tool.
The campaign isn't alone in trying to use Trump to get Latinos involved in the election. The Latino Victory Project, a Democratic fundraising effort, is running ads in English and Spanish in Nevada and Colorado and online starting Monday. The video features actors reading comments made by not just Trump but also Jeb Bush and Bobby Jindal and calls on Hispanics to vote.
While Latinos are often lumped together, they are geographically and ethnically diverse and don't always line up monolithically. But certain instances can be rallying points, said Mark Hugo Lopez of Pew Hispanic.
"Research has shown that many see their own fate tied to the fate of other Hispanics," he said. "Some will see [anti-immigrant rhetoric] as an attack on all Hispanics so it's very possible it could be a galvanizing force."
The problem for Republicans, he explained, is that the party already has a very low rating with Hispanic voters, something that "has been true for 10 years now."
"One particular survey question we've asked for years is who has more concern for Hispanics, Democrats, Republicans or neither," he said. Republicans have only been at 10-15% over the last decade, he said.
Democrats say Clinton's contrasts with the GOP will not only be made by the campaign but will be visible this week during the second Republican debate.
"The GOP debate is coming and Republican frontrunners are going to continue to extol these xenophobic comments while Hispanic Heritage Month is happening," said 20-year Nevada veteran strategist Andres Ramirez. "So the campaign will be expanding these resources while Republicans are alienating the community."
In Nevada, where the Clinton campaign has stacked operatives with experience in the state like state director Emmy Ruiz and organizing director Jorge Neri, along with the addition of Silva, Ramirez said the campaign isn't doing anything revolutionary, but it's doing the early grunt work necessary to win the caucus.
No candidate has the sizable support and investment that the Clinton campaign has made with Latinos, Ramirez said, noting that the clock is ticking for a candidate like Biden to jump in, which would be "for a smaller universe of voters that's available because the Clinton campaign is doing its due diligence."
The Nevada caucus could serve as an early test of how Clinton is doing this go-round in energizing Hispanic voters; supporters need to be educated on everything from their caucus location to being invested enough to want to give an hour and a half of their time for it. The work of the campaign could mean the difference between Hispanics being 20% of participants to 33%, Democrats say.
But, per a Pew Hispanic projection for BuzzFeed News, 11.2% of eligible voters in the 12 Super Tuesday states would be Latino — so it doesn't end there.
"It's not a Latino story or a Super Tuesday story, it's part of a grander plan to get to 270," Ramirez said.
Still, Democrats caution that the Clinton campaign must seek to be innovative and push the envelope when it comes to Latino outreach because of the "dangerous" narrative that has emerged post-Trump.
"How are you being brilliant?" an experienced operative said. "There has to be an urgency. How will it be different from what Obama did to Romney?"
While Trump isn't yet the nominee, the strategist Parra said he has already succeeded in getting Hispanics to pay attention.
"Trump is trying to use fear to get the Republican base to vote but unwittingly he's also sowing fear in the hearts of Latinos that are going to turnout as well," he said.