The Biggest Gulf Between The Democratic And GOP Debates Was On Immigration
In-state tuition and a path to citizenship for undocumented immigrants — and health care for undocumented? If Republicans are headed to the right, then Democrats are headed to the left.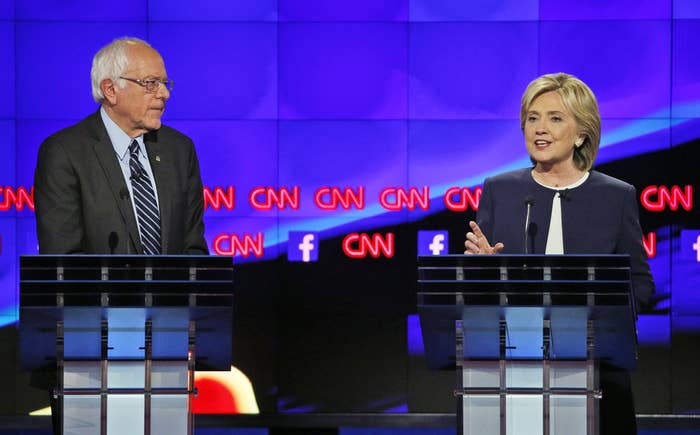 LAS VEGAS — On Tuesday at the Wynn hotel and casino, the Democratic candidates debated in-state tuition, a path to citizenship for undocumented immigrants, and health care for people in the country illegally.
The result: Democrats are much further to the left on immigration policy in 2015 than they were in 2007, just as Republicans are increasingly moving to the right on the subject.
The first two GOP debates were marked by discussion of the merits of the frontrunner Donald Trump's plan to deport all undocumented immigrants, build a wall on the border between the U.S. and Mexico, and end birthright citizenship.
On Tuesday, though the questions about immigration came late in the debate (about at the hour-and-a-half mark), they hit in particular on a specific plan: Martin O'Malley's proposal to open up Obamacare to millions of undocumented immigrants and their children, including 90,000 people in Nevada.
Clinton said she wants to open up the opportunity for undocumented immigrants to buy into the exchanges under the Affordable Care Act, but argued that extending the same health care subsidies was a different issue.
"I think that is — it raises so many issues," she said. "It would be very difficult to administer, it needs to be part of a comprehensive immigration reform, when we finally do get to it."
The Clinton campaign, which often frames issues as a choice between Clinton and Republicans rather than her opponents for the nomination, emphasized efficacy after the debate. Jorge Silva, who handles Hispanic media for the Clinton campaign said it was important to see where the Democratic candidates were on immigration as opposed to where Republicans have been during their first two debates.
"Our party is looking at who can give the most to the undocumented community if immigration reform hasn't passed," he said. "Who can do the most, that's a big difference."
Clinton at one point jumped in without prompting from Cooper the moderator.
She too noted the "difference between everything you're hearing here on this stage, and what we hear from the Republicans."
"Hear, hear," O'Malley said, as Clinton continued.
"Demonize hard-working immigrants who have insulted them," she said, before pivoting to her meeting with DREAMers and her pledge to go further "than even the executive orders that President Obama has signed when I'm president."
Clinton was asked about Sanders and O'Malley supporting in-state tuition for undocumented immigrants and she said she would too, if states pass it.
O'Malley looked, as he has this year repeatedly, to Trump — saying Republicans have mischaracterized Maryland's passage of the Dream Act as "free tuition for illegal immigrants."
"A lot of the xenophobes, the immigrant haters like some that we've heard like, Donald Trump, that carnival barker in the Republican Party," he said.
O'Malley — whose poll numbers haven't budged despite his frequent campaigning — tried to draw contrasts with Clinton whenever he could, and made it clear he felt immigration was a winner for him with Democrats.
"I think what you've heard up here is some of the old thinking on immigration reform, and that's why it's gridlocked," he said. "Do you think for a second that simply because somebody's standing in a broken queue on naturalization they're not going to go to the hospital, and that care isn't going to fall on to our insurance rates?"
In the spin room at the casino after the debate, O'Malley's director of public engagement Gabriela Domenzain said the rhetoric from Republicans has been a distraction, calling it "racist."
"But that's why I was excited for the governor to stand on the same stage with candidates with more name recognition, so Democrats and Latinos can see the contrast for themselves with someone who defended and touted the Dream Act and someone who kicked ICE out of jails," she said.
Sanders, who privately told the Congressional Hispanic Caucus that he supports health care for undocumented immigrants two weeks ago, has increasingly sought to communicate to Latino voters that he is an ally on immigration.
His record, though, has posed some challenges on that front: He did not support the bipartisan immigration bill in 2007, though he later supported the 2013 Senate bill. He has called the idea of open borders a Koch idea. Asked about that switch on Tuesday, he said that he didn't like guest worker provisions in the 2007 legislation.
"The senator has been very clear that he supports health care for undocumented immigrants, particularly children," said his new Latino outreach director, Arturo Carmona, after the debate. He said Sanders's message resonates with the working class, particularly Latinos, and not just on immigration.
Meanwhile, Domenzain said that while Clinton touted her spring meeting with DREAMers in Nevada, she couldn't make the same commitment as O'Malley on health care for undocumented immigrants.
"There's not just a different between Republicans and Democrats, there's also a different between Democrats and themselves," she said.
One byproduct of the more measured tone on immigration was that viewers at home wanted to learn more about what they were hearing. According to data provided to BuzzFeed News by Google, searches for the term "undocumented" spiked during the immigration portion of the debate.
Unsurprisingly, Trump, who livetweeted the debate, wasn't a fan of what he heard.
"Notice that illegal immigrants will be given ObamaCare and free college tuition but nothing has been mentioned about our VETERANS," he tweeted.
Top Democrats and activists were pretty pleased.
"I'm just glad all the major Democratic candidates get it," said immigration veteran Frank Sharry. "Undocumented immigrants are human beings, are Americans in all but paperwork and should be formally welcomed into the American family. Meanwhile, the GOP is talking mass deportation, ending birthright citizenship and rescinding Obama's executive actions.
Henry Muñoz, the DNC's finance chair, said he loved the debate.
"This debate was free of racism, my community wasn't under attack," he said, contrasting it with the Republican debate. He said while the candidates Tuesday night didn't agree on everything they were respectful.
"I'm hoping this evening that what happened in Vegas doesn't stay in Vegas and the message gets broadcast across the country," he said.