The Biggest Gathering Of Progressives Will Be More About Latinos And Immigration Than Ever Before
3,000 progressives are descending on Phoenix, Arizona, this week for Netroots Nation, but what they don't know is that Latino and immigration issues will be front and center.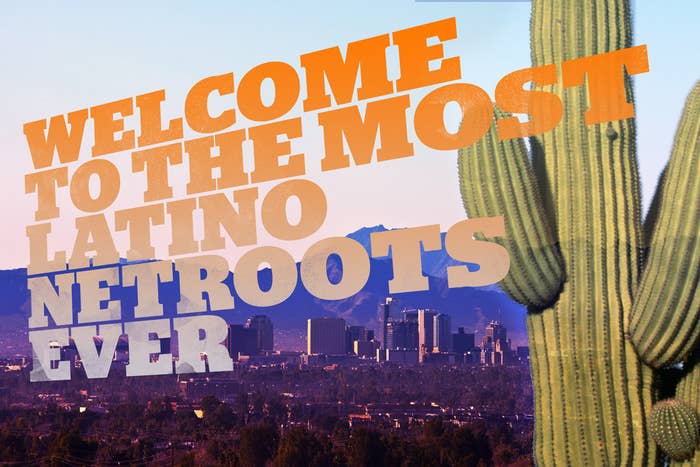 PHOENIX — Nearly a year before Netroots Nation 2015, the largest annual gathering of progressive organizers, Netroots leaders and board members met with a small group of activists in Arizona.
Organizers for the progressive conference, which is sometimes criticized for a lack of diversity, had a clear message: They wanted this year's conference, located in Phoenix, to be the most Latino- and immigration-focused in Netroots' 10-year history.
And the 16 activists, representing a dozen local groups, had their own demands. They wanted the Netroots organizers, including the group's executive director Raven Brooks, to really understand the experience of undocumented immigrants.
So they took the Netroots leadership to the border.
Last September, the Netroots organizers and local activists watched what is known as Operation Streamline, where undocumented immigrants are processed before detention and deportation. They met with a group that serves as a liaison between the coroner's office and families whose relatives have died in the desert. And they spoke to organizations that do things like provide breakfast and calling cards to recently deported undocumented immigrants.
"It's one thing to hear about it but to experience some of this stuff, it was things you can't really believe are happening," Brooks told BuzzFeed News.
The trip serves as the foundation for this year's conference — which is seeking to reflect the breadth of the progressive movement, something the group has been criticized for not doing in the past.
Netroots will play host to a protest against Sheriff Joe Arpaio, who held a rally with Donald Trump on Saturday, and is the target of federal lawsuits charging him with racial profiling and illegal detentions of Latinos, which has drawn the ire of immigrant groups. More prominently, Netroots will also feature a town hall with former Gov. Martin O'Malley and Sen. Bernie Sanders moderated by Jose Antonio Vargas, a journalist who came out as undocumented in a 2011 New York Times magazine article, and a keynote speech from progressive favorite, Sen. Elizabeth Warren. (Hillary Clinton was invited but said she couldn't attend because of previously planned campaign trips.)
But organizers say it's also the most diverse agenda they've ever had: 62% of panelists are people of color and 63% are women, and the conference focuses most on Latino issues than any previous one. A group of labor leaders, activists, and journalists will recreate the border trip on Wednesday, as well.
The agenda also reflects an emphasis on the local activists — in previous years, those activists say, the Netroots conferences too often featured immigration content produced and led by well-connected, Washington-based national groups instead.
"The effort to get executive action didn't come from a lot of the late comers in pushing the president," said Arturo Carmona, executive director of Presente, a 300,000-member organization. "It came from the grassroots, day laborers, DREAMers, Presente, Puente. The discussions of the progressive movement should be reflective of that reality."
People from that movement — activist Erika Andiola of Arizona's Dream Action Coalition, Marisa Franco, who leads the #Not1More campaign, former state senator Alfredo Gutierrez, and Presente — will appear on a panel to dissect what worked and what was learned from the push for Obama to implement executive actions on immigration.
The activists also demanded scholarships to Netroots for undocumented and minority youth. Netroots obliged here, too, with a record 280 scholarships for DREAMers and organizers of color, and activist trainings set for Tuesday. This, they say, is critically important to arm the next generation of activists with the tools it needs to be successful.
"Netroots has been historically criticized for its lack of diversity, but this year it will be not just Latino and immigration focused, but also criminal justice focused," #Not1More's Franco said. "How can we deny the innovation coming out of the #BlackLivesMatter movement, the immigrant rights movement, and other people of color struggles?" She pointed to the mobilization of black Twitter users around events that were livestreamed using social media, like the Ferguson protests.
"The same things you hear about in private prisons — the challenges, the fact that there are too many bodies in one place — it's the same thing in detention centers, but in detention centers it's worse," said activist Alejandro Chavez. "A lot more women are being raped. But people care less because we're deporting them."
In an effort to show progressives what local issues they should be caring about more, Netroots created a website called AZDispatch.org, where they've been posting videos on everything from Operation Streamline to workplace raids and more.
Vargas, the founder of #EmergingUS, a digital magazine in partnership with the Los Angeles Times that will focus on race, immigration, and identity, wrote about the lack of diversity at Netroots eight years ago, but now says his goal in moderating the talk between O'Malley and Sanders is to bring context and facts to an immigration discussion at a time of "hysteria and ignorance" because of the rise of Trump.
The activists also think something else will help them advance their cause in the ranks of progressive causes: the literal Phoenix heat (it's expected to be over 100 degrees this week) for people who attend the protest against Arpaio.
"The heat gets to you and it's hot and you start imagining there are people in tents right now because Arpaio doesn't want to pay money for jail cells," Chavez said. "There are chain gangs chained along the road — it's an awakening moment for online organizers. It's very different when you're there, with people living in tents in 110-degree heat right now down the road."
John Loredo, a strategist who works with activists and was involved with Netroots in Phoenix early on, said it's about putting a human face on an issue "poisoned by misperception."
"What we hope is to provide a reality check on this issue," he said. "Who immigrants really are, what they really do and how dependent our economy is on them and that it's a human rights issue. A lot of them die just trying to get here to serve others."
Still, the activists wouldn't be good at what they do if they weren't still leaning on organizers and attendees.
Carlos Garcia of Puente Arizona, involved from the very beginning with the Netroots leadership, who met at his office, said he would have liked to see more immigration events on the main stage in the same way as the presidential forum. He acknowledged that the organization made great strides to accommodate activist wishes but wants to see more when it counts.
"They're expecting over 3,000 people, but we'll see how many of them will march with us on Friday against Arpaio," he said. "The action participation will show how much they're with us."
Garcia sees it as a deal he's making with other progressives.
"We don't want you to come see how sad and hard our lives are here unless you're going to go help the people in the same situation where you live," he said. "We're not looking for lastima (sympathy), we're looking for people who want to help and engage our community."