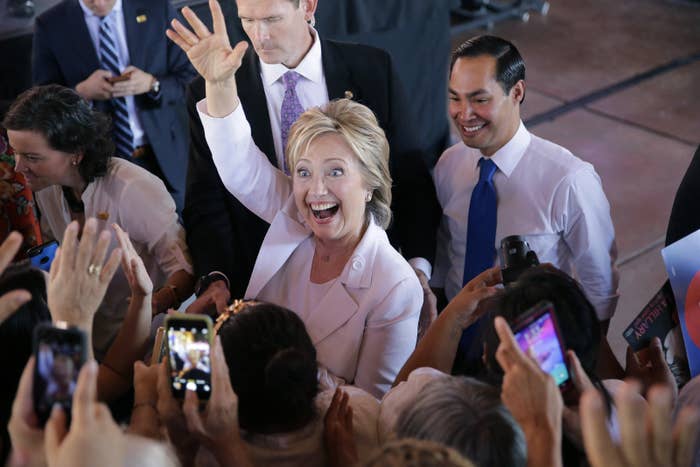 Hillary Clinton rolled on Super Tuesday, racking up wins across the South powered by black and older voters. And in Texas, where Hispanics made up 31% of the electorate according to exit polls, she won over 70% of their vote.
Meanwhile, Bernie Sanders won the Democratic caucus in Colorado, where Latinos make up 15% of eligible voters, but entrance polls were not available.
HUD Secretary Julian Castro, often mentioned as a possible vice presidential pick by Clinton, cautioned that exit polls are not definitive, but lauded her strength in states across the country as different as Nevada, Iowa, South Carolina, and now Texas.
"It's not surprising," Castro told BuzzFeed News. "Hillary Clinton has had strong support in the Latino community in Texas and throughout the country for a very long time, and tonight's results in Texas and her strong support from Latinos are one more affirmation that she appeals to diverse communities. It says a lot about her ability to win in November."
In 2008, Clinton showed similar strength with Hispanics against Barack Obama, beating him in Texas and 2-to-1 across the country.
During that race, Latinos made up 30% of the electorate in the state, and she beat Obama 66% to 33% among Latinas and 58% to 40% among Hispanic men.
With exit polls showing Latinos making up 31% of the Texas electorate this time, Clinton beat Sanders 72% to 27% among Latinas and 69% to 30% among Hispanic men.
Of course, Latinos are not a monolithic group. While Colorado and Texas both have sizable Hispanic populations, the profiles of their Latino electorates are different.
Colorado has a lot of Hispanics whose family roots go back many generations and has far fewer undocumented immigrants than Texas. It has about 180,000 undocumented immigrants, whereas Texas has 1.7 million, the second most in the nation. This matters because these undocumented immigrants are often part of mixed-status families, and the issue of immigration is of higher importance.
More of Colorado's Latinos are born in the U.S., evidenced by 60% speaking only English at home, according to Pew Hispanic data. In Texas, that number is only 27%. And 88% of Texas Hispanics are of Mexican origin. That number is only 66% in Colorado — with a much higher percentage of Latinos identifying as having Spanish origin than in other states.
The Sanders campaign did well with young Hispanic voters in Nevada, and the campaign's Colorado director Dulce Saenz told BuzzFeed news she hoped the Bern being felt on her Facebook newsfeed was reflective of the overall state as the results poured in.
"We're a state that values being pioneers of the West," she said. "In the Latino community we're seeing so much excitement and one of Senator Sanders' policy platforms they're excited about is his plan to combat climate change."

She agreed that Colorado has its own unique Hispanic voter profile.
"Our Latino demographic is distinct to other parts of the country," she said. "We have a strong Chicano population — 'the border crossed me' types. Denver has a strong Chicano history of civil rights activism going back to the '60s."

The problem for Sanders has quickly become that because of Clinton's strength with black voters, he will struggle to beat her unless his support from Hispanic voters is similarly impressive. Those numbers haven't consistently been there for Sanders.
The New York Time's Nate Cohn said Clinton "won 69 to 28 percent in counties where Hispanics are a majority of adult citizens" and "66 percent where they're more than 20 percent."
The only other Super Tuesday state with a noteworthy Hispanic electorate was Massachusetts where 8% of eligible voters are Latino. Clinton won 61% of minority voters there in a close race.