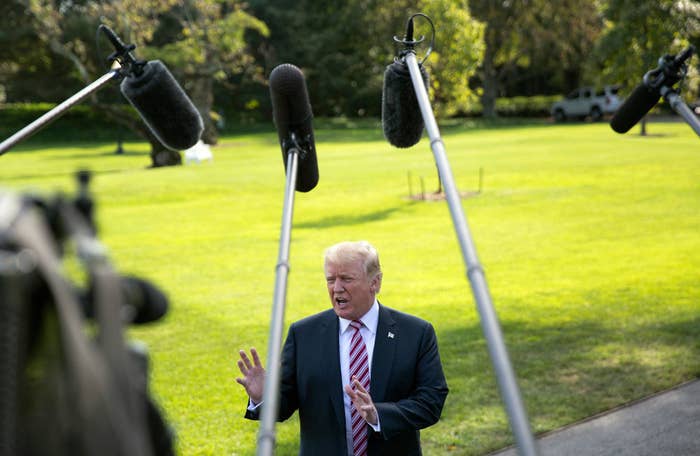 When President Trump went to the microphones Monday morning to address the nation about a shooting that left more than 50 people dead and hundreds more wounded, a nation held its breath over what he would say.
In the end, he gave a short, straightforward speech that could've been given by any modern Republican president responding to a crisis. But people have cause to be on edge: Trump, in dealing with a series of recent crises, has betrayed a tension between listening to the world's most sophisticated intelligence apparatus and feasting on Fox News, spurning caution and using cable news insights for Twitter feuds with perceived detractors.
White House Chief of Staff John Kelly "has done a pretty good job of bringing down the iron curtain," a longtime Trump adviser told BuzzFeed News, pointing to Kelly's much-reported effort to control the flow of information to the Oval Office. "But he cannot stop the president's voracious consumption of television, and therefore Fox is still probably his greatest single influence as far as what he sees monitoring cable and political coverage. He's also an active user of the telephone. Kelly can't limit his outreach."
Trump embraced his reality show past with tweets about Puerto Rico's response to Hurricane Maria and diplomatic talks with North Korea over the weekend, blasting Puerto Rican officials as "politically motivated ingrates" and ridiculing his own secretary of state for "wasting his time trying to negotiate with Little Rocket Man." He took a different tact in the immediate aftermath of Sunday night's mass shooting in Las Vegas, waiting until 7 a.m. Monday to tweet a general message of condolences and later issuing a statement that avoided politics.
The whiplash between emergencies has put a sharp focus on who the president is listening to in pivotal moments, and how he chooses to act on that information.
Sources close to the administration say the president does spend time in meetings and briefings with his government's most plugged-in officials, but that's layered with and often disregarded in favor of a TV segment he catches on Fox News or CNN.
On Monday, the briefings appeared to win out: Trump was informed about the late Sunday night Las Vegas shooting by Kelly early Monday morning, and he has at least so far refrained from wading into swirling debates on Twitter about gun policy or sketchy reporting or false information about the alleged shooter's political or religious affiliations.
During times of crisis, Trump allies say they see what they love about him: a president who likes contact and information and can be hands-on.
"The president is an information junkie, he wants all the details and information, especially on something like this where there is a crisis," said Trump confidant and adviser Christopher Ruddy, the CEO of Newsmax media. "He is the type of guy that would be asking his crisis management constant questions, but also going beyond them and reaching out to the local leaders in Puerto Rico and the Virgin Islands."
On both Hurricane Maria and the latest developments on North Korea, Trump's responses appear to be predominantly influenced by media narratives, rather than by specific intelligence briefings.
Trump has been lit into for days over what some Puerto Rican officials characterize as a slow response to devastation on the island wrought by the hurricane, and he's repeatedly struck back with Twitter missives against San Juan's mayor and the press, going so far as to tell Puerto Ricans who largely are without power to "not believe the #FakeNews"
The administration appeared to attempt to directly rebut criticisms leveled in the media by releasing readouts over the weekend of the president's calls with Govs. Ricardo Rosselló of Puerto Rico and Kenneth Mapp of the US Virgin Islands, FEMA director Brock Long, and Puerto Rico Rep. Jenniffer González-Colón, with each specifying that Trump was overseeing a self-proclaimed "unprecedented" federal response to the crisis.
And despite Trump's tweets disparaging talks with North Korea, which were reported in the press Saturday, and saying he would "do what has to be done," the White House told BuzzFeed News Trump had no meetings regarding the country over the weekend and there were no deputies committee, principals committee, or cabinet-level meetings on North Korea.
Trump, on both fronts, appears to be taking his public cues from cable news. The longtime Trump adviser said the president gets "99%" of his information from cable, with Fox News as his top source, but with CNN and MSNBC tossed in, too, saying Trump is a known "channel flipper." Trump, the source said, doesn't read much.
Sources close to the administration say Kelly's information flow changes have been welcome for a president who was being worn down by his staff's constant need for access to him to push their own agendas. And the sources believe Trump receives better information when he's being briefed on homeland security by adviser Tom Bossert or on foreign policy by National Security Adviser HR McMaster, than on the domestic controversy of the day.
"If there's a takeaway, it's the gulf between the professionalizing of information related to national security — the difference between homeland security and a domestic policy or political matter," said a former administration official.
If Trump is talking to Secretary of State Rex Tillerson about North Korea, or to local Puerto Rican officials, the source said, he is in the clear.
"This is not a case where he's consulting Stephen Miller on a piece of immigration policy," the former official said, calling out the controversial senior policy aide. "It just matters who the principal staffer is handling the issue. Some of them traffic in the best information available and some don't."
More broadly, Matt Schlapp, a GOP strategist and Trump ally, said the way Trump has handled crises by going straight to his base using Twitter is somewhat of a "live experiment" in communications. "Most presidents would walk into a briefing room, answer a few questions, and then walk out," Schlapp said. "He's made himself more available."
Schlapp — whose wife, Mercedes Schlapp, now works in communications at the White House — said he thinks Trump's Twitter strategy in these moments is two-fold. "My experience with the president is that he does trust his instincts," he added. "They've served him well...by the same token, it's wrong when people report that he's emotionalizing things and simply reacting to things. I think that's incorrect."
The shots at the San Juan mayor and North Korean leader Kim Jong Un in particular show how Trump's response has been different from past presidents. "Unlike most politicians who give a toothy grin and strong handshake and pat you on your back, when this president is at odds with you, he tells you," Schlapp said. "Maybe it's the inner New Yorker in him. It's very refreshing to the American people — or at least half of the American people."
But the problem is that even if Trump is getting good information, and going by instinct, he has shown a penchant for personal attacks if he feels he is being slighted.
Trump's repeated claims of an "unprecedented" federal response to Hurricane Maria and his lionizing of Rosselló, who has not been critical of him, reveal his appetite for praise, despite reports that his administration was slow to grasp the scope of the devastation on the island, while Trump gleefully fired off tweets about NFL players kneeling during the national anthem last weekend.
Trump bashed San Juan Mayor Carmen Yulín Cruz for daring to criticize the response and he publicly cannonballed into the topic of very sensitive foreign policy discussions on North Korea's nuclear ambitions despite administration officials wishing he would do the opposite in both instances.
Still, former Georgia representative Jack Kingston, another Trump ally, said that at times Trump's tweets in response to crises are more strategic than people might think. Kingston boiled down Trump's weekend North Korea tweets as "a very orchestrated good cop-bad cop strategy."
Kingston argued that unlike the aftermath of Hurricane Katrina, when President George W. Bush and other Republican leaders were criticized for their hands-off handling of the crisis, Trump has been using Twitter to tell his supporters what the administration has been doing in Puerto Rico. In a recent conference call, they gave surrogates a breakdown of how the White House has been helpful to those in need on the island.
"He's not the traditional politician who's going to sit back and take it," Kingston said, adding that Trump needed to call out Cruz because her comments critical of the administration "were not helpful."
"That's sniping," he said.
But Puerto Rican officials have also rolled their eyes at the sniping they believe is driven and enabled by the president through his insatiable Twitter presence. During a recent conversation between island officials and Washington, administration officials seemed preoccupied with Cruz, wondering why she was being so "bitter" and critical of Trump after he had first complimented her on Twitter and why her effective, sympathetic voice was all over cable news, where the president had seen her complaints.
"Because someone tweeted about her," a Puerto Rican official told the White House. "You gave her that platform."