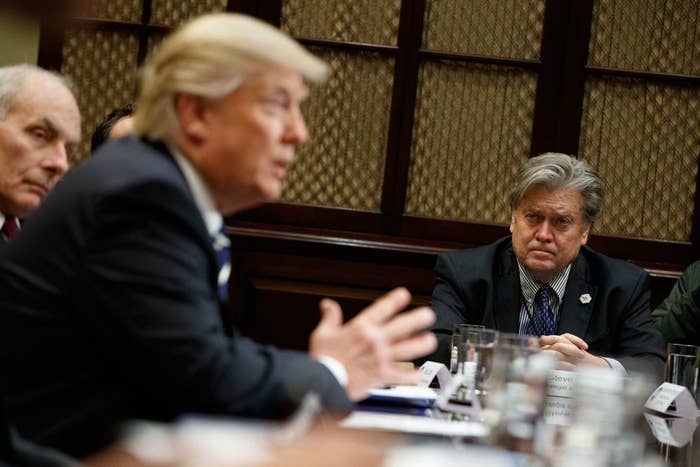 WASHINGTON — The Trump administration doesn't want to talk about it.

When asked about the Obama-era program that allowed undocumented immigrants who were brought to the United States as children to remain in the country and work, press secretary Sean Spicer has repeatedly demurred. Instead, he's talked about the administration's enforcement priorities. When deputy press secretary Sarah Sanders is asked about Donald Trump's private remarks that these so-called DREAMers shouldn't worry about deportation, she says she doesn't want to get ahead of the president.
Deferred Action for Childhood Arrivals, or DACA — which Trump said he would rescind on day one — is rough political terrain for the White House. Conservative media and elected officials see it as a rare hardline immigration promise the administration hasn't kept, and the White House is kicking it down the road for as long as officials can.
But according to two sources who regularly speak with the Trump administration, DACA is a settled issue.
And in recent conversations, two administration sources pointed to chief strategist Steve Bannon as the man who preserved the current iteration of DACA, the victor of a debate with Attorney General Jeff Sessions and senior policy adviser Stephen Miller, who favored curtailing the program.
"Bannon usually wins most battles," an administration insider said.
Previous reports have cast Bannon on one end of the spectrum on rescinding DACA and a more moderate group led by chief of staff Reince Priebus that wanted to keep it, but BuzzFeed News has learned that Bannon views DACA, which tends to be viewed more favorably than many immigration policies, as a strategic asset in the coming immigration policy battles, a source familiar with his thinking said.
"Trump was never in favor of repealing DACA," said a source close to the president, who also said that keeping the program is in line with the immigration stance of Bannon, whose counsel Trump closely heeds. Bannon's economic nationalist view is very much rooted in culture, and so eliminating DACA wouldn't be a priority for him because "these kids have been here and they're going to schools here," the source said. "They're Americans. They understand the culture."
Last month at CPAC, for instance, Bannon said the "center core of what we believe" is that "we're a nation with an economy — not an economy just in some global marketplace with open border — that we're a nation with a culture and a reason for being, and I think that's what unites us and I think that's what's going to unite this movement."
But the disagreement on DACA doesn't mean that Bannon, Sessions, and Miller don't agree on other parts of immigration policy.
In fact, they are all said to view sharply increasing enforcement and deporting millions as paramount to satisfying their base and fulfilling campaign promises to get illegal immigration under control. Sources who speak to administration officials said staggering deportation numbers have been floated: One said they'd heard 2 million in the first year, and another Republican said 4 million by the 2018 midterm election.
(Obama deported a record 3 million in his eight years as president and was protested as the deporter-in-chief by activists on the left.)
The Secretary of Homeland Security John Kelly, a man not viewed as a hardliner, said on CNN that he was considering separating parents who cross the border from their children. Even Republicans call it what the left has been screaming that it is, attrition through enforcement — a deterrence effort to stop immigrants from considering the trek into the United States because of how hard their lives could be.
"They're upping the ante by saying families are going to be separated — that's a scare tactic," said the Republican who heard the goal of 4 million deportations by the end of next year. "They figure the shiver running through the community may be enough to keep some families from crossing. It's rather effective."
"It looks like they're going after everybody except a sliver of immigrants, and that's the DACA recipients without even minor offenses traffic tickets or anything else," said Democratic Rep. Joaquin Castro, who noted that nonetheless, some DREAMers have been sitting in detention after Trump's enforcement crackdown. "Whether that amounts to removing 9 or 10 million people, it's an incredible amount of people. They're going to tear families apart and create fear in communities that's going to hurt the economies of a lot of American cities."
A Trump official told BuzzFeed News that the administration isn't necessarily shooting for specific numbers of deportations but said that in the past, children have been used by immigrants to illegally cross the border.
"We're trying to discourage that," the administration official said. "It may seem like a harsh policy, but the issue we're attempting to address is to reduce the exposure that children have because they're getting used."
Marielena Hincapie, executive director of the National Immigration Law Center (NILC), which filed a lawsuit in support of Daniela Vargas, the DREAMer from Mississippi who was detained after speaking out at a protest last week and whose DACA status had expired, said the administration is engaged in "shock and awe" tactics on immigration.
She said even with its record figure, the Obama administration never deported more than 450,000 immigrants in a given year and Trump will find it difficult to go much beyond those numbers without decreasing due process and growing the use of efforts like "Operation Streamline," a form of fast-tracked sentencing that allows one judge to rule on many defendants at one time.
The Mississippi case, as well as one in Seattle concerning another DACA recipient, has raised the issue early of just how the Trump administration will handle the Obama-era program, which was never codified into law.
There is also encroaching fear by organizations that are bracing for the administration to begin going after immigrants in the country legally and illegally who use public assistance programs, which was floated in a draft executive order leaked to the Washington Post and Vox.
Still, Republicans inside and outside the administration contend that immigration legislation could be Trump's "Nixon in China" moment — a policy area where his credibility on the issue among his base allows him to push for some sort of immigration compromise, as he again floated to national news anchors last week.
"The president indicated that he's open to compromise," said Trump's friend Christopher Ruddy, CEO of the conservative Newsmax Media, who routinely meets with him in Washington and at his private club Mar-a-Lago in West Palm Beach. "The position would be a smart thing politically and a smart thing for the country."
Others contend Bannon is shrewd, and his willingness to wade into the policy issue might even be a sign that he has been caricatured inaccurately.
"I worked with Karl Rove and there were things said of him that weren't true," said Daniel Garza, executive director of the Koch brothers–funded LIBRE Initiative who is encouraged by the administration's restraint on DACA. "It didn't fit the caricature of what he was seen like, and it could be the same thing with Bannon. Rove got blamed for things he didn't do and he didn't get credit for certain things he did do."
Mario Rodriguez, chair of the Hispanic 100, who threw a glitzy inaugural event for Trump in January, said he has met with Trump and Bannon in Trump Tower and that the enigmatic chief strategist is getting a raw deal. "Just like the president, give them a chance to do their job," he said.
But activists wave away the prospect of immigration compromise if it means breaking the will of immigrant communities on the way to a bad deal.
"Come 2018, compromise on immigration is going to be hard after so much pain has been instilled in these communities," Hincapie said.