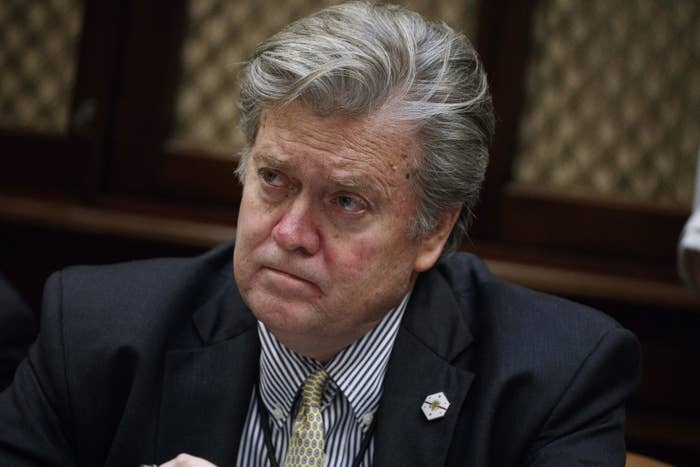 Allies who spend too long in Donald Trump's doghouse usually get sent away for good. Chief strategist Steve Bannon is trying to forestall that fate.
Bannon — the polarizing and enigmatic hero of the alt-right, who has become a flashpoint in the aftermath of the white supremacist violence in Charlottesville, Virginia — has for months drawn the president's ire, with Trump feeling his strategist seeks too much credit for his election win.
"That fucking Steve Bannon taking credit for my election," Trump recently told a confidant, referring to a new book focused on Bannon's influence, Devil's Bargain by Joshua Green, according to a source with knowledge of the conversation.

People close to Bannon within and outside of the administration have long worried that Trump's frustrations will result in Bannon being tossed from the White House. Rumors hit a fever pitch in recent weeks, with the elevation of new Chief of Staff John Kelly, and Bannon's renewed open war with National Security Adviser H.R. McMaster.
It briefly looked like Bannon's efforts to survive were paying off, as he reemerged after spending weeks laying low and staying out of Trump's field of vision.
But the latest development in the White House drama — a rare on-the-record Bannon interview with the left-wing American Prospect in which he detailed his preference for a hardline stance against China on trade, said North Korea "got us" because a military option makes no sense, and openly talked of his feud with Trump's chief economic adviser Gary Cohn — energized but concerned allies who worry Kelly won't look positively at undercutting Trump on North Korea and knifing senior officials publicly.
"The only thing I would change if I were in his shoes is I don't like that he named Cohn," a Bannon ally said. "He can say globalists, everyone knows who that is."
(As if to reenforce the word association, Breitbart, the news site Bannon formerly ran, bracketed Cohn's name in globes on its front page on Wednesday.)
"I don't think Kelly's going to like any of this," a second Bannon ally said. "He's not going to like the North Korea thing. That the chief strategist, who is being called a leaker, is caught on the record on this one."
Trump's anger with his chief strategist goes back to the early days of his presidency. He was reportedly livid when Bannon appeared on a February Time magazine cover declaring him "The Great Manipulator," and the president has more recently seethed over Green's book that casts Bannon as the intellectual mastermind of Trumpism.
"The president is not happy with the Joshua Green book," a source close to the administration said. "Every other page is a love letter to Steve Bannon."

Bannon has lately appeared to follow a careful path to avoid further igniting the president's rage. Over the last month, which saw the ouster of short-lived White House communications director Anthony Scaramucci, Bannon has avoided speaking with reporters and allies, or overtly seeking credit for White House moves. He did not go with the president to Bedminster, instead working on policy initiatives close to him, like an order Trump signed this week on Chinese trade.
In other words, Bannon — up until this week — had effectively been doing the opposite of what the media-hungry Scaramucci did in the days leading up to his firing, staying out of the spotlight and focusing on lower-profile priorities.
That changed this week, after Trump's series of comments on the violence in Charlottesville. Bannon reportedly talked with the president about how he should respond to the white supremacist rally that resulted in three deaths, and he was said to be happy with Trump's Tuesday comments casting blame on "both sides" for violence — setting him apart from others in the White House who were privately upset with the remarks.
Bannon, an ally said, was very angry that Cohn was telling the press about how uncomfortable he was with Trump's Tuesday comments. "Bannon felt it was the opposite, he thought it was great," the source relayed.

That same day, Bannon spoke to the American Prospect, tearing into Cohn and forcefully detailing his own agenda to a reporter, blowing up the earlier, cautious approach to survival.
Bannon has now made the calculus that he's on thin ice regardless, and won't go down quietly, the first supporter said. "He's saying, 'I'm going to force you to fire me in a public way or we're going to follow the agenda we were elected for.'"
"Bannon thinks he's going to be in the shit house," the second Bannon ally said. "But the reason I think he could survive this one is they had Charlottesville, they disbanded two [business advisory councils,] now they're going to fire the president's chief strategist?"
Those in the orbit of Trump mega-donors Robert and Rebekah Mercer, longtime Bannon allies who invested in Breitbart, are said to be worried about Bannon and the White House his departure would leave behind. The removal of Bannon, people in that world have said this week, would signal that the White House they worked to elect as the harbinger of political revolution was instead becoming "another Bush administration."

"They all told me, 'We did not do this to become establishment Republicans,'" the first Bannon ally said of recent conversations with people in the Mercers' circle. "We're trying to blow up Washington, blow up a crony system."
But others close to the administration insist that Bannon will go — the question is when.

"Steve's fate is inexorable," said Roger Stone, a longtime Trump adviser who has had major issues with Bannon for months now.
"To me Steve Bannon is just a grave disappointment. This is a fellow I supported — I supported and continue to defend against anti-Semitism and bigotry charges," Stone continued. "But my disappointment is in his unwillingness to spend any capital and stand up and fight."
Bannon, Stone argues, did not install enough Trump loyalists in the administration — "people are policy," he said — casting that as an unforgivable error. "He would not recruit any Trump Republicans and he now finds himself alone," Stone said.
Bannon's lack of powerful allies was evident after a public feud with Jared Kushner in the spring. The former Breitbart mogul, a source close to the administration said, told people behind Kushner's back that "hopefully Jared will go down in things pertaining to Russia," or real estate holdings that were increasingly under a legal microscope.
But while Trump this week again minimized his relationship with Bannon and his role in Trump world, the president did give his embattled strategist some hope. Calling him "Mr. Bannon" during Tuesday's press conference, Trump said the final chief of his presidential campaign is a friend but that he only came aboard Trump's election team late in the game.
"I went through 17 senators, governors and I won all the primaries. Mr. Bannon came on very much later than that," an angry Trump said, before turning to the issue that could save Bannon, at least in the interim.
"He is not a racist. I can tell you that. He is a good person. He actually gets a very unfair press in that regard," Trump, whose Charlottesville response again showed he does not like to be cowed on issues of race or political correctness, added. "We'll see what happens with Mr. Bannon. He is a good person and I think the press treats him, frankly, very unfairly."

But if Trump is allowing Bannon to twist in the wind — as former chief of staff Reince Priebus and former press secretary Sean Spicer did for long stretches before they left the White House — Bannon allies warn his removal would be a grave mistake on the president's part.
"At the end of the day if Bannon is fired, this Republican White House, which is supposed to be nationalist conservative, would be fully staffed by generals, Democrats, Clinton voters and the occasional Bush aide," the second Bannon ally said, acidly. "What is this, the Twilight Zone?"

Were Bannon to go, with Kushner, Cohn, and McMaster ascendant, the first Bannon ally put it more simply.
"Would we even be a movement anymore?"