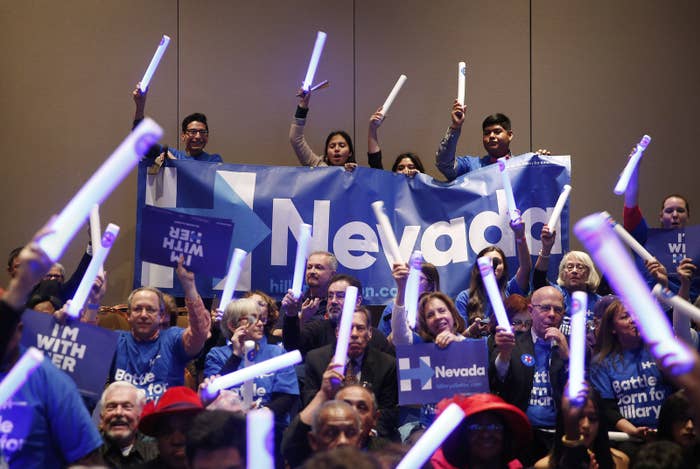 LAS VEGAS — The Nevada Democratic Party quietly sent out an alert earlier this week — party officials are having trouble finding volunteers for the state's all important caucuses, according to two sources with knowledge of the communications.

After Bernie Sanders's victory in New Hampshire and a razor-thin match in Iowa, the attention — and stakes — could not be higher for the Feb. 20 caucuses.
And volunteers are critical. Known as "temporary chairs," volunteers open the caucus site and distribute a packet of materials before the permanent chairs from each campaign takeover and run the caucus.
The role of these temporary chairs is short-lived but crucial and a massive number of them are needed across the state to make sure everything runs smoothly. There are 1,700 precincts statewide, which means that many temporary chairs would be needed as volunteers.
Andres Ramirez, a 20-year veteran Democratic operative, ran outreach for the Nevada caucus in 2008 and said the state party is merely doing its due diligence and urgency is needed simply because often times volunteers don't show up.
He said the party is looking for only 200-300 volunteers statewide.
"We're further along now than we were at this point in 2008," he said.

The 2008 race was the first time Nevada held a high-profile early Democratic caucus and there were problems, with reports of precincts turning chaotic with people not knowing what to do.
There have been other issues as recently as two weeks ago, too. A source with one of the Democratic campaigns said Nevada Democrats were concerned that they didn't have enough large caucus sites — places like large community centers that hold the caucuses for four or five precincts. But the source said they believe that issue has been resolved.
Stewart Boss with the Nevada Democratic Party poured water on the idea of any alarm, saying the party is merely working hard to engage and recruit volunteers in communities across Nevada and other western states to assist with the caucus.
"This is what we did in 2008, 2012, and that's what we're doing again this year," he said in a statement. "This is why caucuses are so important for Nevada Democrats — they help us build our grassroots network of volunteers across the state early in the election cycle."
Ramirez, who was in the war room in 2008, said crazy incidents can occur where more volunteers are needed despite the best efforts of the party.
In 2008, for instance, with dozens of phones ringing around him, he received a call from someone who said the temporary chair sent by the Democratic Party at his precinct had collapsed and had a heart attack, with the caucus packet falling on the caller's foot. Because no one had done a caucus before, people at the precinct told him it must mean he was the new temporary chair.