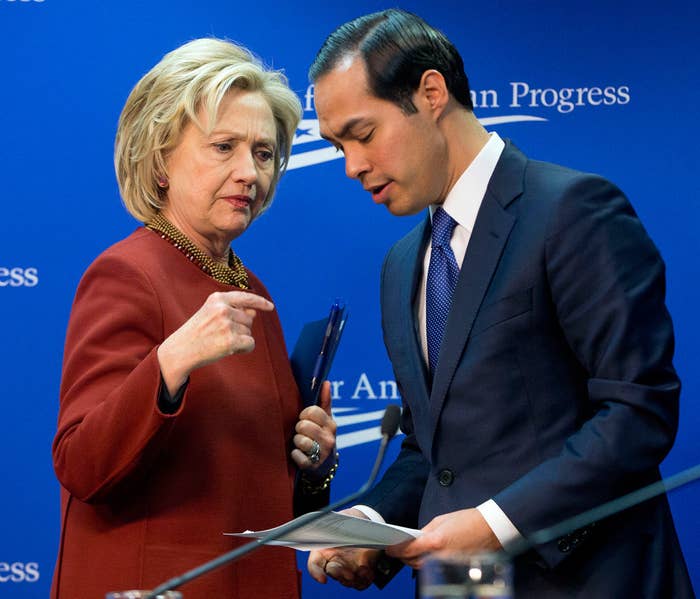 Housing and Urban Development Secretary Julian Castro will endorse Hillary Clinton for president next week in San Antonio, according to three sources with knowledge of the plan.
Clinton will be in town Oct. 15 for the first "Latinos for Hillary" organizing event in Texas and has made Hispanic voters a priority this fall, launching a bilingual SMS texting initiative to engage them, and showing up on stage at a Marc Anthony concert in Miami, among other efforts.
Democratic strategist Maria Cardona said the campaign has always planned to roll out Hispanic endorsements as its Latino initiative got underway and the elected officials, like Rep. Xavier Becerra recently, have a "put me in, Coach" mentality, excited to campaign for Clinton.
"The contrast for her in terms of both the launching of Latinos for Hillary and with Julian next week could not come at a better time with the debacle going on in the Republican side," she said.
Castro is scheduled to host a news conference Saturday to preview the event in San Antonio, where Clinton is scheduled to appear alongside him, sources said.
Castro, who spoke at the 2012 Democratic National Convention and was formerly the mayor of San Antonio before becoming HUD secretary, has often been discussed in the media as a potential running mate.
The campaign has repeatedly stressed that Clinton wants to be seen as a spokesperson and a champion for Latinos, in contrast to Republican rhetoric on immigration led by Donald Trump. She again made the argument in a Telemundo interview this week where she also said she would be less aggressive and harsh than the Obama administration has been with its deportation policy.
In addition to endorsements from elected officials, the campaign is also unveiling support from celebrities and community leaders as it pushes "Latinos for Hillary." The campaign sent an email blast this week from actress Salma Hayek and a text announcing that civil rights leaders Dolores Huerta was also on board. Castro's brother, Rep. Joaquin Castro, will campaign for Clinton in Nevada Oct. 11.
For his part, Julian Castro hasn't been shy about defending her in the media. He has dismissed the email controversy and called the Benghazi investigation a "witch hunt."
"Congressman Gowdy, who is leading this, is very intentionally trying to manipulate this witch hunt to play politics," he said in May.
Henry Cisneros, who like Castro was mayor of San Antonio and HUD secretary, fanned the vice presidential speculation earlier this year.
"What I am hearing in Washington, including from people in Hillary Clinton's campaign, is that the first person on their lists is Julián Castro," Cisneros said in June. "He is the superior candidate considering his record, personality, demeanor and Latin heritage."
Democrats said the endorsement isn't a surprise but it is part of the necessary work the campaign must do to grow excitement among the Hispanic community for Clinton.
Joaquin Guerra, a longtime Democratic operative in San Antonio, said Castro is a beloved son, joking that his picture belongs next to the ones of the pope, Henry Cisneros, and Cesar Chavez, in the homes of San Antonio Latinos.
Guerra works out of Geekdom, a co-working space and tech incubator, that has one other office in San Francisco, and said Castro helped make San Antonio an emerging tech center. That along with the pre-kindergarten initiative he shepherded makes him uniquely qualified to boost Latino excitement in San Antonio and elsewhere, Guerra argued.
Andres Ramirez, a 20-year veteran of Democratic politics in Nevada, said the fact that Joaquin Castro is in Nevada this weekend and Julian Castro is in San Antonio next week to juice excitement for organizing events, is evidence of the Clinton camp applying a focus on Latinos that other campaigns like that of Bernie Sanders have gotten a later start on.
"It's great that other campaigns are learning this but this is not something the Clinton campaign has learned," he said. "They've known it from the get go and launched the campaign with these concepts in mind."