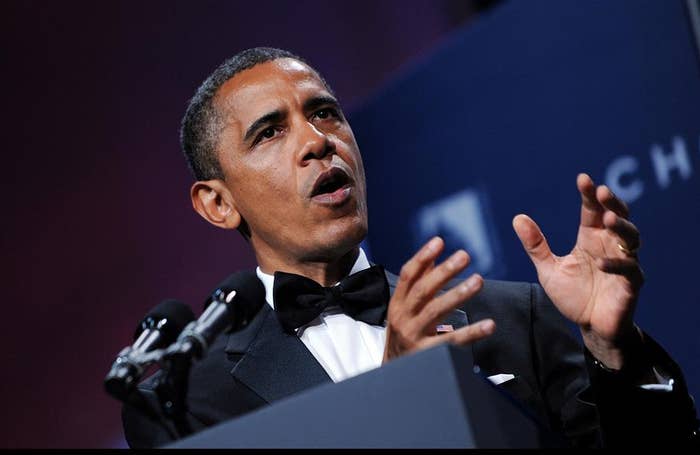 President Obama will reaffirm his promise of administrative actions to slow record deportations before the end of the year during a high-profile speech to Latinos and Hispanic officials on Thursday, BuzzFeed News has learned.
His speech at the Congressional Hispanic Caucus Institute (CHCI) gala — his first there since 2011 — comes as activists have expressed anger and frustration over repeated delays on executive actions.
Obama will tell Latinos in attendance that he understands their frustration but will also call on them to stick with him and wait 40 more days, until after the election, according to a source who viewed the president's prepared remarks. It was unclear if the 40 days comment is a reference to expanding the range of dates the White House would consider to act or if they continue to hold firm to a date after the holidays and before the end of 2014.
On Wednesday afternoon, a White House official disputed the information and said that the president's remarks do not include the "40 days" line.
"The president's remarks to the CHCI gala do not include the 'wait for 40 days' reference," a White House official told BuzzFeed News. "Whoever provided that information did not see the speech and is inaccurately describing the president's remarks."
According to a White House official, the president will use the speech to reiterate his commitment to expanding opportunities for all hardworking Americans including Hispanics and will highlight efforts by the administration that have led to significant, measurable progress in the Latino community.
Cecilia Muñoz, director of the White House domestic policy council and a key administration figure on immigration, is also expected to attend the CHCI public policy conference on Wednesday. She is expected to convey that administration officials are sorry about the delay but will seek to correct course with the eventual actions.
A separate source said the White House asked CHCI to share the stories of students who have benefited from Obama's Deferred Action for Childhood Arrivals program — which gave legal status and work visas to undocumented youth brought to the country as children — for Obama to include in his speech. But, for unclear reasons, the exchange never happened and the stories will likely not be told by the president.
The request by the administration would make sense: Obama has been on the receiving end of criticism from immigration activists throughout 2014, who have asked him to go big with some combination of expanding deferred action and using prosecutorial discretion to change enforcement priorities.
In fact, protesters from the National Day Laborer Organizing Network, who argue the delay of the executive actions means thousands of deportations, will be outside the president's speech.
This story has been updated with a comment from the White House.