Some Republicans Fear Scott Walker May Have Already Pulled A Mitt Romney With Latino Voters
Walker is a serious, top tier candidate, but Hispanic conservatives both at home and nationally wonder whether he can deliver Latino votes against a Democrat like Hillary Clinton.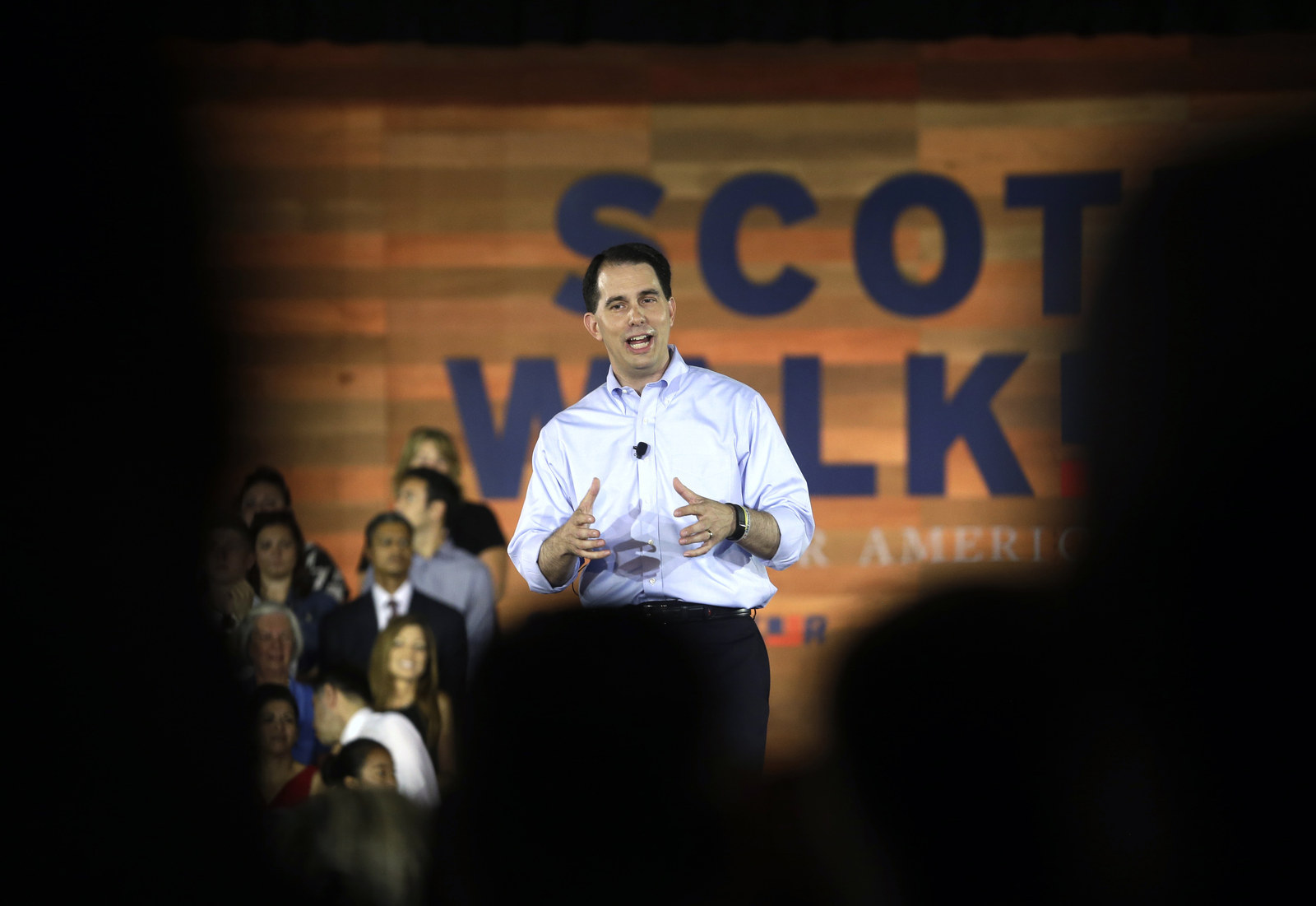 At the first Republican debate in Cleveland on Thursday, Scott Walker had a perfectly solid showing, the kind you would expect from a serious, top tier candidate for president — someone who may well be a general election candidate.
His successful fights against unions and in his recall election in Wisconsin transformed Walker into a conservative hero, one who has sustained months of real support in a fractured Republican electorate.
But if and when that time comes, Latino Republicans in Wisconsin and nationally worry that this love and adoration will not transfer to the growing Hispanic electorate, a group that largely doesn't know Walker, and may be turned off by his lurch to the right on immigration — and in particular his sometimes protectionist comments on legal immigration in recent months.
The stakes are real. After Mitt Romney carried just 27% of the Latino vote in 2012, Republicans have emphasized improving those numbers — even modest gains across demographic groups could produce electoral results — but first they have to reverse the direction those voters are trending. No matter who the Republican candidate is, he will likely face a formidable opponent on this front in Hillary Clinton, who may have months of general election campaigning before a Republican opponent, and who has already shown a willingness to embrace Latino activist's biggest objectives, like she did on immigration.
The reality, though, is that Walker's never really had to campaign for Latino voters before. So far, his campaign isn't really, either — they're focused on the early states, where Latinos play less of a role.
A campaign official initially downplayed Hispanic-specific outreach, saying Walker is running "to win the hearts and minds of all Americans, and his proven record of results has universal appeal." The official went on to cite Walker's work on school choice, property taxes, and unemployment as examples of how he has "improved life for Wisconsinites across the board."
But the official later pointed out that the Hispanic Chamber of Commerce has been supportive of Walker's agenda on job creation, tax cuts, and support for small business, noting that Walker's $100,000 state investment in the Hispanic Chamber's loan fund leverages matching funds to do just that. And while the campaign's focus remains on the early states, officials noted Walker has visited Nevada, North Carolina, and Virginia and consistently polls in the top three in those states, which all have growing Hispanic populations.
The campaign also cited the budget Walker just signed into law and its $550 increase of the standard deduction for married couples filing jointly. Its reason for citing this was a curiously generic answer: Families tend to be a focus for Hispanics.
A campaign official did not answer repeated questions about whether the campaign has anyone in charge of Latino outreach, or whether any Hispanic staffers work for the campaign.
Walker's opponents Marco Rubio and Jeb Bush have Hispanics in key campaign roles, and Clinton has hired many, particularly Latinas. At a comparable point in the cycle in 2011, Romney had Hispanic advisors that were de facto campaign staffers, like Jose Fuentes. It is unclear if Walker has supporters playing similar roles at this stage.
Alfonso Aguilar, a former official in the George W. Bush administration and director of the American Principles Project's Latino Partnership, which promotes conservative values to the Latino community, has had conversations and offered advice to a handful of the Republican candidates. He said he offered to speak with the campaign and with the governor and said they declined.
The overall approach wasn't a surprise to many Latino conservatives in Wisconsin and nationally who say the campaign has no Hispanic strategy and hopes to run the table in the Midwest in states like Ohio, Iowa, Michigan, Wisconsin as well as Pennsylvania and don't believe they need to make the Southwest states and Florida, which have larger Hispanic populations, a priority.
Latino conservatives in Wisconsin were exceedingly cautious over commenting for this story or challenging Walker. Jessie Rodriguez, the first Latina Republican elected to the state assembly, said she would not take part unless she could answer questions via email. A prominent Hispanic Republican in the state told BuzzFeed News they didn't want to be involved, citing fear of crossing Walker, locally.
Zeus Rodriguez, who stepped down as president of Milwaukee's St. Anthony School, the largest K-12 Catholic school system in the country, to expand his nonprofit Hispanics for School Choice, fits the profile of a Latino who should be supporting Walker. But he is aligned with Jeb Bush — and was even chosen to have lunch with Bush by that campaign, perhaps because the optics were great.
Rodriguez heaped praise on Walker, saying he has been a supporter of his for years, going so far as to hold a small event every four to five months for Walker where he would introduce him to 10 to 15 Latinos in the community.
Hispanics in the community ask him about Walker's stance on immigration, Rodriguez said, but he doesn't know what to tell them.
"He hasn't clearly defined what he would do with the 11 million people," he said. "In order to get citizenship they have to go back to the line. Fine, but what about legal status? Not a lot of people have issues with the citizenship part, but can they stay and have legal status? That's what I have yet to see."
He's supporting Bush because on immigration, "Jeb is very clear, it's obvious where he stands," Rodriguez said. "Walker with his own words has said he's changed his view. Knowing him as a person I know he's not anti-immigrant, I know that with all my heart."
How Walker approaches immigration itself — illegal or legal — has been a question this year. Aguilar, like several Hispanic conservatives BuzzFeed News spoke with, believes Walker's comments on legal immigration this year, which were already a source of tension, echo Mitt Romney's much-maligned self-deportation comments in tone deafness.
"The next president and the next Congress need to make decisions about a legal immigration system that's based on, first and foremost, on protecting American workers and American wages," Walker told Glenn Beck in April. "The more I've talked to folks — I've talked to Sen. Sessions and others out there, but it is a fundamentally lost issue by many in elected positions today — is what is this doing for American workers looking for jobs, what is this doing to wages, and we need to have that be at the forefront of our discussion going forward."
The campaign later clarified. Walker "strongly supports legal immigration, and like many Americans, believes that our economic situation should be considered instead of arbitrary caps on the amount of immigrants that can enter," campaign spokesperson AshLee Strong said at the time.
But a day later, Walker told the Des Moines Register he favored being able to "dial up and dial down" legal immigration depending on unemployment, once again with the ultimate goal of protecting American workers and wages.
Aguilar said he complained to the campaign afterwards and says he was told Walker was still studying the issue. "If he's still studying the issue then why are you making those comments?" he said he told them. He said that the Walker campaign was unhappy he had aired his criticism in the press.
"He's toast with Hispanics," Aguilar said, noting that his comments depart from how Ronald Reagan viewed legal immigration and its role in growing the economy. "It hurts him as a viable candidate nationally and donors are going to take note, they want to win."
Taking a critical look at legal immigration isn't unheard of — or completely unpopular, in either party — but it's generally a nonstarter with the business wing of the Republican Party and with Latino voters. Mark Hugo Lopez with Pew Hispanic said those comments could harm Walker with Latinos. "You've seen a real swing towards Democrats as the discussion around immigration has turned more polarized, that's true in Florida and also nationally," he said.
Elsewhere, too, Walker has sounded tougher notes on immigration. "These aren't just people coming across to work," he told the Oklahoma Independent Petroleum Association earlier this year. "Increasingly — if you look at the list of countries of origin, it's not just Mexico, it's not just Central America or even South America. There's a good number from Indonesia. There's Morocco. They're from other places around the world, many of whom aren't looking for work in the United States. They've got other motives. We need to wake up to that."
It's not hard to envision Democrats using Walker's tougher rhetoric in ads on Spanish-language giants Univision and Telemundo — because Latino voters have very little familiarity with him. Romney wasn't well-known among Latinos either and he was quickly defined by Democrats as anti-immigrant and blasted early and often on Spanish-language TV and radio.
Matt Barreto of polling firm Latino Decisions said the 2012 election is a good template for what happens when you have a wide open field and candidates try to outdo each other by going right on immigration. "If Walker is moving further to the right in hopes of winning Iowa, which is a very important early state, he has to be careful it doesn't backfire in 2016 like what happened to Romney," he added.
Sources say none of this should be surprising to the Walker campaign, pointing to the fact that campaign manager Rick Wiley, who was the RNC's political director during the last election, is aware of how damaging Romney's comments on immigration were then.
Latino Decisions has found that Walker has low name recognition among Hispanics and so "when he takes a stance on immigration reform it's going to create first impressions among Latinos," Barreto said.
It wasn't always this way, though — something that has been a source of suspicion among Republicans at times this year, especially as reports continue of Walker sounding much more business-friendly, pro-immigration comments continue.
In 2006, Walker wrote in blog posts that he supported Paul Ryan's immigration stance which favored a comprehensive overhaul and a path to citizenship for undocumented immigrants. In 2013, at a POLITICO conference he said, "The vast majority of people want to come here for the right reasons. They want to live the American dream." Later that year he sounded an inclusive tone, saying he saw immigration as a positive for the country. "If people want to come here and work hard and benefit, I don't care whether they come from Mexico or Ireland or Germany or Canada or South Africa or anywhere else," he told a Wisconsin editorial board. "I want them here."
He was asked about his flip flop on a path to citizenship at the debate on Thursday and whether there are other past positions that voters shouldn't hold him to. Walker reiterated that he changed his mind when he met with border governors and saw how Obama has "messed up the immigration system."
"International criminal organizations are penetrating our southern-based borders," he said, "and we need to do something about it."
Liz Mair, a former Walker aide who parted infamously with the campaign for criticizing the importance of Iowa in the nominating calendar, tweeted that Walker had completed a full Olympics-quality flip flop when he made the legal immigration comments and said she was glad she didn't have to defend that policy. Still, she said he has a record of supporting immigration in the past the campaign should have embraced.
"If voters who are concerned about enacting pro-immigration policies and conservative comprehensive immigration reform take a look at Walker's record over ten-plus years, as opposed to some of his comments in just the last six months, they will find a lot to like," she told BuzzFeed News. "The question is how much attention will be drawn to that record as the presidential contest proceeds."
And people close to the Walker's campaign orbit argue that Walker will appeal to Hispanics ultimately through his record. Rachel Campos-Duffy works with the Koch brother-funded LIBRE Initiative and was one of three people who spoke at Walker's announcement. She highlighted Walker's record in making Wisconsin a school choice state, noting that Rodriguez' former St. Anthony's school is 90% Hispanic.
"Hispanics and African-Americans love the voucher program," she said. "Minorities understand that education is the pathway to the middle class and beyond. Your zip code should not determine how good an education you get. I don't know what you could do that's more important than increasing the access for people's kids to get a better education."
The Walker campaign echoed this, noting that Hispanic four-year graduation rates in the state have gone up from 69% in 2010 to 78.1% in 2014.
There is nothing wrong with Walker touting border security, Campos-Duffy said, adding that she's from Arizona and she supports his stance.
Walker also worked with Campos-Duffy's husband, Rep. Sean Duffy, to bring the Mexican consulate to Wisconsin because there was a two-month backlog for Mexican nationals that sought help with their visas and passports.
Rodriguez, the Latina assemblywoman, said the country shouldn't just be having a conversation about billing Mexico for a fortified wall on the border, but should really be having talking about what to do with undocumented immigrants already in the country.
"About three-quarters of undocumented parents living in the United States have been here 10 years or longer," she wrote in an email. "With roots established in our communities and children enrolled in our schools, it's not practical to deport all of them or to expect that they will pack up and leave voluntarily."
Still, Daniel Garza, executive director of LIBRE, is illustrative of where many prominent Hispanic conservatives have found themselves with respect to Walker. In April, when he made the legal immigration comments, Garza blasted the comments publicly saying he rejects any calls for reducing legal immigration.
He was more measured this time.
"If you actually listen to his comments, what he said was he was concerned about the impact any immigration reform would have on American workers," he said. "It wasn't that he was saying he wanted to lessen legal immigration."
Philanthropist Jimmy Kemp, the son of former vice presidential nominee Jack Kemp, was part of a dinner with Walker earlier this year, but he has other candidates he likes too, like Bush, Rubio, Rick Perry and John Kasich. Looking toward a general election matchup, he said Walker provides a strong contrast against someone like Clinton on "government size and big government's ability to address large societal problems."
But he said he would be tested on his ability to connect with minorities and must demonstrate that he can apply "Walker solutions" to broad problems like immigration and "endemic" urban poverty.
The RNC and LIBRE have worked to make Republicans more amenable to Latino voters, and would be turning over their apparatus and relationships, respectively, to the nominee. But the candidate matters too, and there would be a difference between Bush and Marco Rubio leading the way, and Walker.
For his part, Walker has not had to make Hispanic outreach a centerpiece of any campaign. When he ran in 2014, 6.5% of the Wisconsin population was Latino, and only 3% of voters identified as Hispanic in exit polls. But the campaign said that Milwaukee County, where he was elected county executive, has a large Latino population.
The county's Latino population, however, is largely concentrated in one congressional district, which was the site of a 2010 Republican redistricting effort to split one district into two, right along Cesar Chavez Drive, the heart of the Latino community in Milwaukee.
The plan was signed by Walker after being hatched in private by Republicans, who said the maps would create two majority Latino districts, but Democrats said the loss of a 66% supermajority district would make it possible that neither one would be represented by a Hispanic. The three-judge panel sided with Democrats, ruling that the new maps violated the voting rights of Latinos, protected by the Voting Rights Act, and were needlessly shrouded in secrecy.
One thing the campaign has floated is growing Latino support by engaging in a bit of identity politics — namely tapping Rubio as the vice presidential nominee should they make it to the general election.
"It's a deficient strategy," said Luis Alvarado, a Republican strategist, of the Rubio rumors. "That's looking down the road at step 48 when you haven't conquered step 6, especially since Latino voter strategy has only become more sophisticated."
The campaign's electoral strategy runs through the rust belt states, he said, and doesn't feature investment in Latino outreach which makes him wonder "when will he need to have a Latino strategy and will it be too late by then?"
Those who know Walker said he's a good man, the same guy he's always been, but that he has a finger in the wind approach to politics — doing and saying what he feels he must to win. The problem, they said, is that doesn't work in the current presidential environment.
"People miss the point of what Latino outreach is," one frustrated Wisconsin Hispanic conservative said. "People don't realize Latino voters and Mexican voters want respect out of the Republican party, that's what they're missing. How can you talk about immigration reform when folks in the party want to see Mexicans leave?"
Aguilar was more succinct.
"He's a candidate whose words are going to come back to haunt him."