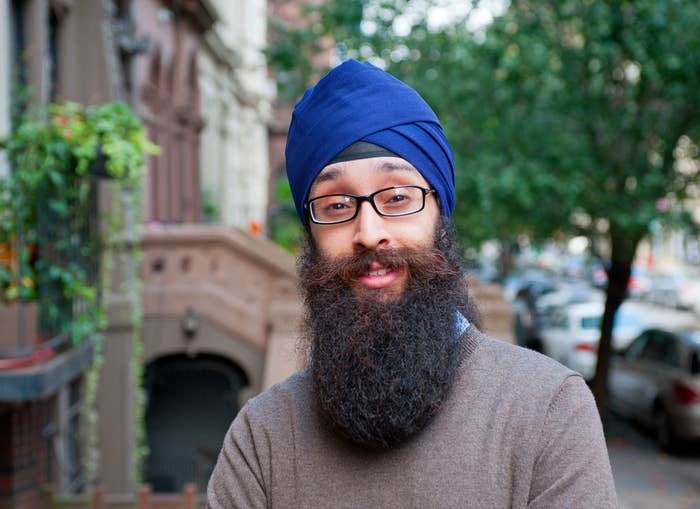 Dr. Prabhjot Singh, a Columbia University professor, had just dropped his wife and his 1-year-old son off at home on Saturday night when he went for a short walk with his friend to the north of Central Park in Harlem, he explains. They were walking past a group of 25 to 30 young men, many of whom had bikes, when he heard, "Get him!" as well as "Osama" and "terrorist" being yelled.
Someone grabbed his beard and he was hit on the chin. All of the bikes began to mobilize and he started to run. The assailants on bikes started taking swipes at his head and a couple hit him in the chest. He was punched in the face repeatedly and he fell. That's when the group converged on him, hitting him in the head over and over again.
There wasn't much going through his mind at the time. He tried to protect himself while the punches rained down on his head as his body lay on the sidewalk. That's when bystanders came to his aid.
In his first comments since the brutal attack, Singh tells BuzzFeed that he doesn't remember much about the suspects — except that most were African-American — yet he says the police investigation and catching the attackers is not foremost on his mind.
"This is my community, I live in Harlem, I see patients here," he says. "It's not the side of Harlem I've come to know and not how I've been embraced."
The New York Police Department says the attack is being investigated by the Hate Crimes Task Force.
Singh "was assaulted by a group of approximately 15 to 20 males who were all on bicycles," according to police. "He sustained a lacerated lip and an injured jaw and was taken to Mt. Sinai Hospital."
His friend Simran Jeet Singh says there were more injuries.
"His teeth were displaced, they were dislodged and loose. They suspected that he had a fracture, it turns out he had multiple fractures. He had a small puncture in his elbow as well," he says.
Singh is the director of systems management at the Earth Institute, a professor at Columbia, and also a resident physician at Mt. Sinai Hospital. Simran Jeet Singh wrote that his "life's work has been to help the underprivileged access quality and affordable healthcare."
Both men have long been concerned with hate crimes against the Sikh community and wrote an op-ed in The New York Times on the issue last year.
Singh says the reaction to this attack should not be anger or hatred, but the love and compassion that his tradition teaches the Sikh community.
"In many ways I've talked and written about these hate-crime statistics and now, pending the outcome of what the NYPD says, I will become one as well," he says. "It's clear that the associations between beards and turbans and terrorism are devastating for an entire community, so I want to continue working to show that core American values are core Sikh values as well."
According to a report by the Sikh American Legal Defense and Education Fund and Stanford University's Peace Innovation Lab, which conducted the research, 50% of Americans who see a turban associate it with Osama bin Laden more than any other figure.
The New York chapter of the Council on American–Islamic Relations (CAIR-NY) condemned the attack.
"New York's religious and political leaders must speak out forcefully against the type of bigotry that leads to hate attacks on people of all faiths and backgrounds," CAIR-NY Operations Coordinator Sadyia Khalique said in a statement.
Simran Jeet Singh tells BuzzFeed that the mass shooting by a white supremacist in Oak Creek, Wisconsin, last year was forgotten by Americans and American media because people didn't relate to it. "They saw Sikh-Americans but they didn't really connect to them as Americans," he says.
The Sikh community, on the other hand, was devastated.
"The mass shooting in Wisconsin was one of the most significant moments in Sikh-American history," he adds. "Our community saw it as an attack on faith communities in general and it heightened our awareness to how people see us in this country — with hate and anger and racism."
Singh, who was raised in Nairobi, Kenya, where a terrorist attack killed 68 people in a high-end mall on Saturday, sees parallels between what happened in his old and current homes as a cycle of hate being perpetuated until people stand up to stop it.
"Most importantly, I want it so that my 1-year-old has nothing to fear in this neighborhood," he says.