Sanders Campaign Missteps With Influential Nevada Union And DREAMers Anger Activists
The tactics used for a political revolution can rub people the wrong way. "Some of this outsider, upstart shit can work in other places."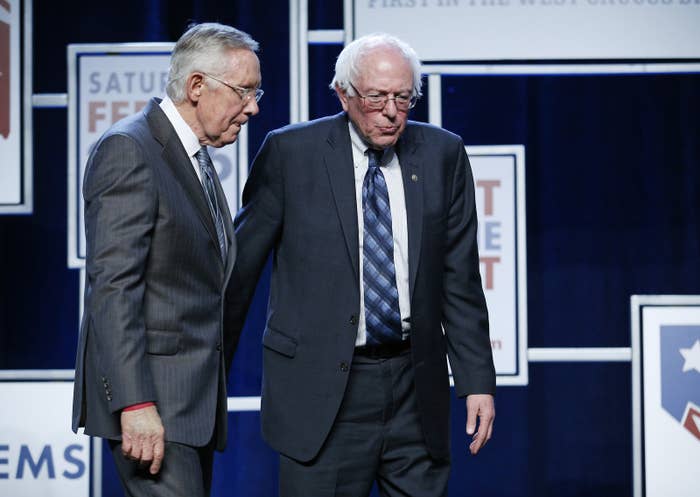 LAS VEGAS — Bernie Sanders's passionate campaign and following is powering the Vermont senator's bid into new, tougher states. In Nevada, it's also pissing a lot of people off.
Against the tightening race in Nevada, the Sanders campaign is still trying to catch up organizationally — and the battle for every Latino and union voter has become critical. At a union rally outside Palace Station Hotel on Friday, staffers for both campaigns were handing out leaflets. Some Hispanics approached by the Sanders campaign could be heard saying, "Si ya estoy con el," or "Yes, I'm already with him." Others, mainly Latinas, said they're with "La Hillary."
Behind the scenes, the Sanders campaign has angered people inside the Culinary Union — in instances both reported and previously unreported. The campaign has also unleashed demolition derby tactics on the DREAMers who have endorsed Hillary Clinton. Both have given the battle for Nevada a harder edge, and made activists, members of the union, and supporters of both candidates question the Sanders campaign's tactics in the key state.
There have been concerns that the campaign has at times not used union labor. There was the time Sanders was set to stay at a non-union hotel, a big no-no among people close to labor groups, and Yvanna Cancela, the union's political director called the campaign with a list of hotels he could stay at instead. Sanders never stayed at the non-union hotel. ("I would have done that for any campaign as a courtesy," Cancela said, when asked to confirm it happened.)
There was the time — last week — when a reporter called Culinary officials to ask: Was it true that Bernie Sanders had personally convinced the powerful Nevada union to stay out of the race and not endorse Clinton, in effect helping him? The union official, according to someone with knowledge of the conversation, said no and asked where the reporter had gotten that information. It came from the Sanders campaign, the reporter said.
In the most publicized instance, in late January, two Sanders staffers wore Culinary Union pins to gain access to employee-only areas in four hotels in an effort to persuade union members to support Sanders. The union was "disappointed and offended," leader Geo Arguello-Kline said at the time.
The union sought to put the issue to rest and worked with the campaign on a response. Behind the scenes, though, union officials were upset because they felt the campaign's actions could harm the union, which relies on access to the "back of the house" to organize its members. There were concerns the incident could lead hotel management to question who is gaining access to that area.
"We would ask campaigns to respect the long history of workers fighting to make Vegas a true union town but also the organizing that happens everyday and the work it takes to ensure that workers are able to not only keep their union but also keep their opportunity to provide a better life for themselves and their families," Cancela told BuzzFeed News. "When campaigns fail to respect the organizing that we do everyday it becomes a problem."
In recent weeks, likewise, the endorsements of DREAMer activists have become a major source of contention — even among some of the activists who remain unaffiliated or are lining up behind Sanders.
This began in earnest when the Clinton campaign trumpeted an important endorsement from a longtime and well-liked Nevada DREAMer activist, Astrid Silva. In her endorsement, Silva said Sanders's immigration plan was unrealistic. Erika Andiola, herself a national figure in the immigration movement, who is now a staffer for Sanders, blasted Silva on Twitter as a "press hit" for Clinton and said the immigration movement has achieved success when it has challenged the status quo, not called progressive plans unrealistic.
Sanders's Latino outreach director, Arturo Carmona, himself a tough immigration activist, said Silva "put politics over people."
Days later, DREAMer Brenda Romero, the 19-year-old student body president of the College of Southern Nevada (CSN), released a letter to the state's dean of political journalism, Jon Ralston, saying she didn't intend to endorse Sanders when she agreed to serve on his "voluntary steering committee" on immigration, and was instead endorsing Clinton. She added that she was "disappointed by the attacks" on Silva.
In a move that upset Nevada activists, the Sanders campaign then released emails between the 19-year-old and Andiola (Cancela on Twitter called it "disgusting"), and while the word "endorsement" wasn't explicitly written, the young woman acknowledged that she didn't want her college title used because she is supposed to stay "neutral" to candidates.
The Sanders campaign has repeatedly responded to these incidents saying they want to focus on the issues.
"It disappoints me, they know it's not personal," Andiola told BuzzFeed News. She argued that her Facebook post on the endorsement issue went into further detail; she brought up specific things Sanders wants to do that are not unrealistic, she said. No one took issue with those points, she said — only with the shorter tweet.
Tick Segerblom, the first Nevada elected official to support Sanders, was criticized for being a white man who jumped into the fray on Twitter the day Silva was criticized by Andiola. "Am I the only one who thinks it's ironic DREAMers are telling us not to dream?" Segerblom wrote.
"I didn't mean to get involved," Segerblom told BuzzFeed News, but "when you're a DREAMer, why not dream?"
To him, the issue got to the core of what it means to be a Democrat today and is the reason why Sanders staffers became so passionate in their pushback. "We realize Bernie's ideas won't be implemented tomorrow," he said. "My position on the Democratic Party is if you don't start on the left you'll end up in the middle. The problem with the Clintons is they start in the middle and by the time you compromise you might as well be a Republican."
Andiola said the community doesn't care who has the most DREAMer supporters or the most endorsements but whether their families are no longer getting separated, and noted the influence of young activists this cycle.
"We have had so much influence on this campaign, we've worked with [Sanders] to make a platform that hasn't been seen in years," she said. "If we have all these DREAMers that make sure Hillary goes on the right side on this issue that right there is going to help our community."
But activists and operatives, on either side, feel these incidents show a campaign that has lots of passion and excitement, but has at times gone too far in Nevada.
"Campaigns should really be focusing on the work in the field and be more careful of what they're doing when it comes to Nevada — Culinary's turf is the casinos," said Jose Macias, a well-known local activist who is supporting Sanders, because of his support for a $15 minimum wage.
"I don't think Astrid is a press hit, she has done so much important work in Nevada in the immigrant community," he said. "It was a hard decision for her to choose a candidate and she chose someone who she thought will fight for her and her family."
Another prominent progressive in the state, Annette Magnus, the executive director of Nevada progressive organization Battle Born Progress, criticized the incidents with DREAMers she knows well. "These young folks have been through enough and have really put themselves out there in a way I won't understand as a white person."
"They're willing to risk deportation for their family for the things they believe in and the fact that they're willing to do that for a presidential candidate speaks volumes," she said. (She was tougher on the topic of impersonating Culinary workers. "I don't believe cheating and lying is a way to go about a political revolution.")
And the Sanders campaign continues to try to flip superdelegates — the delegates not tied to a state's electoral returns, who largely support Clinton and who've become a source of contention in recent weeks. Andres Ramirez, a superdelegate and veteran operative in the state who supports Clinton, said the Sanders campaign continues to try to get him to change his endorsement. He told them he has been in the state a long time and has seen political revolutions come and go, and was critical of the campaign's missteps with well-known figures like Silva and the Culinary Union.
"It shows that they don't have the political intellect to know how to win in a state like Nevada," he said. "Some of this outsider, upstart shit can work in other places. But when you're talking about mobilization and so-called economic issues that Bernie says they stand for, the Culinary represents that more than anyone, so why would you antagonize them?"
It's not like Sanders has gotten to this point — coming off a decisive New Hampshire victory, with momentum heading into Nevada — by being flush in establishment support, or by playing nice with the Democratic Party. But the incidents angered some who feel the Sanders campaign is coming off as outsiders unnecessarily needling grassroots elements of the state.
An Obama veteran who has worked in Nevada called it an oft-repeated "criticism of people parachuting in to organize communities of color."
"People are absolutely pissed," the source said. "Who was on the ground organizing? Astrid. Who is the one that has been there? Astrid."
Jocelyn Sida, who worked for the effort to draft Joe Biden into the race before becoming the state director of Mi Familia Vota in Nevada, said making things personal only helps forces who want the Latino and immigrant communities to fight amongst themselves. "The so-called sleeping giant is only good if we're together," she said. "If we're separated because of personal differences we're no better than the people trying to oppress us."
One well-known grassroots activist in Nevada who planned to caucus for Sanders but is now undecided asked for anonymity to avoid antagonizing campaign staffers who have shown a willingness to fight publicly. The activist didn't like any of the incidents with the union or with the DREAMers. "Everybody knows someone who works for Culinary and if you're a Nevada staffer, you've been asked to do that before but you're not going to do that," the activist said.
The last straw for the activist was a Sanders campaign ad released Friday that opens with a biographical look at Lucy Flores, a surrogate who recently endorsed Sanders and is locked in a primary battle with Ruben Kihuen for Nevada's 4th congressional district seat. Kihuen's campaign filed a complaint calling it a violation of FEC coordination laws, essentially alleging that the Sanders campaign was paying for an ad for Flores campaign.
"It's like they're splitting the community saying you can't support Ruben and Bernie," the activist said. "They're punishing Ruben for supporting Clinton."
There have been attempts at resolution on the personal level in recent days, at least on the DREAMer front: At the Real Solutions for Real People Summit in Nevada on Saturday, Sanders Latino outreach director Carmona approached Silva. "He said this isn't personal, but unfortunately when you do things like that it is personal," she said.
Later, the young activists from different organizations — including Macias from Fight for 15 and Silva, piled into a bus for the ride back from Reno to Vegas. They watched Selma, which features a scene of Malcolm X and Martin Luther King Jr. talking about their different approaches. They also joked that the activists who endorsed different candidates should take a DREAMer photoshoot together.
Segerblom, who said Silva is the real deal in Nevada ("If she wants to support Trump, that's fine with me, she's earned her cred"), defended Sanders's issues with the Culinary Union.
"He's the last person in the world who would do something anti-union," he said. "One of the sad things," he continued, before trailing off. "It will be fine."