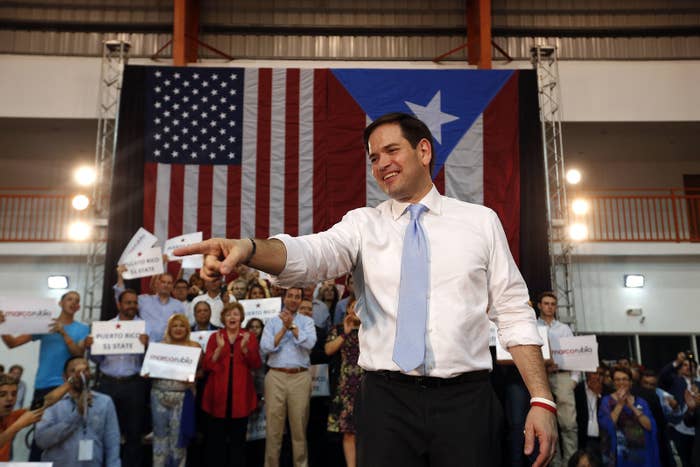 Runners racing to bring results from individual polling sites to the Marco Rubio campaign headquarters in San Juan had good news for Rubio's campaign manager Jose Fuentes on the island: The Cuban-American Florida senator was cleaning up in Puerto Rico.

"It's going to be a blowout," he told BuzzFeed News, before the race was officially called for Rubio. He had 73% of the vote with 61% of precincts reporting.
While that good result for the campaign could mean Rubio will get all of the island's 23 delegates — even though Puerto Ricans can't vote for president in the general election — the voting comes a day after Rubio was defeated in four states by Donald Trump and Ted Cruz, with a fourth place finish in Maine, where Cruz unexpectedly won.
But Rubio supporters moved quickly to turn the page from Saturday and cast the Puerto Rico win as a result that bodes well not just for the critical March 15 Florida primary, but for the race moving forward.
Former Puerto Rico Governor Luis Fortuño, who like much of the island's party leadership shifted his support to Rubio when Jeb Bush dropped out of the race, said Rubio was able to run up his numbers because of large swaths of support in urban and suburban areas.
"Today voters in Puerto Rico sent a clear message that this is a three-man race," Fortuño told BuzzFeed News. "Additionally, the same voters that in 2012 turned the race in favor of Mitt Romney, in 2016 have indicated that they believe Marco Rubio is our best option to prevail in November."

Puerto Rico is struggling to fend off a financial crisis, and Rubio's stance that the U.S. territory should not be extended bankruptcy protections has rankled some on the island. At a September event in the sweltering heat at Aire Libre restaurant, Rubio was repeatedly asked by local journalists if he would give any wiggle room on his answer. "At the end of the day if it's the only option we need to study it," he said, eventually relenting.
But the results showed that Puerto Ricans were behind Rubio, Fuentes said, noting that the recent report from the president of the Government Development Bank, which holds the island's bonds and money, echoed Rubio. "Chapter 9 is something to be considered, but not a silver bullet," he said of the report.

Because Puerto Ricans have been fleeing the difficulties of the island for Florida, and particularly the I-4 corridor and areas like Orlando, Rubio supporters say the primary result will reverberate in the critical Florida race, which awards all of its delegates to the winner. A loss could deal major damage to Rubio's chances if he loses to Trump or breathe much-needed life into his campaign if he wins.
Alfonso Aguilar, a conservative Hispanic leader who supported Bush before Rubio, and has blasted Trump and Cruz for their immigration rhetoric, said many Puerto Ricans in Florida are recent arrivals with strong ties to the island.
There are about 1 million Puerto Ricans in Florida and 22% of them identify as Republicans.
Puerto Rico politics is a departure from the two-party structure Americans are accustomed to. And while the issue of statehood is about 50/50 on the island (which contributes to a particular brand of hedging from presidential candidates every four years), in Florida those numbers are different, Aguilar said.
"At the end of the day, the Puerto Rican vote is a swing vote in Florida," he said. "The majority of Puerto Rican voters, specifically in Central Florida, support statehood."

Rubio has said he would support Puerto Ricans, if as he believes, they choose to become the 51st state, and would push to make their wishes binding.
Trump, the Republican frontrunner, didn't visit the island in the run up to the primary, but his campaign did release three statements in the week leading up to voting.
Like others, he said he would push for self-determination for the island on statehood and later released a statement lauding Puerto Ricans for their contributions to the country. "The best thing Puerto Rico has to offer is its people," Trump said on March 2, the 99th anniversary of Puerto Ricans becoming American citizens.
In his third statement Trump pushed strongly for statehood.
"He was saying Puerto Ricans receiving U.S. citizenship is the greatest thing on Earth," Fuentes, Rubio's campaign manager on the island said. "I was like 'Oh my god, what is this?'"
But while Puerto Ricans voted against Trump now, they won't get to vote in the general election, where Trump could find himself, perhaps aided by the Florida result.

For Aguilar, the Puerto Rico win was helpful, but Rubio needs more.
"It's good but clearly he needs to start winning more states," he said. "Florida, that's where his campaign depends on."