Romney: The World Is A Mess
As rumors ramp up that Mitt's considering another run, he emphasizes the failures of "Hillary Clinton–Barack Obama" foreign policy, economic opportunity, and addressing poverty.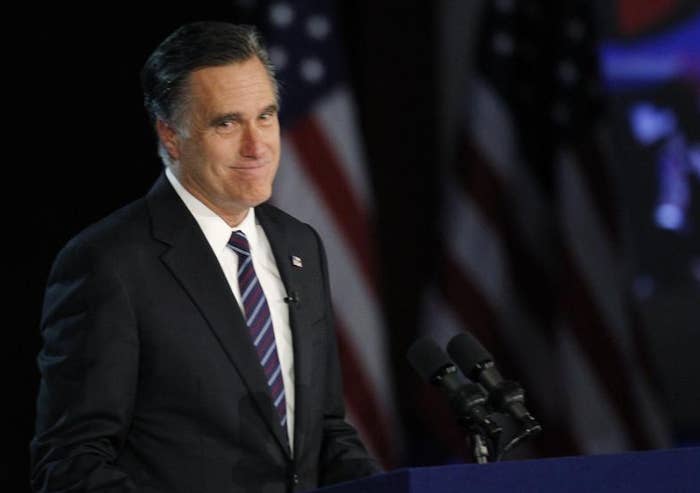 SAN DIEGO — Mitt Romney didn't directly answer speculation he would run for president again on Friday night in San Diego, but he did lay out a short version of a stump speech, repeatedly attacking Hillary Clinton's foreign policy and emphasizing broad economic opportunity — and poverty.
Speaking from the USS Midway, a former aircraft carrier turned museum, at the RNC winter meetings, Romney argued the 2016 election will be about the post-Obama era. But then he said three things would be most important: an aggressive foreign policy (making the world a "safer place"), economic opportunity, and addressing poverty in the United States.
Romney listed off a litany of trouble spots in the world, taking pains to include Clinton's name in his description of the foreign policy approach, and other general nods toward her work as secretary of state under President Obama (such as, "if we press the reset button," a reference to the relationship with Russia).
While Romney did not explicitly say he is running for president again in 2016, his three principles could be seen as a vision of a different campaign. Romney, who many believe showed a softer, more personal side only after losing in 2012, spoke about how his wife Ann knows his heart and has seen him work with people who are very poor when he was a pastor. He also called it a "human tragedy" that the middle class in America doesn't believe their children's future will be better than their own.
Last week Romney told a group of 30 Republicans donors that he was seriously considering running for president for a third term and began making calls to former aides and supporters, according to reports.
"She believes people get better with experience," Romney said of his wife on Friday night, before vowing that they would both support whoever the nominee ends up being in 2016. His only small hint was that he was giving "serious consideration" to the future.
He also touched on what many would expect to be Democratic territory, saying that under Obama the rich got richer and income equality got worse.
Romney's timeline was likely influenced by former Florida Governor Jeb Bush's announcement that he will run in 2016 as well, suddenly crowding an already large and varied field, that seems likely to include New Jersey Gov. Chris Christie, Wisconsin Gov. Scott Walker and Sens. Ted Cruz and Rand Paul, among others.
Rumbles that Romney will seek the Republican nomination yet again have been met with tepid support, though, in some conservative and media circles and among other candidates.
Paul recently said that Romney "had his chance," and Cruz and other Republican senators didn't have many words of encouragement.