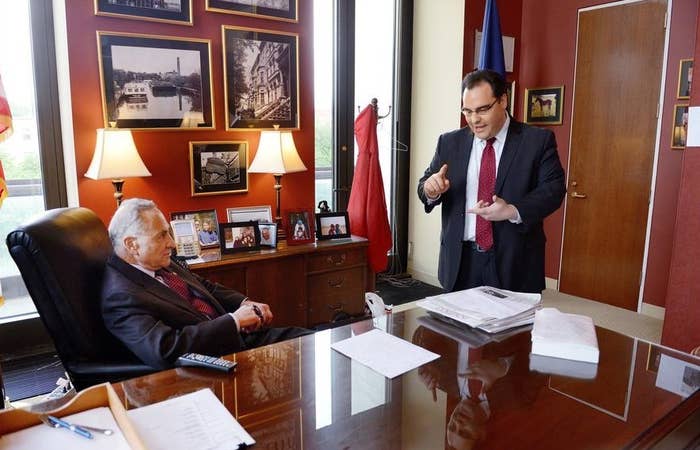 A key Senate Democrat and the White House are at odds over how the Obama administration should release new policies on deportations.
The Department of Homeland Security is expected to release a memo in the next month outlining new policies aimed at slowing deportations of undocumented immigrants.
But a critical member of New York Democrat Sen. Chuck Schumer's staff has raised concerns over whether the memo should be released at all — arguing it could harm the prospects for legislation on immigration this year.
At an April meeting two weeks ago between administration officials and congressional staff, Leon Fresco engaged in what was described as an "unexpected" disagreement with Cecilia Muñoz, director of the White House Domestic Policy Council, according to two sources familiar with the meeting.
Fresco has been the point man for many of the immigration policy negotiations on Capitol Hill in the last several years.
At the meeting, Fresco said that Republican opposition to policy changes, whether they are small — as in the expected memo — or big ones, will be unified and fierce. According to the sources, Fresco said he believes that if the administration releases the memo ahead of legislative action, House Republicans will then be able to charge that the president is lawless and imperial, and would subsequently kill any legislation on immigration.
One of the sources familiar with the meeting said Fresco has voiced these concerns before.
Muñoz countered that the White House has to do something after the president announced the administration-wide review of deportation policies and procedures earlier this year. She also argued that if Schumer believes that the administration's release would harm negotiations, he should announce it publicly, according to the sources.
Muñoz also apparently referenced the DREAMers and advocates who protested and engaged in hunger strikes in front of the White House throughout the month of April.
"Cecilia said, 'You guys need to make up your mind, on one hand we have people on the lawn saying do stuff now, so if you guys don't want this you have to publicly go out there and say this,'" a source familiar with the meeting said.
Schumer's office declined to comment for the story.
Some believe that because Republicans will be unified in their opposition and Democrats will be divided into those who are excited and those who are faint in their praise, a rumored two-part strategy by the administration to address deportations — small reforms now and something larger if a legislative fix isn't introduced by House Republicans — will have less of a chance of happening.
Frank Sharry, the executive director of America's Voice, confirmed that Muñoz has been having meetings with various stakeholders ahead of the memo being released, though he said he is not one of them. The people she is meeting with were described as various advocates and congressional staff members.
When Congress might begin moving legislation on immigration isn't yet clear. The president has previously identified June and Rep. Luis Gutierriez has marked early July as a potential deadline. Sharry said Schumer is worried about a memo undercutting the ability for a legislative solution.
"There is some concern among some senators, including Schumer, that if it's now May and the president said let's wait till mid-June, why would they announce something a couple weeks before their own deadline?" he said.
A source familiar with the meeting between Schumer's staff and Muñoz said this was just reiterating what the veteran senator has said publicly — that the House should have a couple more months to move on a bill before any administrative relief is provided. If nothing has happened by August, then the president would be free to do something bigger on deportations, like Schumer's suggestion that he move to protect those who would be eligible for citizenship under the bipartisan Senate bill.
Sharry said he knows how this is going to play out and it's not going to be good for the administration.
"It seems somewhat predictable that the administration will announce reforms that are too small to satisfy advocates and too big to not piss off Republicans," he said.
"It just seems likely that if they announce something in the next week or two, advocates will say, 'It's not good enough' and Republicans will say, 'We were going to do legislation but now we can't.' If you're gonna go big, go big. If you're going to challenge Congress to pass legislation then don't give them an easy excuse not to."
One of the sources familiar with the meeting said Schumer is very nervous that any small enforcement announcement will derail whatever small chance there is of immigration reform.
But many activists have said the changes being considered in the memo are not merely small enforcement changes.
The rumored changes include bond hearings so undocumented immigrants can fight their cases outside of detention, and redefining removal priorities, so someone who reentered the country but does not have a serious criminal record would not be targeted, the Los Angeles Times and Associated Press have reported.
The administration is also reportedly looking at shortening the time an immigrant is considered new, and therefore a removal priority. A recent immigrant would go from someone who entered in the last three years, to someone who entered in the last two weeks. Reuters reported the memo would also seek to protect immigrants serving in the U.S. military from deportation.
But activists say the memo is coming and it's because of the pressure that has already been put on the president.
"It's inevitable," said Lorella Praeli, director of advocacy and policy at United We Dream. "There's no way the White House does not respond to grassroots pressure that has just started and will continue to mount."
For his part Fresco, the one who drafted passages of the original, 844-page bill that the Senate passed, is used to being in the middle of tough issues.
"He was the one that the Republicans called when they were mad about how things were going," Chandler Morse, the immigration staff negotiator for Republican Sen. Jeff Flake of Arizona told McClatchey in a profile of Fresco last year. "And he was the one Democrats called when they were mad about how things were going. And in a two-party system, someone is always angry."
Praeli said her organization's position is that the president should act now and that Republicans will feel pressure too.
"The deadline for Republicans is not September, if we're going to look at any deadline we should look at Mr. Gutierrez's deadline of July 4," she said. "If Republicans do not put forward a bill and vote on it, then it shows they have no serious commitment in seeing this through."