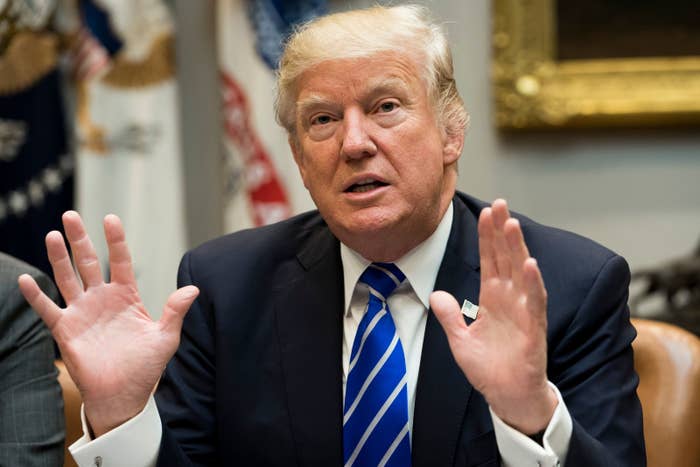 President Trump is basking in the "tremendous reviews" his administration is getting from Puerto Rican officials over its early handling of the island's recovery efforts after Hurricane Maria brought widespread devastation to the US territory.

But privately, officials worry that the president's full focus may not be with the island, and that he will stop short of giving it the complete support it needs to deal with catastrophe, viewing the island through a "territory mindset" and accepting failings that would not fly in mainland states.
Those quiet concerns were bubbling up even before Trump's Monday night tweets, which focused on the island's broken infrastructure and debt to Wall Street, promising food and water but falling short of offering to restore the power grid and inject money into the hurting island.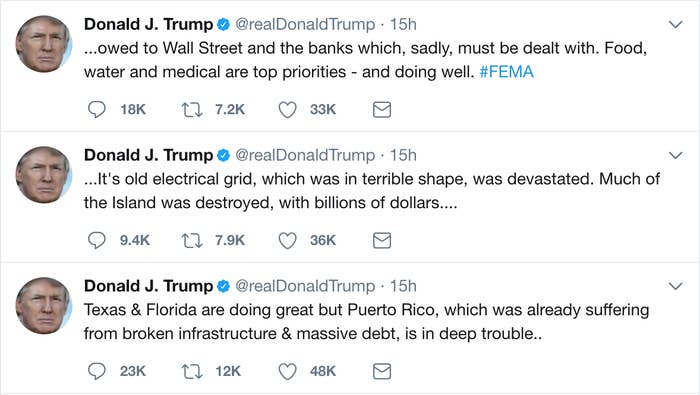 The tweets elevated fears that Trump would treat the island differently, and that he views the territory's economic issues as a pre-existing condition that limits how much he can help. Andres Lopez, a lawyer on the island and a Democratic donor, called Trump's tweets "heartless, cruel, and horrifyingly unpresidential."
"How could anyone who is even remotely aware of this crisis and has a shred of human decency be talking about Wall Street right now?"
Democrats in Congress in particular have also been frustrated with how much energy Trump has poured into his war with the NFL and other athletes, rather than using his Twitter platform to keep attention on the island.
"We need to spend less time on putting out tweets and more time on addressing this humanitarian crisis," New York Rep. Nydia Velazquez, who is Puerto Rican, said on CNN Tuesday, echoing a line Puerto Ricans have been uttering with increased frequency. "This is going to turn out to be Trump's Katrina."
Trump plans to visit the island next Tuesday, but his tweets and behind-closed-doors comments from his aides have driven Puerto Rican officials and members of both political parties to question which Trump will show up.
The Puerto Rican government, led by Gov. Ricardo Rosselló, has publicly heaped praise on the federal government's response. Officials know full well that Trump likes to use the government's full power to help people in dire times, and that he likes the cable news coverage that kind of action brings with it, as happened in the aftermath of the storms in Texas and Florida.
And they know the way to Trump's heart, and to potentially keep his focus on the island's crisis, may be through the tried and true barrage of flattery.
At a press conference with the Spanish prime minister Tuesday, Trump repeatedly touted his strong hurricane response reviews, calling them "tremendous," and reading a statement of support from Rosselló, which he called "incredible." He also noted that Puerto Rican officials were treating the Trump administration "nicely."

The president also thanked San Juan Mayor Carmen Yulín Cruz earlier Tuesday for being "generous" and "thanking us for what we've done with FEMA." And the president praised Rosselló in similar terms, saying he's "done a terrific job," and that he's "been very generous about what he's said about the relief efforts."
The governor has spoken to Trump four times since the hurricane hit, sources told BuzzFeed News, and he has been in constant contact with FEMA director Brock Long, who went to Puerto Rico Monday. Rosselló also spoke with Health and Human Services Secretary Tom Price on Tuesday about the island's condition.
But Puerto Rican advocates and people who have talked with the Trump administration are concerned flattery won't be enough to keep the president engaged. Because Puerto Rico is only a territory of the United States, advocates worry administration officials may advise Trump that the government shouldn't be hyperaggressive in helping the island's 3.5 million US citizens.
"We need to overcome that mentality, so since this is a territory we're asking them to be generous," said Carlos Mercader, executive director of the Puerto Rico federal affairs administration, which has been meeting with administration officials, and pointed to the island serving as a safe haven for US citizens trying to escape Hurricane Irma in recent weeks.

"Puerto Rico should be treated the same way that Texas and Florida have been treated," Rep. Joaquin Castro, a Texas Democrat, told BuzzFeed News. "In fact, if Puerto Rico was a state, the president would have moved more quickly and provided more resources."
Some Republicans — like Florida Sen. Marco Rubio, who visited the island on Monday — have been taken aback by the storm's damage to the island, and have called for power crews to head to the island as soon as possible. And some have suggested that viewing Puerto Rican issues through a territorial lens has always hurt the island.

"That mindset prevails. It's always been there with both parties, it's frustrating," said Alfonso Aguilar, a Puerto Rican conservative leader. Aguilar is holding out hope to see what Trump will do now to actually help the island.
Trump took a softer tact on the island Tuesday, detailing the hurricane's terrible impact without dwelling on its debt.
Puerto Rico "was hit as hard as you could hit. When you see 200-mile-an-hour winds — not even Texas had 200-mile-an-hour winds," Trump told a group of reporters. "Literally houses are just demolished, it was like tornadoes. It was like having hundreds of tornadoes. The winds."
Jose Fuentes, a former attorney general of Puerto Rico who is close to the administration, said the fears that Trump sees the island through a "territory" mindset will soon be allayed.
Trump took some action to that end Tuesday afternoon, making the federal government entirely responsible for funding for debris removal and other emergency measures for the next 180 days.

Alluding to that move, Fuentes said Trump will come up "huge" for the island. "You're going to find out that that talk is totally false," he added.
Some advocates for the island in Congress, however, are calling for much more.
Velazquez emerged from a morning Hispanic caucus meeting with Puerto Rican officials with three directives moving forward. A caucus source said Velazquez wants a czar named to lead the recovery efforts, immediate medical relief and supplies after multiple deaths of hospital patients, and help with security and logistics in the form of National Guardsmen or army members.

For his part, Trump on Tuesday did explain some of the differences between the recent disastrous storms but voiced his hope that he will get high grades for Puerto Rico, too.

"We've gotten A-pluses on Texas and in Florida, and we will also on Puerto Rico," he said. "But the difference is this is an island sitting in the middle of an ocean. It's a big ocean; it's a very big ocean. And we're doing a really good job."