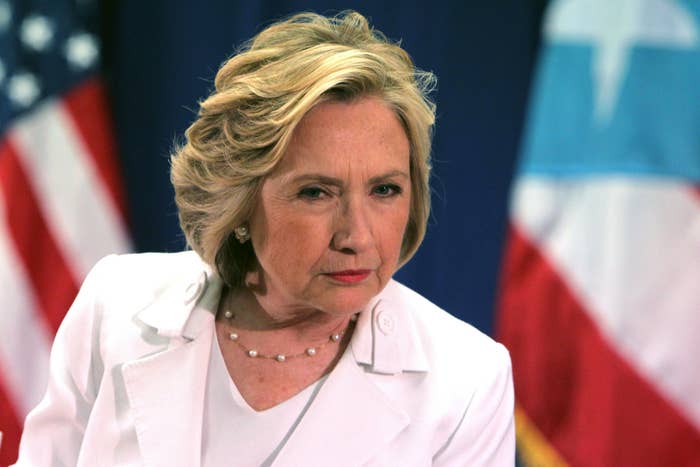 There are two realities in Central Florida.
Three thousand Puerto Ricans leave the island every day, already US citizens and able to register to vote in Florida, where many end up.
And most of those Puerto Ricans will vote for Hillary Clinton.
From there, however, everything gets a bit dicier. In a state where the smallest margins matter — and demographic trends now may represent significant electoral changes in the future — just how many Puerto Ricans will actually vote remains unclear. Like the young Cubans decoupling from the Republican Party and the retirees flooding into The Villages, Puerto Ricans represent one of the biggest changes to Florida's political landscape, something that could change not just this election but the next few.
And that's where the fighting begins, about what Puerto Ricans really want (how important is statehood?) and whether the Clinton campaign really has reached out to these voters in a robust way.
The campaign insists it has not slept on Puerto Rican outreach in Central Florida, pointing to island-style "caravanas" — loud, musical processions that are a hallmark of Puerto Rican retail politics — which it held throughout the state on Sept. 24 in South Orlando and Kissimmee targeting majority Puerto Rican neighborhoods. Processions ended with block parties at lechoneras, Puerto Rican restaurants, where campaign organizers awaited. They've worked with the owners of Lechonera Jibarito restaurants and Melao Bakeries to register voters during high-traffic hours. They've descended on Spanish-language concerts, and food and art events, along the I-4 corridor, particularly in Osceola County, where more recent arrivals, who need voter education if the campaign wants to get them to vote, reside.
It isn't that Clinton won't win Puerto Rican voters, who tend to lean Democratic anyway. An October Latino Decisions poll showed that Trump, who is toxic with many Latino voters, is struggling mightily with Puerto Ricans, losing the group 74% to 17% to Hillary Clinton. Democratic strategist Steve Schale told BuzzFeed News he has seen private polling conducted before the recent weeks of bad news for Trump that pegged his deficit at 70% to 15% in Orange County. It's just that she needs most of them to vote, as many of the state's older white voters strongly support Trump.
In 2004, George W. Bush and John Kerry battled to a tie in Orange County, but just four years later, Obama won by 80,000 votes fueled by major Puerto Rican growth. There are now 1 million Puerto Ricans in the state, soon to eclipse Cubans as Florida's largest Latino demographic bloc.
The state's three biggest Puerto Rican counties — Orange, Osceola, and Seminole — moved very heavily from a 22,000 net vote advantage for Bush to a 100,000 advantage in Obama's two wins, according to Schale, who was Obama's state director in 2008. But while the change was impressive, Schale said 2014 turnout in Orange and Osceola counties were two of the lowest in the state, underscoring turnout's role for Clinton.
Matt Barreto, a principal at Latino Decisions who joined the Clinton campaign as a consultant during the primary and is walled off from his firm's work during the election, said their research shows Clinton is viewed positively by Puerto Ricans partly because she supports efforts to restructure the island's debt.
"Meanwhile, Trump's position against helping Puerto Rico with its debt crisis is completely hypocritical," he said. "Puerto Rican voters are very frustrated that Trump has declared bankruptcy multiple times himself yet he turned his back on helping the island come find a solution to restructure their own debt."
One operative with extensive campaign experience in Florida said Clinton has been "quiet and cautious" on statehood, a perennially tricky issue because commonwealth and statehood support are traditionally viewed as equally popular, though statehood has gained some ground in polls in recent years. The operative argued that "in Florida, it's not a 50/50 thing."
That criticism also needs to be put in context, because economic issues are a top concern for newly arriving Puerto Ricans, said Mark Hugo Lopez, director of Pew Hispanic, who noted that according to Census Bureau data, finding a job and reuniting with family are often the top two issues why Puerto Ricans come to the mainland.
"It could very well be that it doesn't matter much what's happening on the island, what's more important and close to mind is finding a job," he said.
Christina Marie Hernandez, who served as the Florida Hispanic vote director for Obama in 2012, sees a connection between the struggles of new arrivals and Puerto Rico policy. She noted that Kissimmee has a huge homelessness crisis, which includes newly arrived Puerto Ricans. Those who do have a place to stay have to make due with cramped quarters — entire families might pay $20 a day to house seven people in one room.
"It's not an easy sell," Hernandez said. "Their priorities are elsewhere, like securing a home, car or a job and you have to show how all of those things are connected."
Regardless, José Calderón, president of the Hispanic Federation, a well-established presence in Florida Latino outreach, said that while "pocketbook" issues are of course a quality of life priority, "nobody wants to leave their home, they leave because they have no other choice," so "of course they're thinking about the island."
During the primary, Clinton ventured to San Juan, Puerto Rico for a roundtable to address the island's health care crisis, where she showed deft knowledge of the island's limited Medicare coverage and other issues, and has said if voters on the island call for statehood she would support them.
"I've heard some activists say they wish activity were earlier and more intense," said Federico de Jesús, Obama's 2008 Hispanic media director, who also spent time at the Puerto Rico Federal Affairs Administration. "A lot have taken matters into their own hands but I think it can't hurt that Hillary talks more about these issues."
Multiple Puerto Rican activists who spoke to BuzzFeed News also said they've been concerned by the lack of Puerto Ricans in campaign leadership, nationally and on the ground in Central Florida. (A campaign source acknowledged there have been internal conversations about the issue.)
But if that's been a concern, there's also the concurrent rise in local Puerto Rican candidates for Congress (State Sen. Darren Soto), state senate (State Rep. Victor Torres), and state house (State Rep. John Cortes, Amy Mercado, and Robert Asencio). Soto, who would be the long-awaited first Puerto Rican congressman from Florida, is a particular priority for Democrats.
(The Clinton campaign is working closely with these campaigns through the Democratic coordinated campaign, it said.)
Barreto, with the campaign, said that academic research has consistently shown that Puerto Rican identity is the "highest of the Latino groups," which means they have a high affinity for the island, pride over its success, and heartache over its struggles.
"They don't have the luxury of having their own country, they're not fully a state," he said. "They have this weird in between colonial status and as a result their identity is even more important."