Erika Andiola, a high-profile "dreamer" who was on Time magazine's 2012 cover featuring undocumented immigrants, announced Tuesday that she is leaving her job as a congressional staffer to return to Arizona to put her energy into fighting the threat of her mother's deportation in January.
Andiola was able to work for Arizona Rep. Kyrsten Sinema as outreach director because she was a recipient of President Obama's summer 2012 executive order, granting her deferred action status as an eligible undocumented immigrant.
"The main reason I was excited when I got offered a job to work for Congress was not necessarily because I see it as my lifelong career, but because I'm so passionate about immigration reform," Andiola told BuzzFeed. "I wanted to see if I could change things from the inside. But unfortunately, the year has almost ended and House leadership hasn't done anything."
In January, during the same week she was hired, Andiola nearly saw her mom be deported; she was taken from their home at 9 p.m. by Immigration and Customs Enforcement (ICE) agents and driven to the border before prosecutorial discretion was granted.
Now, on Jan. 2, 2013, Andiola's mother, Maria Arreola, 54, has to face ICE again. "That's when they'll make the decision of if she stays or she goes."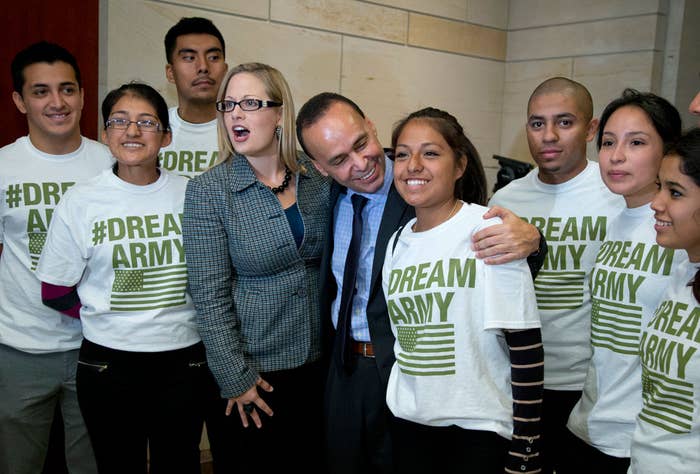 Sinema told BuzzFeed in a statement that she is sad to see Andiola go.
"While I am disappointed to lose Erika as a member of our staff, I understand that she needs to focus 100% on her mom's case. We are hopeful that Erika's mother can remain in the country because we believe families should stay together. Arizona families just like Erika's are waiting for this Congress to pass commonsense comprehensive immigration reform that secures our borders, keeps families together, and grows our economy. Arizona has been waiting for too long already; we owe it to our state to pass immigration reform this year."
Andiola said both Republicans and Democrats have used immigration as a "political football" and doesn't let the Obama administration off the hook for a record number of deportations.
"There has been rhetoric that the administration is not deporting people that are low priority. Tons of people who are vulnerable to deportation and haven't committed crimes are being deported," she said.
And while her mother's immigration status was spotlighted by a minor traffic violation, Andiola believes Arizona's controversial recent history with Latino immigrants leads to more stops.
"Thank god we were able to stop my mom's deportation last year by creating enough pressure for ICE to get her to stay," she said. "The bus was so close to leaving the country, it was almost a miracle for them to get the message right away and for the bus to turn around. But the prosecutorial discretion nightmare doesn't end there. It's still in the hands of ICE."
ICE did not respond to BuzzFeed's request for comment on Andiola's mother before publication, but had previously said its initial decision would be followed by further review.
In releasing the relatives, ICE exercised its case-by-case discretion based on initial reviews, said ICE press secretary Barbara Gonzales to the Associated Press, adding that "a fuller review of the cases is currently ongoing."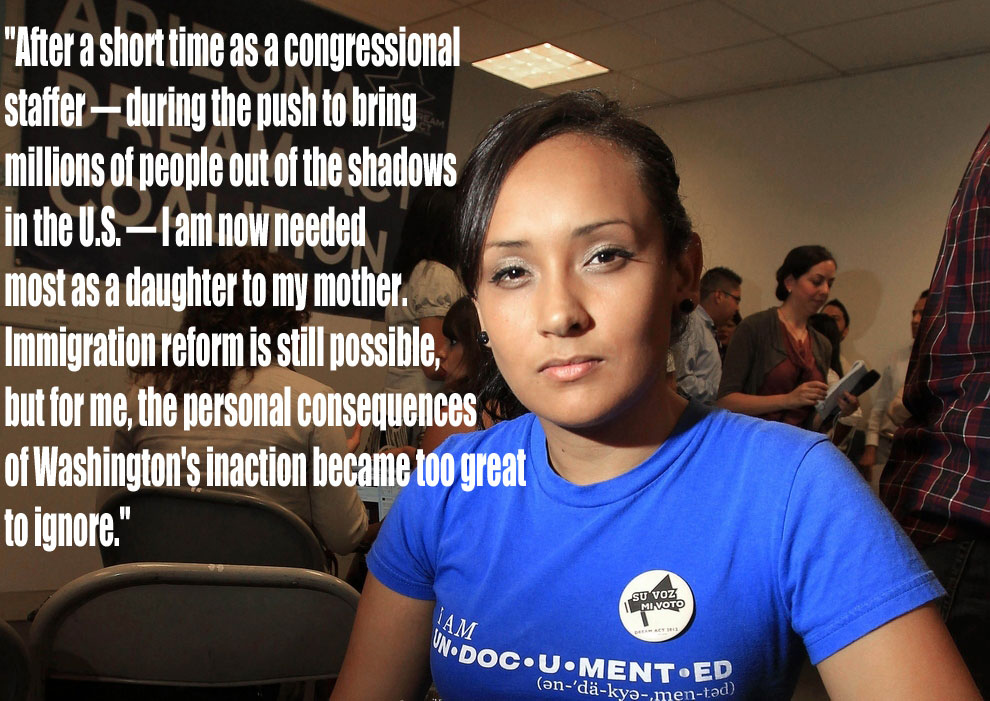 In a letter Andiola sent to colleagues on the Hill announcing her departure, which she provided to BuzzFeed, the longtime immigration activist invoked the role of family in her decision.
"The politically-charged immigration debate has always been personal for me, and, in many ways, my life symbolizes the most controversial flashpoints of the debate: I came across the desert from Mexico as a child; I have lost members of my community and even my own family to deportations and controversial laws like SB1070 in my hometown of Mesa. I was awarded deferred action for childhood arrivals status, but then had Gov. Jan Brewer take away my right to a driver's license with an executive order ... Once again, I am facing the most painful aspect of the record-setting deportations of the Obama administration: family separation by deportation."
Andiola said she was honored to work as a congressional staffer, "but for a lot of us dreamers, life is hectic because of the fact that our families are still undocumented," she said. "I can't just say I have this really nice job and forget about everyone else."
In the letter to colleagues, Andiola also revealed that she will launch a website, KeepUsTogether.org, to spread awareness of her family's situation.
Her hope now is that pressure and awareness to her mother's case will lead to a stay in her deportation, so the family can enjoy the holidays without the shadow of removal hanging over them.
And while immigration reform stopped and started and now looks to be on life support, Andiola said dreamers like her will always keep pushing for it to become a reality.
"As undocumented people we can't ever say that immigration reform is dead," she said. "It's never going to be dead. We will get something through."