Prominent DREAMer Erika Andiola Arrested While Supporting Hunger Strikers In Arizona
Phoenix police arrested three DREAMers who were with hunger strikers protesting deportations and the detention of family members.
Three DREAMers, including national immigration activist Erika Andiola, were arrested by Phoenix police late Tuesday night while supporting hunger strikers protesting the deportation and detention of their family members.
The others arrested were Carlos Garcia, the executive director of organization Puente Arizona, and a volunteer named Rachel. They are being held in the jail of Joe Arpaio, the Maricopa County sheriff who has been criticized and sued for his treatment of Latinos and immigrants.
Jose Patino and Reyna Montoya, two DREAMers who were there as well but were not arrested, told BuzzFeed they went to get food while the hunger strikers showered. When they returned police had swarmed the site of the protest.
"As we came with the food, they had set a perimeter around the area. I almost got arrested too," Patino said.
"There were over 35 police officers," Montoya, 23, said. "They were tearing down the tents of the hunger strikers and moving tables. They were very forceful, yelling at us and trying to provoke us."
The DREAMers were told by police the arrests were happening because they were trespassing on private property. Montoya said Andiola was making calls and working on the case of Jaime Arturo Valdez Reyes, who was facing the threat of deportation at the time.
Phoenix police did not respond to request for comment from BuzzFeed by time of publication.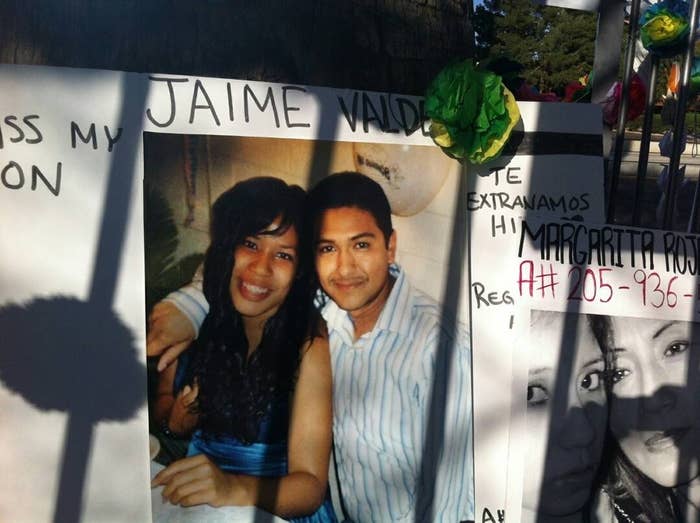 Reyes' father, Jose Valdez, was one of the hunger strikers as well. He, along with other activists, family, and friends tried to stop his son's deportation, but they were unsuccessful. They received a call from Reyes that he was in Nogales, Mexico. Patino says those close to the young man are terrified because his older brother was also deported and then killed in Mexico.
Another of the hunger strikers, Anselma Lopez, recently released a phone call she had in Spanish with her son Elder, who has been in detention for two years and was recently given a deportation sentence to Guatemala, where his family fears his life may be in danger.
"Son, I am ready to do this hunger strike for you," she says through tears in the video. "It's a big sacrifice that I'm going to do, but I want you to be reunited with your kids and family because we miss you a lot and we need you. It's already been three Christmases, three birthdays for each of your kids that you've missed. We're going to be in contact always, you there and me here. God willing."
His mother was hospitalized Tuesday because of weakness related to the hunger strike.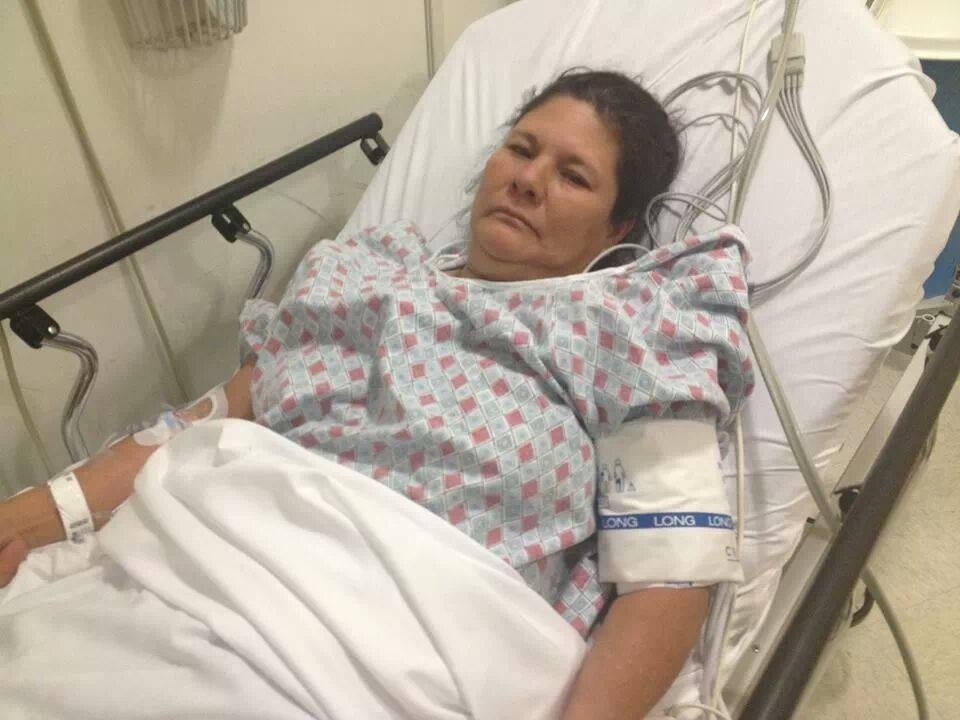 "The doctor told me that my body was eating itself alive and that what I was doing was dangerous, and risky to my health," she said to Puente Arizona. "I said, the entire situation is dangerous for my son, and I would risk more than my own health if I could bring him home."
For her part, Andiola seemed to know arrests were likely, sharing a photo of police coming to the protest site on Facebook.
Montoya said the DREAMers have joined other undocumented immigrants in support of their hunger strikes to bring attention to the high number of deportations and their human cost, as immigration reform once again flags in Congress with House Republicans stating they are unwilling to introduce legislation in 2014.
She reiterated calls by national immigration organizations, including faith groups and labor organizations like the AFL-CIO, on the president to use executive action to stop deportations for all but violent criminals.
"We're telling everyone that this is not fair and we need Obama to stop separating our families and we need them to be released," Montoya said.
UPDATE 11:00 a.m ET: Erika Andiola has been released from jail along with the two other DREAMers and took to Facebook to describe her experience:
Carlos, Rachel and I are finally out of the Arpaio jail. Last night Phoenix PD, in communication with ICE raided the Hunger Strike and all they found was the 3 of us, so they took us. I had never spent a night in a jail and after that experience I have much respect for our communities who are incarcerated there after the Arpaio raids. The police took me and Carlos as we worked in preventing the deportation of the son of one of the hunger strikers, Don Jose. I just found out he was deported last night as we spent the night in jail. I'm so tired of this bull s*it! How many more until we can get Obama to fricken act. ENOUGH IS ENOUGH! #Not1More
She was released late-Wednesday night after many expected her to be out much earlier in the day.