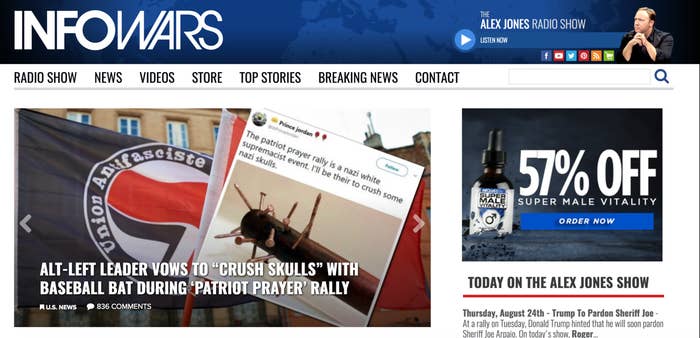 Pro-Trump media personalities and websites are worried they may be losing a dear reader: President Trump.
New White House chief of staff John Kelly is limiting the flow of information to Trump's desk, including holding out articles from far right and anti-establishment sources, BuzzFeed News has confirmed.
"I'm scared that the military complex is taking over the formerly populist White House," said Lucian Wintrich, who writes for Gateway Pundit, one of the websites in the pro-Trump sphere, which has trafficked in conspiracies in the past.
Longtime Trump adviser and occasional Infowars guest Roger Stone said Trump's "news summaries have been sanitized, which means no Infowars, no Daily Caller, no Breitbart. As such, his views are shaped by CNN and FOX News. He watches network news as well, which is almost antiquated. That's why he's so mad about the Russia investigation."
"He's controlling every article that passes through the West Wing right now," pro-Trump media personality Mike Cernovich, who has broken news on the administration but also propagated conspiracy theories in the past, said of Kelly. "This shuts out a lot of people."
The new information system involves Kelly and White House staff secretary Rob Porter reviewing all documents that pass through the Oval Office, Politico first reported Thursday. The policy applies to internal and external policy documents, as well as news stories.
Infowars covered the report Thursday, featuring it at the top of their homepage for a time. "The news will undoubtedly bolster complaints emanating from Trump's base that he has been isolated and surrounded by globalists who have no interest in furthering Trump's 'America first' message," the article reads.

Cernovich said Kelly's move, though, could be seen as a workflow improvement, because it is his understanding that the chief of staff is playing it straight — avoiding playing favorites, and just seeking to control the flow of information in general.
"Without a chain of command, everyone would litigate their pet issues with Trump when it was an open door policy," he said, pointing to Ivanka Trump as someone who used that strategy.
A source with knowledge of the inner workings of the Trump White House said information flow into the Oval Office is one of the most critical components of the presidency.
"The problem that this presidency has had is the sheer proliferation of bad information," the source said, giving credit to Kelly for attempting the mammoth task. "That proliferation is a result of two things: People who don't know what they're doing, and people willing to push bad information to further their personal agendas. It's one of the most important things to get your arms around."
Cernovich said he's not worried about the choking of information lanes to Trump because, "if it's good enough, Don Jr. will give it to him." The source close to the administration confirmed that fact, though with a far different response.
"Don Jr. is a huge problem," the source said, saying he passes questionable articles to the president. "He needs to be a galaxy away from that place."
"I would be fine if he never saw Infowars again," said a source who has advised the administration on communications issues. "I do think too many people had access to the president, the Oval Office was the town hall of the West Wing. But on the other hand, why does General Kelly get to decide what Trump sees?"
Kelly's move appears in line with how the White House has more typically operated. Staff jockeying for the president's eyes on specific types of news stories wasn't a feature of the Obama White House, former speech writer Jon Favreau said. "He was usually the one telling me about some piece he had read. Once he got his iPad, he kinda perused all the sites you'd imagine," Favreau said.
Kelly, who came onboard this summer after former chief of staff Reince Priebus resigned under pressure, drove the ousters of former communications director Anthony Scaramucci and former chief strategist Steve Bannon, who returned to lead Breitbart.
Since Bannon left, Breitbart and Infowars both hit Trump over this week's Afghanistan speech, with Breitbart comparing Trump unfavorably to Obama. "The most insulting comparison you can make to that audience," said former Breitbart spokesman, Kurt Bardella.

"Even though Bannon left, Trump is still trapped by him," he continued. "When you have no support from any other corner of the political spectrum you're left needing to appease the base, which you can't afford to lose, because if they abandon you, you have nothing."
Trump's rambling and media-bashing campaign speech in Phoenix was an example of his renewed effort to keep his base happy, Bardella said, but pro-Trump media outlets fear Kelly's changes will limit their ability to influence the president, and they argue their stories deserve to be read.
"These are sites that a lot of people say report fake news, but most of us have a very solid track record," Wintrich said. "We might get one thing wrong every couple months, but so do The New York Times and CNN."

Kelly, who has held interviews in recent weeks with White House staffers to get a handle on changes that need to be made, may have been swayed by reports confirmed to BuzzFeed News that former deputy chief of staff Katie Walsh was fired due to a Got News article by former freelance journalist Chuck Johnson, who reportedly worked with the Trump transition team.
Johnson, who contends First Lady Melania Trump was the one who shared the Got News article with Trump, said Kelly's moves won't change anything.
"Melania Trump hands President Trump articles," he said. "Is John Kelly going to get between the president and his queen? Good luck, pal."

Paul Joseph Watson, an Infowars editor, agreed. Kelly's information directives are "pretty futile given that Trump has a direct line" to far right media, he said in a text message, adding an emoji, smiling with sunglasses.
Outside Your Bubble is a BuzzFeed News effort to bring you a diversity of thought and opinion from around the internet. If you don't see your viewpoint represented, contact the curator at bubble@buzzfeed.com. Click here for more on Outside Your Bubble.