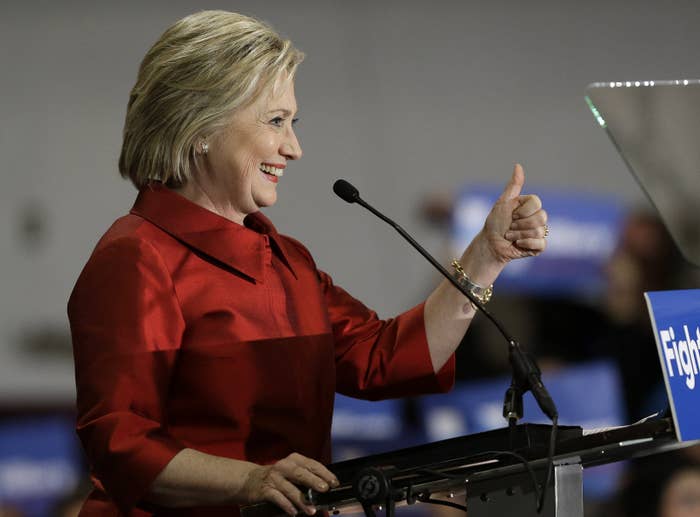 LAS VEGAS — The cavalry is here.

Priorities USA, the super PAC supporting Hillary Clinton, announced earlier this month that it would be launching a $4.5 million effort to buoy her candidacy in Super Tuesday states voting on March 1. The group's first-ever Spanish-language radio ad, obtained by BuzzFeed News, is aimed at Latinos in Texas.
The six-figure ad buy, set to run across Spanish-language radio in the state, details the importance of the Texas primary and says Clinton "wants to help our families with higher wages and with better education and she has always fought for DREAMers."
The soaring music in the ad then abruptly stops, as the narrator explains that the primary is a precursor to a much more serious battle on the horizon.
"What's more, Hillary Clinton is the one that is going to defeat Donald Trump and the Republicans in November," the narrator says.
Then the music starts back up again.
"Hillary will fight to put an end to the separation of families and is the only candidate strong enough to defeat Donald Trump and the Republicans this November," said Guy Cecil, chief strategist at Priorities USA.

The Republican frontrunner's favorability with Latinos plummeted after his controversial comments about Mexicans and immigrants.
The campaign to get Hispanics, blacks, and women to the polls for Clinton is in conjunction with the League of Conservation Voters and EMILY's List and comes as the race against Bernie Sanders has tightened, with the Vermont senator showing strength with young Latinos in Nevada, despite losing the state.
The Sanders campaign contends it won the Hispanic vote in Nevada based on an entrance poll of 213 caucusgoers. The Clinton campaign has disputed that, citing success in heavily Hispanic precincts in Clark County.
Next up is South Carolina, where polls show Clinton with a commanding lead, on the strength of her black support.