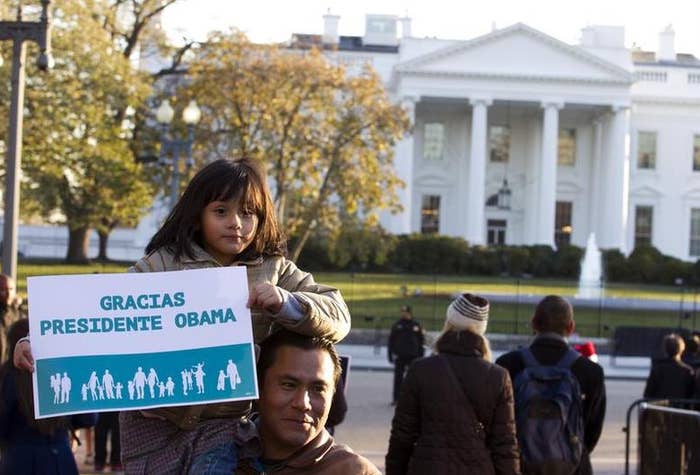 Latino voters have Obama's back again.
That's according to a new poll by Latino Decisions, for Presente.org and Mi Familia Vota, the first of Latino voters since Obama announced sweeping executive actions, given to BuzzFeed News ahead of its announcement on Monday.
The poll found that 89% of Latino voters support Obama's decision to give temporary legal status to nearly five million undocumented immigrants. That level of support surprised Latino Decisions co-founder Matt Barreto, who noted the figure is higher than initial support of the president's 2012 Deferred Action for Childhood Arrivals (DACA) program, which protected undocumented youth brought to the country as children from deportation and allowed them to receive work permits.
"This is the most unified we have seen Latino public opinion on any issue," Barreto told BuzzFeed News. "DACA registered 84%, this is even higher. The White House was smart to put this step to protect parents — almost nobody in the Latino community is going to say they don't support a policy to keep parents and children together."
A bilingual staff surveyed 405 randomly selected Latino registered voters nationwide, from Nov. 20 to 22, who are representative of a national sample for the poll.
Obama's actions affect nearly 3.5 million undocumented immigrant parents of U.S. citizens or legal residents, who have been in the country at least five years.
Barreto said basically every Democratic Latino voter supports the actions, which is not unexpected, but the support holds up across independent and Republican Latino voters, which is an indication of how popular they are.
He said 85% of independents and 76% of Latinos who identify as Republicans support Obama's move.
The poll also presents a problem for Republicans. They were able to make gains in some states in the midterm elections among Latino voters but the poll suggests opposing the president's actions will only draw the ire of Latino voters.
Altogether, 80% of voters and 60% of Latino Republicans don't think the GOP should attempt to cut funding of his order.
"Obama was seeing slippage in his numbers, there was softer Latino turnout and some slippage for Democrats," Barreto said of the 2014 election. "But it seems like with his action, because it was so bold, with close to 5 million people affected, he seems to have regained that momentum from 2012."
Ben Monterroso, executive director of Mi Familia Vota, one of the sponsors of the poll, told BuzzFeed News general elections see more enthusiasm and engagement from Latino voters than midterms, who vote on issues, not for certain parties.
"Latino voters now want the U.S. Congress to do the right thing on immigration policy, but they also seem prepared to support President Obama to continue to take executive actions in this area, if Congress fails to do so," said Oscar Chacón, executive director of the National Alliance of Latin American and Caribbean Communities, a poll partner.
Barreto said the issue has strong support because it is a personal one — 64% of respondents saying they know an undocumented immigrant, and 51% saying they have one in their family.
Monterroso said the takeaways are clear.
"Voters want this issue resolved, defended and protected, and improved by legislation," he said. "Republicans will be surprised to find out that Latinos are watching if they stand with us or against us."