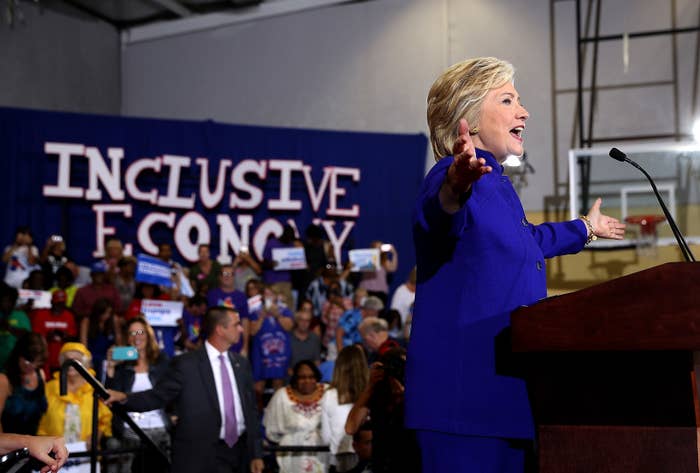 WASHINGTON — A Clinton campaign call with Latino supporters took on new seriousness Thursday regarding the support of young voters and state of Spanish-language advertising, reflecting concerns with tightening poll numbers in the campaign's final weeks.
"I've had concerns for a while," said one participant on the call who speaks with donors. "It feels like it's a little late to be coming now with this stuff but hopefully they've course corrected."

What's coming is a new Spanish-language ad push announced on the call. That announcement follows skittish Democrats chastising the campaign in a Washington Post report for starting a concerted advertising campaign later than President Obama did in his 2012 race.
"We will have more to say soon, but the campaign will continue to advertise on Spanish TV and radio, as well as targeting Latino households through TV in English until election day," a Clinton aide told BuzzFeed News.
The same call participant said the Latino calls usually have a cheery tenor, with pre-planned and pumped-up speakers from key states giving the rundown on good news on the ground, before turning it back over to the campaign.
This one was different.
A portion of the call was dedicated to the challenge of juicing support from "millennials," with multiple speakers bringing the bloc of voters up.
Leopoldo Martinez, with Latino Victory, addressed the issue of young Latino support, talking about his organization's recent efforts to register voters at the concerts of Mexican rock band Maná, as well as the musical endorsement of Mexican ranchera legend Vicente Fernandez.
"They're saying she's leading more with Latinos than Obama was but she should be way up when we have a Trump out there," a separate participant on the call told BuzzFeed News.
Maria Cardona, a Democratic strategist who was also on the campaign call, said the call reflected where the campaign is currently "whether those articles came out or not," referencing recent reports of lagging enthusiasm among young voters and the Spanish-language advertising.
She said supporters on the call and campaign officials have their ear to the ground and understand what they're hearing from voters, their internal polling, what their strengths are and where they need to shore things up.

"Millennials is clearly an issue across the board for Hillary," Cardona said. "Latinos in general have always been an issue across the board for any Democratic candidate."

But she also sought to tamp down concern, recalling that in 2012 the narrative was that Obama faced enthusiasm issues from young voters, black voters, and Latino voters, too.
The Clinton campaign has focused much of its energy on the Latino vote around young voters because Hispanics are disproportionately younger than other groups. They've created an SMS text messaging program with hundreds of thousands of Latinos receiving updates from the campaign, English-language ads aimed at Hispanics, and put Latino vote directors in states the Obama campaign did not have in 2012 like in Ohio.
"One of the things we lose sight of is that Obama didn't have a primary opponent," Cardona said, referencing concerns that Clinton has been slow to Spanish-language ads. "Hillary did — they didn't have the luxury to focus 100% on a general election campaign until after the convention, frankly, whereas Obama could run a general election campaign in March."
"Now they need to go full-bore on Spanish-language television, full saturation, but I don't think they're too late," she said.
Clinton officials on the call asked supporters to use their social media accounts to go to bat for Clinton, and Martinez from Latino Victory said surrogates who go on Spanish-language networks should pushback against negativity.
Campaign staffers also asked Latino supporters to consider volunteering for get out the vote efforts in states like Iowa, Florida, and Virginia. Sara Valenzuela, the campaign's Latino outreach director, said it was the last national call for her because she was joining the team in Florida for GOTV efforts.
One participant on the call said support from Puerto Ricans in Florida will be strong, Cubans are always tough for Democrats, but the key will be to maximize support from other Hispanics like Venezuelans, Colombians, and Mexicans.
But there was no doubt that even among fervent Clinton supporters, there was anxiety about her position with Hispanics.
"Why is it so close? Why is Trump taking a lead in Ohio?" one participant said to BuzzFeed News after the call.

"They don't seem to have it together," another said. "The message from the campaign is 'worry, but don't panic.'"
Gary Segura, a consultant from polling firm Latino Decisions who joined the campaign and is walled off from his organization during the election, sought to calm supporters on the call using publicly available data. He said that compared to this point in the 2012 race, Clinton is in a stronger position with Hispanic voters than Obama was, and made a rosy prediction.

Clinton, he said, will enjoy "record Latino support not seen since Jack Kennedy."