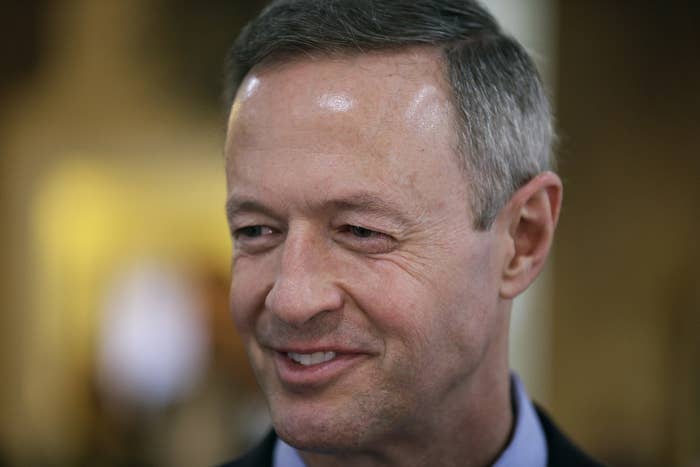 Martin O'Malley is set to announce his campaign Saturday in Baltimore, but he has already made a key hire.
Gabriela Domenzain, former director of Hispanic media for Obama when he garnered a record 71% of the Latino vote in 2012, is joining O'Malley's campaign as the director of public engagement where she will have a hand in communications, policy, and political outreach, a campaign source said.
"In Maryland, you speak to Latinos and they call him the most pro-Latino governor of the United States," Domenzain told BuzzFeed News. "In other states they don't know him but they should."
O'Malley has talked up his immigration bonafides at events in Iowa and New Hampshire — the campaign notes that it is part of his stump speech — and he doesn't even use the term immigrants (he uses "new Americans"). Domenzain cited his record of passing the DREAM Act and giving undocumented immigrants driver's licenses but also says he increased government contract investment to Hispanic-owned small businesses by 133%.
Domenzain, was considered for the director of Hispanic media position in Hillary Clinton's campaign, according to sources with knowledge, and said she believes Americans want new voices on the left, especially voices as progressive as O'Malley.
As a longshot candidate, the former Maryland governor will need to make contrasts with Clinton to advance. Although he has a long and liberal record on immigration, Clinton has made immigration a priority in the early weeks of her campaign — outlining specific action she would take as president, and plainly suggesting she would go even further with executive action than President Obama has if Congress does not make changes to U.S. immigration policy.
But Luis Miranda, former director of Hispanic media in the Obama administration, also said both campaigns should not mistake immigration policy for being enough on Latino outreach.
"Engaging Latino voters takes not insulting them like Republicans do, but also the fact that they are Americans and care about a lot of things, like the economy," he said.
Still, Domenzain who says that she is a single-issue voter when it comes to immigration, says she came to understand its importance in 1999 in North Carolina at the first statewide conference of Latinos when she was staffing the former president of the National Council of La Raza, Raul Yzaguirre.
A farmworker walked up to her, shook her hand, and asked, "Why do you care about me?" On her flight home she realized only her and Yzaguirre were on the way back from that event to Washington — and she realized they were the only people who might advocate for the farmworker.
Domenzain ties her passion on immigration to O'Malley's response to the surge of Central American undocumented minors across the border last summer, where she says national leaders like Clinton and Obama said the children should be sent back.
She was heartened however when O'Malley, speaking at a Democratic Governors Association press conference last summer, said the country should act like Americans and give children "fleeing death" refuge. "That brought the possibility of dignity back to the conversation and turned my head," she said.
Domenzain also pointed to the recent Clinton hire of an immigration activist who was undocumented and has a mixed status family as a key moment in the run-up to the Democratic nomination.
"Hillary Clinton's campaign has hired Lorella Praeli, an incredible advocate who's lived the broken system," she said. "I'm very excited that the immigration debate will be elevated because we have people like Gov. O'Malley and his whole record has been speaking about this."
Miranda made a similar point. "Hispanics should be involved in campaign positions across the board, it's similar to how Clinton has a political director in Amanda Renteria, it's important to have diversity throughout the campaign," he said.
O'Malley will begin outreach to Latino organizations on Wednesday in his first event after his presidential announcement at a question and answer session with the Hispanic Chamber of Commerce president Javier Palomarez in Washington.
Jose Parra, a seasoned strategist and former senior advisor to Harry Reid noted that Domenzain is one of a handful of top Latino Democratic operatives and said he respects the fact that O'Malley is putting a Hispanic in a position where they can guide the conversation around the campaign as a whole and not just "implement" Latino strategy.
And while O'Malley starts off at a major disadvantage against the frontrunner Clinton, Parra said his presence in the race will help shape the debate around issues that matter to progressives and will ensure Clinton stays the course on those messages and policy positions.
"It makes sure these ideas are defined and battle-tested," he said. "It winds up strengthening the party in the long run."