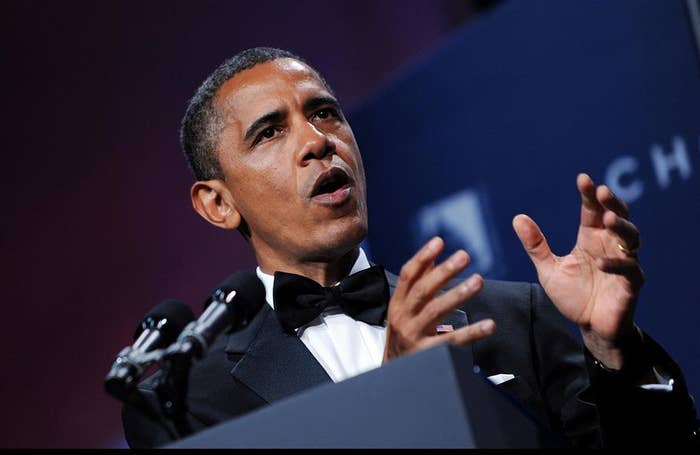 In an impassioned speech in front of Latinos and Hispanic officials, President Obama said he understood frustration over the delay of executive actions that are expected to give legal status and work visas to millions of undocumented immigrants and said they are coming before the end of the year.
"Fixing our broken immigration system is one more thing we have to do and we will do," Obama said. "I know there is deep frustration in communities and I understand that frustration because I share it."
As he was saying he was not going to give up the fight until it gets done he was interrupted by an activist, Blanca Hernandez, who was in a red cocktail dress at the gala. As she was led away she yelled, "What happened to change we can believe in?"
Obama said he was going to take the next six to eight weeks explaining to Americans why immigration reform is good for the economy and why it's good for everybody.
Obama gave his long-awaited speech to the Congressional Hispanic Caucus Institute while two immigrants rights organizations, the National Day Laborer Organizing Network (NDLON) and Casa de Maryland, protested outside.
"There are no excuses anymore for the president not to act, we shouldn't be pawns in his holiday calendar," said NDLON's Salvador Sarmiento, before criticizing the Latino lawmakers of the Congressional Hispanic Caucus (CHC) affiliated with the gala event.
"There are no excuses for the CHC to be hosting the president and not to be calling him on his failure to act and no reason for the CHC to be following the lead of the president."
"We believe that it's very important for the president to fulfill his promise, he said he's going to issue the executive order and still we haven't seen it," said Gustavo Torres, executive director of Casa de Maryland.
"We want to remind him it's important for our communities and our families."
During the speech the president focused on the need for Latinos to vote.
When the audience booed his mention of inaction by Republicans he said, "Don't boo, vote." Later he added si se puede, si votamos. "Yes we can, if we vote."
Obama did not give an updated timeline for immigration action after the election besides saying it would happen before the end of the year but he did touch on notes first reported by BuzzFeed News, calling for Latinos to have his back and telling those in attendance he understands ongoing frustrations.
Despite the interruption and protests, Obama closed the speech with an emotional appeal, saying the undocumented community represent the country's values.
"Dreamer is more than just a title, it's a pretty good description of what it means to be an American!" Obama said, his voice rising, as the crowd cheered.