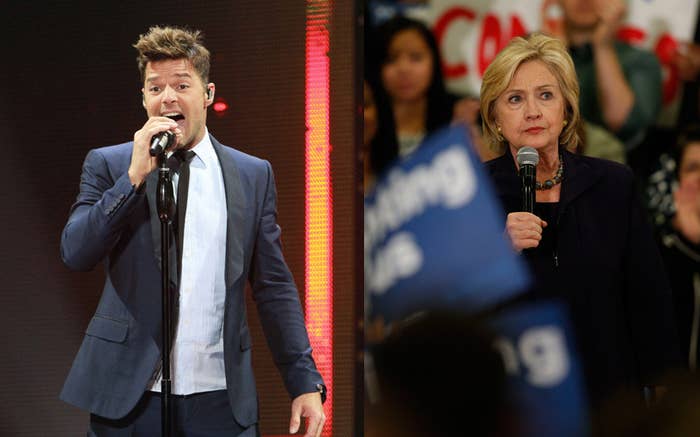 First came Marc Anthony, now Ricky Martin.
Hillary Clinton is once again securing the endorsement of a Puerto Rican artist to coincide with a Florida organizing event aimed at the Latino community, this time in Orlando, targeting the rapidly growing Puerto Rican presence in the state.
While Anthony pulled Clinton up on stage during a Miami concert, "The Cup of Life" singer is expected to announce his support on Facebook and Twitter ahead of the Wednesday event.
"Our community has been continuously attacked by Donald Trump and other Republican presidential candidates," Ricky Martin told BuzzFeed News. "A few months ago I raised my voice against Trump's hateful rhetoric and standing with me was Hillary Clinton. Time after time, Hillary has shown her commitment to the Latino community and that is why I'm proud to support her and to stand with her because ella está con nosotros y nuestras familias."

"He's not just an icon for Puerto Ricans and for Latinos, but for young Americans and millennials too," said Democratic strategist Maria Cardona, who supports Clinton. "He is seen as a heavyweight on issues like civil rights and LGBT issues and was one of the first ones to call out Donald Trump for his comments about Mexican immigrants."
Clinton has sought to position herself as the champion for Latinos, and Martin has repeatedly been critical of Trump stemming from his now infamous remarks about Mexican immigrants entering the country. He tweeted that Trump has a lot of hate and ignorance in his heart just days after the blustery businessman announced his campaign, pulled his charity golf tournament from Trump's golf club in Puerto Rico a week later and wrote a blistering op-ed for Univision in August.
Clinton's recently announced $275 billion infrastructure plan to build new roads, bridges, rail systems and airports is central to the event too, campaign officials said, because the plan would widely benefit the Latino community. One of the pillars of the plan is to expand affordable public transportation options for low-income communities and communities of color.
But with Puerto RIco in the midst of a financial and health care crisis, and facing deadlines to make payments to avoid default (Clinton called for bankruptcy protections to be extended), there is a clear urgency as well in speaking to an established and growing Puerto Rican community in central Florida, with deep ties to the island.
A Pew October Census analysis found that Florida's Puerto Rican population has more than doubled over the past 14 years — presenting a significant opportunity for Democrats. A July report found that the major growth among Puerto Rican voters in the state has been those registering as Democrats or with no party affiliation, while Republican growth has been far slower.
While Puerto Rico does hold primary delegates, candidates visit the island with an eye towards Puerto Ricans on the mainland. Clinton visited the island in September for a health care roundtable, arguing there is a "legacy of inconsistent, incoherent, and inequitable treatment in health care in Puerto Rico."
There is also the issue of statehood for the island, which Clinton has said she would support if Puerto Ricans vote for it. In 2012, 61% of Puerto Ricans chose statehood in a nonbinding resolution.
This is a source of frustration for some Puerto Ricans who feel their issues are only raised during election season, and even then, not much is done. Phillip Arroyo, a Puerto Rican activist in Orlando, wrote on his Facebook page that he had been invited to speak at the event, but had declined.
"I have nothing against her — any Democrat, whether it's her or Bernie, would do a better job than any Republican," he told BuzzFeed News, noting that he had campaigned for Clinton in 2008. "But I'm tired of the timidness and silence to speak up and do what is right."

He said he wants to hear Clinton acknowledge that Puerto Rico's status is colonial in nature and he wants her to call out companies that use the island as a tax haven, which he says is harmful to residents. He wants equality so that Puerto Ricans can take advantage of federal programs and have the right to vote, which Clinton said she supported in 2008, when she beat Obama with 68% of the vote in the island's primary.
Campaign officials maintained that equality was the thrust of Clinton's September event, with U.S. citizens in Puerto Rico facing unequal treatment in Medicaid and Medicare programs that "fail to meet human needs," burdening the local government and health care providers, and forcing many Puerto Ricans to move to the mainland to receive affordable care.
Kenneth McClintock, former lieutenant governor of Puerto Rico, has talked to Clinton's national political director Amanda Renteria about issues affecting the island, he said.
"We've given her our ideas as to how the campaign should develop with regards to Puerto Ricans in Puerto Rico and in the rest of the nation," he said, adding that he reminded the campaign that more than 60% support statehood and that many would like to see another star added to the American flag. Unlike the liberal/conservative binary on the mainland, "Puerto Ricans associate politically with the status sentiment," he said.
Domestically, the Hispanic celebrity endorsement efforts, led by the campaign's Latino outreach director Lorella Praeli, are seen as a way to reach the increasingly young Latino community. And there is crossover — in the case of Martin the campaign sees him as someone who engages not just Latinos, but also the gay and progressive communities.

Clinton also uses events like these for long-range voter contact efforts. As was the case with Anthony and HUD Secretary Julian Castro, the campaign will once again use a high-profile voice to get Latinos signed up for their SMS texting program.
Martin will use his Facebook and Twitter pages to get Latinos to sign up for the program which already reaches tens of thousands of Hispanic voters and will figure into get out the vote plans for the primary and serve as a trial run for the general election, should Clinton win the nomination.
And if she does that, the shifting Latino demographics of Florida may be significant next fall. Democratic pollster Fernand Amandi said a simplified way of looking at the voting bloc is as one-third Puerto Rican, one-third Cuban, and one-third other Latino groups.
Cardona said Puerto Ricans vote at a much higher rate than other Latinos, especially those who have recently arrived from the island.
"The participatory voting rate of Puerto Ricans on the island is astronomical," she said. "They have a passion for issues that have to do with Puerto Rico and that doesn't change when they come stateside."