"No Backbone": Activists Bitterly Disappointed With Obama, Dems After Delay On Slowing Deportations
Immigration advocates were working with community members on how the coming executive actions would affect them. Now, stunned activists are scrambling to figure out next steps in the coming weeks.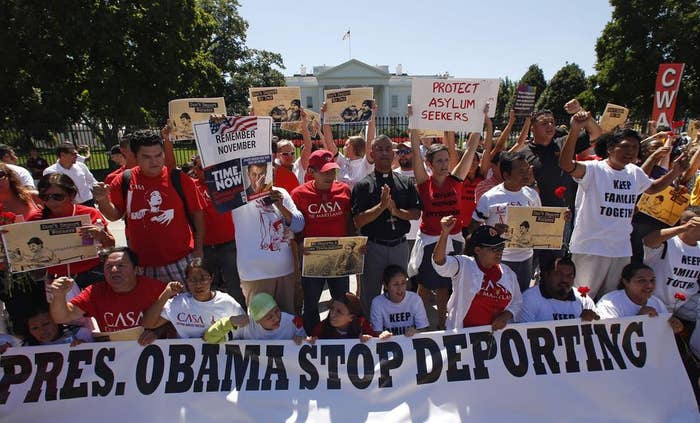 Stunned immigration activists lashed out Saturday at the Obama administration over the White House decision to delay executive actions on deportations until after the election. But beyond anger, the decision has left activists scrambling to figure out what to do next.
Activists BuzzFeed News spoke with said they will spend the weekend ironing out specifics on how they will escalate against an administration and vulnerable Democrats who they feel are taking the Latino and immigrant community for granted.
"We feel very intensely that that these decisions that are made affect people's lives," said Lorella Praeli, director of advocacy and policy at immigrant rights organization United We Dream (UWD), while at a UWD retreat to decide how the group will respond. "People were saying, 'now I have to talk to my mom, now I have to tell my dad.' That's what drives our work. This is clearly a political move and politics over families again."
"It makes me really upset — we had a forum with the moms and parents to prepare them for these actions," DREAMer Erika Andiola said. "Now it's not gonna happen and some of them have to go to court. It makes me so angry that he's fully throwing Latinos under the bus."
"The midterm elections were on the calendar back in June," said Marielena Hincapié, the executive director of the National Immigration Law Center, noting that she thought the administration had made the political calculation that the benefits outweighed the costs.
Between now and November, "tens of thousands who could have been protected will be deported and more kids will end up in foster care because their parent was deported," she said. "These politicians are not paying attention to the humanity."
In the hours after the delay was announced, many immigration activists expressed similar feelings of anger and betrayal — but they wouldn't say Obama and the Democrats are on their own.
Part of the tension for immigrant groups, Hincapié acknowledged, is that they want to punish Democrats and the administration for yet another disappointment but they know that Republican control of the Senate would be far worse for the vulnerable population they advocate for.
"We're angry at the Democrats, but the Republicans are dead to us," Frank Sharry, the executive director of America's Voice, said. "The Republicans blocked the best chance at immigration reform in a generation."
Hincapié doubled down on her belief that Democrats made a mess of the entire process.
"I can see the GOP being so happy, 'Here go the Democrats screwing it up again.' There's a discipline on the GOP side in the way there isn't on the Democratic side, where there is no backbone or a real clarity of focus," she said.
"There's no one answer because none of these Latino groups are going to act the same," Angela Marie Kelley, Vice President for Immigration Policy at the Center for American Progress, said when asked what immigration groups will do next. "I do think things will cool down enough so people can look at broader political issues again."
The reality for Latino activists facing the November ballot is that Republicans aren't an alternative, even after Obama's betrayal, Kelley said. That means if they want to show they have political influence, they have to help the Senate Democrats who just successfully convinced the White House to delay the executive actions to win on Election Day.
"If you look at which parties are the obstructionists [to immigration reform]…the bad guys here are not the Democrats," she said. "That said, I don't know that there won't be some constituencies that will be angry and won't get beyond that. But I think most groups will come back to the table. You know, it's not powerful to not vote."
Top officials at SEIU, the union that has made the push for immigration changes a central part of its activism agenda, released a joint statement Saturday saying they were "deeply disheartened" by the White House delay. But they turned that disappointment in Obama into a rallying cry for votes for Democrats in the same statement.
"By far, this isn't the end game. Immigration reform has and always will be our future. While the president will continue to hear from us, Congress will feel the pressure of a growing electorate," the statement read. "We haven't forgotten how we first got here. Republicans failed the American people by refusing to vote on meaningful immigration reform. Holding them accountable in November is a promise that we intend to keep."
Still, the advocates also believe there will be greater unity of purpose after Saturday's announcement.
In a last ditch effort Friday night, 183 organizations representing labor, faith, legal and advocacy organizations sent a letter to the president asking him not to delay his administrative actions.
Activists also point to the confirmation hearing for the next Immigration and Customs Enforcement (ICE) director, which could happen before the election, as something that could see protests and signal the next battleground between Republicans and supporters of changed enforcement priorities.
The National Hispanic Leadership Agenda (NHLA), a coalition of 39 of the top Latino organizations in the country, said that because 97% of those deported are Latino, separations due to deportation policy are hitting Latino families particularly hard.
Because of this, NHLA announced that it would endorse a national boycott of meetings with the President on immigration matters if they do not include representatives of undocumented immigrants, it said in a press release.
NHLA includes top Latino organizations like NCLR and the League of United Latin American Citizens (LULAC) and their decision means the administration would likely consider inviting more undocumented immigrants to it's meetings.
Janet Murguía, president of the National Council of La Raza, was deeply critical of the White House delay, saying it felt to her like Obama was taking Latino voters for granted. She said rallying those voters in November would be tougher post-delay.
"We have to see how this decision will translate in the next three or four weeks," she said. "It will make our overall efforts challenging, but we are vested in politically empowering our community."
For Praeli, fears by Democrats of losing the Senate have been around for months and undocumented immigrants are just being made into a scapegoat.
She said the president, who is so concerned with his legacy and being seen as the "champion-in-chief" of immigration reform and not the "deporter-in-chief," will have to go further to get right with the community.
"I would say that the bar of success is higher for the administration now more than ever," Praeli said.
"If and when he comes through on this promise they should know that they can not just help a couple million people. He has a lot to come back from and a lot to make up for."