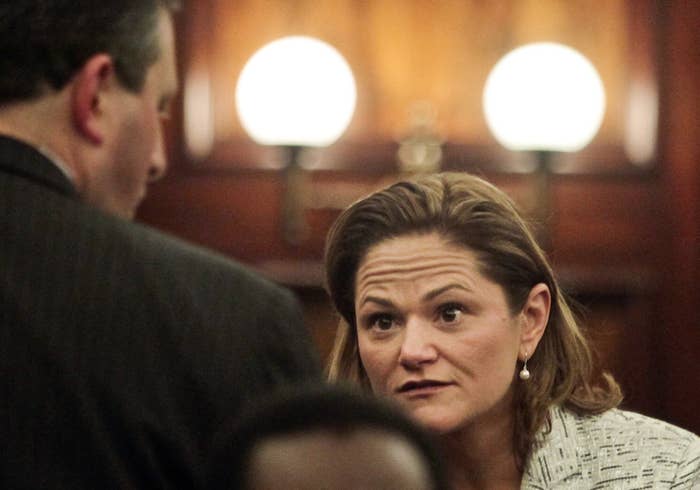 New York City's effort to supply lawyers for every unaccompanied, undocumented minor has kept 13 children from being deported as of February, new data provided to BuzzFeed News shows.
The preliminary numbers come six months into the public-private partnership, launched by the New York City Council following the flood of minors from Central America who made their way to the city during the height of the surge of undocumented immigrants last summer.
Thus far, 424 cases have been screened and 13 undocumented children have been shielded from deportation through family court or asylum proceedings as of February, according to the data. Another 22 applications for asylum are pending.
The $1.9 million partnership is between the City Council, The Robin Hood Foundation, an organization that fights poverty, and New York Community Trust, which funds nonprofits in the city. Taxpayers are only on the hook for the $1 million, which was already in the budget for legal services as part of its Immigrant Opportunity Initiative.
"These are children with severe trauma and we're providing them with proper support," said City Council speaker Melissa Mark-Viverito, who spearheaded the initiative. "For me, it's a personal thing, a moral obligation, when you have a child in need."
Lawyers say the complex immigration court system is difficult enough for them to navigate and nearly impossible for a child to do so alone, and say the numbers — which may appear low at first glance — are at least a chance at representation.
"We're off to a good, but slow start," said Anne Pilsbury, with Central American Legal Assistance in New York. "We've been dealing with this population for decades. This was not a new phenomenom, what is new is the city's interest in funding."
Pilsbury said some adults can represent themselves, but kids fleeing gang violence have no chance. She gave the example of children fleeing gang recruitment, which has been found by the board of immigration appeals to be insufficient reason to grant asylum. "Just because you didn't want to join a criminal gang that kills people, it does not give you a leg up in asylum laws," she said.
While all New York City unaccompanied minors have received lawyers, about 720 who were believed to be from the city were found to be from Long Island. As of now they are not benefitting from the same program as their counterparts in the five boroughs, but Mark-Viverito said Long Island officials are looking at replicating the public-private model.
Avideh Moussavian, a lawyer with the National Immigration Law Center (NILC) who works on access-to-counsel issues, called the partnership "groundbreaking" and cited data that shows a stark contrast between what happens nationally when a child has counsel versus when they don't, and when a mother with a child has a lawyer and when they don't.
Using data up to June 2014, the Transactional Records Access Clearinghouse (TRAC) from Syracuse University found that children were almost five times more likely to be allowed to stay in the country when they had a lawyer (47% were allowed to stay) versus when they were without counsel (10%).
More recent data, as of January 2015, found that women with children but without representation were only successful 1.5% of the time, while those with counsel had a 26% success rate.
Moussavian said the public-private partnership model is in the same spirit as the New York Family Unity Project, an initiative which began as a pilot program in 2013 and became permanent in 2014, which gives access to an attorney to anyone who has been in detention. The program was instituted after studies were done which show that separating families and removing immigrants has social and economic costs for the state.
Mark-Viverito, who also championed a municipal ID program for which undocumented immigrants are eligible, sees the issue as one related to the economy.
"We want them to be fully integrated into our society and contributing positively," she said. "Employers are enlisting help from people who are undocumented all the time, let's not be hypocrites."