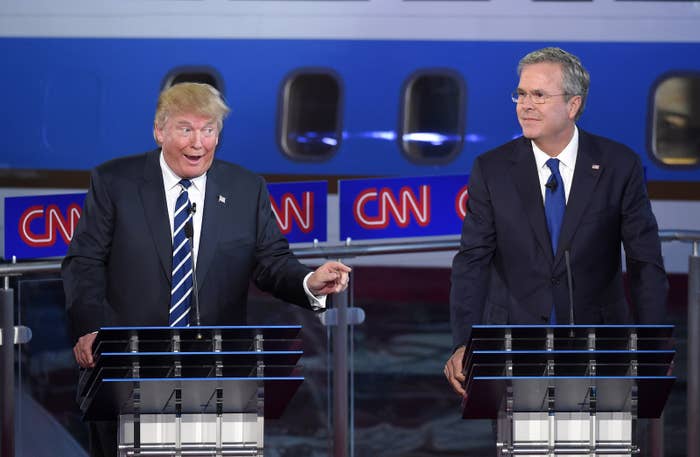 DES MOINES, Iowa — With the Iowa caucuses less than three weeks away, nearly every type of voter has been canvassed, targeted, sent mailers, and messaged to on TV. But Latinos, who make up about 5.5% of the state's population and even less of the registered voters have largely been ignored — until very recently.

The nonpartisan League of United Latin American Citizens (LULAC) began a $300,000 effort at the end of November that started with mailers and phone calls to all 99 precincts in the state, and face-to-face, door-to-door canvassing in the 20 precincts where many of Iowa's nearly 50,000 registered Latino voters live.

A dismal 1,000 Hispanic voters caucused in 2012 — a showing that virtually ensured no campaign would really make an effort to reach them. LULAC hopes to get 10,000 Latino voters to caucus this time around. And they're pretty open about their motivation: It's an anti-Trump effort.
"What Trump has done with his hate is he has caused much concern among our young people," said Joe Enriquez Henry, who is in charge of the effort in the state, and is LULAC national vice president for Midwest coordinating.
Latinos and DREAMer immigrant youth have mobilized against Trump, his rhetoric, and policies — and he said, they've found a climate like they did at Iowa State University, where supporters of the candidate spat on protesters and tore their signs.

The basic message of the mailers is, "If you don't get involved someone else is going to make the decision for you," Henry said. Those mailers began in November; the third was sent this week. His five staffers are trying to contact each targeted voter three to five times each — all part of the effort to get them to commit to caucusing.
LULAC has invited campaigns from both parties to their bilingual caucus trainings, but Jeb Bush's campaign has been the one going to events across the state to make presentations for their candidate.
Bush, who began the race as the establishment favorite has seen his standing in the polls drop, only to be eclipsed by Ted Cruz leading many Iowa polls, followed by Trump and Rubio. (Henry and others involved with the LULAC efforts said Cruz and Rubio have not engaged in Hispanic outreach in the state.)
The Bush campaign has built up their own Hispanic efforts and latched onto LULAC's as well, going from one staffer dedicated to Latino outreach to five in the state now, including Hispanic media director Emily Benavides and respected operative Jose Mallea.
"I've been really impressed by LULAC," Mallea said.

Mallea, who said the campaign early on identified an opportunity with Hispanic voters in the state because no one was going after them, said campaign figures show the number of Latino voters in the state to be about 48,000 voters — 9,000 of them Republicans, and close to double that independent or unaffiliated voters.
He said LULAC's Henry told him early on that he was doing this effort to take on Trump.
"He's a former union guy but he put that aside and said, 'I'm going to do what's best for our community, our community is not going to stand for these offensive tactics, the name calling,'" Mallea said. The LULAC bilingual caucus trainings, which the Bush campaign does as well as putting out bilingual literature in the state, are where Hispanic voters who are offended by Trump can learn about Bush. An "opportunity" for the campaign, Mallea said.
In a highly competitive state where Mike Huckabee won by fewer than 11,000 voters in 2008 and Rick Santorum won by a razor-thin 34-vote margin in 2012, a group of voters that are largely ignored could be a boon for Bush, said LULAC-Iowa political director Christian Ucles.
"In the Iowa caucus, the Bush campaign could get 2,500 Latinos to vote for him," Ucles said.
"If they turn out 2,000 people, that could be the difference between being seventh or fourth in the state," he added, noting that only John McCain ended up winning the nomination after finishing in sixth place in Iowa.
Ucles said the LULAC plan is to increase Latino political empowerment in the state, and hopes to be able to mobilize these voters in the future now that they are connected to LULAC, and eventually get Hispanic elected officials in the state legislature.
Henry said Latino Republicans in the state say they are going to voice "that they are sick and tired of the Trump hate," but the outreach has led LULAC to identify a rarity — one Hispanic Trump supporter in the state.
"He specifically wrote it on his post card — 'TRUMP 2016,'" Henry said. "I need to call him."